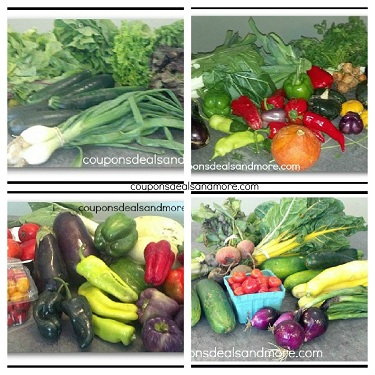 Now is the time to sign up for a CSA if you haven't already done so! For the past few years hubby and I have belonged to a produce CSA (community supported agriculture). We have belonged to Porter Farms CSA. For a cost of $300 we received 22-24 weeks of organic produce that was worth every penny, and (a lot) more!
We picked up from Porter Farms at a satellite location fairly close to us. There were approximately 25 families picking up at our location, so each week one family would make the drive 30 miles away to pick-up the bags for the entire pick-up satellite, and place them out on a table for each family to take.
Each week our CSA bag contained whatever was ready for harvest from Porter Farms. In June we looked like rabbits because lettuce was plentiful. By October we looked like squash since that was what was plentiful! I will say that Hubby and I gave away the last of the squash at the end of January (right before we left for Florida) and it held up very, very well! A CSA is weather dependent, so you get what they harvest, and what the bugs and deer have not eaten first (who said man is the top of the food chain!?).
This year, we decided to go a different route. We joined Root Down Farms a non-organic CSA (tough to get), although it is a non pesticide farm. The cost is substantially more, $545 for 22 weeks, but we moved because it is closer to us (5 minutes away), and, even more importantly, we can pick up on Thursday. We could have purchased a two person share for $300, but decided to get the larger share, and make sure we froze more this year!
Hubby cooks on the weekend, and our old CSA pick-up was Saturday morning. While they did post on Thursday or Friday what would be in the bag, we never knew exactly how much of each vegetable we were getting. Combine that with once we picked up at noon and did other errands, Hubby didn't really have time to use those vegetables. That left Sunday for his masterpieces! Since I was always shopping Sunday Morning Shopping, he couldn't get into the kitchen until after noon. Again, time would be short (you gotta see it to believe what he does to our poor kitchen – I may take a video some day), and we'd end up saving the vegetables for eating later in the week, or freezing.
We ended up giving away a lot of vegetables last year – which is fine. Someone was able to use all those fresh fruits and vegetable. And that is what is important. But, we really wanted to be able to use more for ourselves. The Root Down Farm CSA pick-up dates are Monday or Thursday, so Thursday it is for us! The bonus is there is a U-pick section that offers cut flowers, herbs (sweet, thai and lemon basil, cilantro, dill, parsley, rosemary, thyme, sage, oregano to name a few), snap peas, beans, cherry and plum tomatoes, pumpkins, ground cherries and tomatillos. I am hoping to make use of the flowers, Hubby the herbs.
I do plan on chronicling our CSA again this year. I felt Porter Farms was an excellent value, and cannot recommend them enough. It really helped me in 2012 realize just how worthwhile our local CSA is, and how much money I saved by joining a CSA.
Do you belong to a CSA? If so, what type? How much? Do you find it as worthwhile as I do?
• Find a CSA
• Porter Farms CSA (we belonged for years)
• Rootdown Farm CSA (our 2013 CSA)
• NYS Fruit and Vegetable Harvest Calendar
• US Agricultural Data
---
FOLLOW US ON: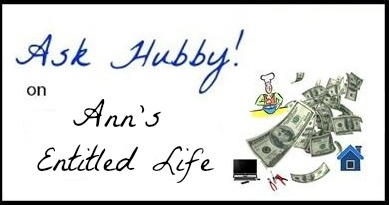 Ask Hubby began at the New Year on Coupons, Deals and More. I wanted to bring it back on Ann's Entitled Life because, truthfully, my Hubby has a lot of knowledge and great advice.
Below is the original Ask Hubby post which explains his background, and how he can possibly help:
One of my 2013 New Year's Resolutions! was to come up with new weekly series. I am still thinking, but hubby actually came up with this idea!
Because hubby is so multi-talented and an expert in so many fields including, but not limited to: cooking, computers, finance, real estate, home renovation and maintenance but most importantly; relationships.
He has graciously agreed to share his infinite wisdom with the readers of Coupons, Deals and More Ann's Entitled Life.
On a limited, trial basis, hubby has agreed to answer your questions (the trial assumes he receives any questions, the limited basis is a weekly series).
And, since I want him to do this series, I agreed to write that crap he dictated above.
You can submit them by emailing here and make the subject title "Ask Hubby".
Note: if you do not want your real name used, just say so in the email and he will respond "to a reader".
Some real notes about my hubby: He's a great guy who thinks he is funny (see above). He went to undergraduate school for Hotel and Restaurant management, but, since he decided he liked money, switched his concentration to hotel real estate. He got his MBA from a top U.S. business school. He was one of those "Evil Wall Street Bankers" for over 10 years before moving west to marry me. He was a partner in a very successful real estate company for six years before being fortunate enough to retire in his early 40s. In other words, he isn't a finance schlump although some areas of his expertise are better than others.
He enjoys cooking, and is very, very good at it! So good, that I only cook once a week (YAY! for me!)
I would be careful with the home renovation questions though. Sure he has rentals he has rehabbed, but Bob Vila he is not.
I have often asked him why he never got a job repairing computers. He said, that it is fun, but if he had to do it for a living it is less fun. He's so good, I have abdicated all computer repairs and responsibilities to him… and I like it (said the former computer programer).
So, if you have any questions for my hubby make sure you Email Ask Hubby questions here!
---
FOLLOW US ON: