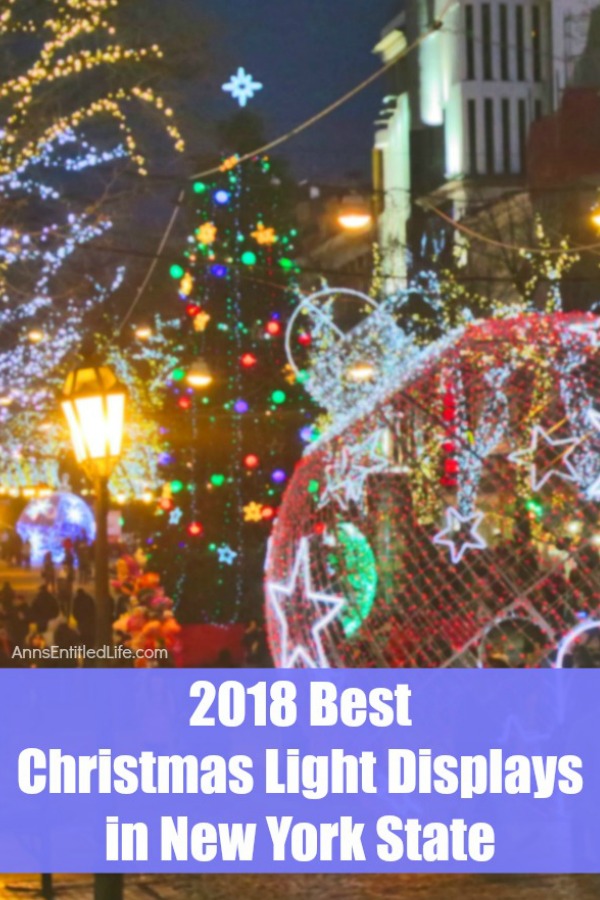 Do you live in NYS, or are you visiting New York State this holiday season? Here is a list of the best Christmas light displays in New York State for you to visit from Thanksgiving to New Year's Day. From Christmas tree lights to Christmas light shows, the sights (and sounds) of the holiday season are on full display in these great New York State cities and towns!
2018 Best Christmas Light Displays in New York State
With the holiday season comes Christmas lights! I don't know about you, but I always loved driving around in December looking for the best street for holiday light setups. It was one of my favorite things to do as a kid between Thanksgiving and New Year's.
Even better was the large holiday light displays put up by local municipalities and merchants. You could see the Festival of Light in Niagara Falls (they stopped it a few years ago, and now have the fireworks and lighting up the Falls), as well as great displays in the shop windows in downtown Buffalo. It was truly magical.
During the holiday season, New York City may be best known for the Radio City Rockettes and Christmas at Rockefeller Center. While the Big Apple may be on everyone's bucket list for the holidays, culminating with the annual New Year's celebration at Times Square, New Yorkers statewide know how to celebrate the season. From Albany to Buffalo to North Pole, New York, New York State cities offer impressive holiday light displays and attractions.
Here's a look at some of the best light displays New York State offers:
Albany Best Christmas Light Displays
The annual Capital Holiday Lights in the Parkkicks off Nov. 23 and runs nightly through Jan. 2. The event – sponsored by Price Chopper/Market 32 – celebrates its 22nd season in 2018. Holiday Lights features 125 holiday-themed displays in a drive-through exhibit, open 6-9 p.m. Sunday-Thursday and 6-10 p.m. Friday-Saturday. Check the website for admission fees, which benefit the Albany Police Athletic League's juvenile crime prevention program.
Buffalo Best Christmas Light Displays
Buffalo once served as the world's largest grain port, dating back to 1825. Today, the Connecting Terminal Grain Elevator serves as an easel for amazing artwork, which can be seen nightly until 11 p.m. from Canalside, Buffalo River and Lake Erie. With holiday colors and images dancing about on the elevator to the season's music, the attraction serves as a backdrop to the annual Holiday Celebration and Tree Lighting at Canalside. With the lighting of the Christmas tree kicking off the area's celebration Nov. 30, visitors can enjoy music, food, and ice skating during the event. Kids can share their Christmas lists with Santa Claus.
Buffalo Place provides the setting for the annual Downtown Christmas Tree Lighting Celebration Dec. 1. With activities starting at 5 p.m., the Christmas tree lighting ceremony takes place at 6 p.m. The ceremony will be followed a fireworks show. The evening's activities include kids visiting with Santa Claus and horse-drawn wagon rides. Free ice skating is offered at the nearby Rotary Rink. You can bring your own skates or rent some for $2.
Hamburg is the spot to visit for the annual Fairgrounds Festival of Lights, featuring about 60 holiday-themed light displays over a two-mile drive. Afterward, park the car and walk around the fairgrounds among more holiday light displays and festive attractions, such as the TOPS Winterland Workshop where children can visit Santa and Mrs. Claus. You can grab a train ride for a short ride around the fairgrounds. Don't forget to visit Kandy Kane's magic show, which is included in the admission. Kids can enjoy rides on Santa's Magical Midway (at extra cost). The Hamburg Festival of Lights takes place about 20-30 minutes south of Buffalo, from 5-9 p.m. (fairgrounds stays open until 10 p.m.) Nov. 23-25, Nov. 30-Dec.2, Dec. 7-9, 14-16 and 21-23.
Cooperstown Best Christmas Light Displays
Known as the home to baseball's Hall of Fame, Cooperstown invites visitors to an old-fashioned Christmas. The Farmers' Museum Candlelight Evening on Dec. 8 features hundreds of candles, wreaths and other holiday décor as people gather to sing Christmas carols, ride a horse-drawn sleigh or play games. A Victorian-era Santa Claus greets visitors as they visit the shops and attractions around the village. Warm up with some hearty food or next to a bonfire.
Take the family for a fun-filled holiday ride on the North Pole Express with the Cooperstown and Charlotte Valley Railroad. Rides are available Dec. 1, 7-8 and 14-15. The Christmas light-decorated train boards at 6:30 p.m. at the Milford Depot. The ride – featuring garland and ornaments in each car – takes about 2 hours, during which kids can visit with Santa Claus and Mrs. Claus. Reservations and prepayment are required for the holiday train ride.
Corning Best Christmas Light Displays
Gaffer's District will be all lit up as Sparkle in Corning kicks off Dec. 1. The holiday lights display will illuminate the district and plenty of family-friendly activities will welcome in the season that day, including horse-drawn wagon rides and a visit from Santa Claus. Carolers will sing the season's songs amongst people shopping and dining in the area.
New York City Best Christmas Light Displays
Of course, we need to look at Rockefeller Center's Christmas. With the lighting of the Christmas tree a national spectacular that's televised nationally, visitors can take in the area's celebration with the tree lighting ceremony Nov. 28. The tree will be lit nightly through Jan. 7. While in the area, you can grab a pair of ice skates and enjoy time on the famous Ice Rink at Rockefeller Center. While in New York, enjoy some of the best Christmas shopping in the world among beautiful holiday exhibits and display windows!
North Pole Best Christmas Light Displays
With a name like North Pole, you know this community has to be Christmas Central, right? Santa Claus and his elves transform the 59-year-old Santa's Workshop theme park into the Village of Lights, a winter wonderland that takes place Dec. 2, 9, 16, and 20-23. Caroling, shopping, dining and roasting marshmallows are some of the fun to be had among spectacularly decorated lights and displays. Of course, Jolly Old St. Nick will be on hand to visit with the little ones.
With the holidays right around the corner, it's never too early to plan to your family's outings. New York has many attractions and events to help celebrate the Christmas holiday season. As you venture out for the perfect Christmas tree, gift or to visit Santa, have a joyous and safe holiday.
Rochester Best Christmas Light Displays
Celebrate the holiday season in Rochester with the annual Liberty Pole lighting on Dec. 1. Beginning at 4:30 p.m., Santa Claus, Rudolph the Red-nosed Reindeer and others will greet visitors at the light pole. Rochester's mayor will kick off the holiday season with by lighting the Liberty Pole. A holiday parade follows shortly afterward. Then, the Holiday Village will open for the season, featuring vendors, horse-drawn carriage rides and free ice skating.
The Garden Factory turns its greenhouse into Rochester's own winter wonderland, with Christmas light displays, crafts and children rides 11 a.m.-4 p.m. each Saturday and Sunday, beginning Nov. 24 and running through Dec. 23. Kids can even visit with Santa Claus. Train enthusiasts can ride a small train around the festivities.
Syracuse Pole Best Christmas Light Displays
Get a head start on the holiday season with Lights on the Lake at Onondaga Lake Park, starting Nov. 15. The two-mile long drive-through light display features festive exhibits, such as a Land of Oz, Twinkling Fantasy Forest, and a Fairytale Magic Grand Finale. New this year will be the North Pole Station, featuring a Santa-driven steam engine. The drive also features holiday music. Lights on the Lake is open nightly 5-10 p.m. Nov. 15-Jan. 6.
If you are looking for more things to do in New York State, check out these posts:
● 10 Best Christmas Towns in New York State – While we may take it for granted sometimes, those of us who live in New York State know that it is a magical place to live during the holidays. Whether you are a New York resident, or you are visiting for the holidays, you can find some pretty amazing places to visit here in the Empire State.
● Christmas Tree Farms in New York State – The state of New York is one of the best locations for finding amazing Christmas Tree Farms for cutting your own holiday tree. There are many great farms that are ideal for taking your family along for a fun holiday adventure. Build a great new family tradition by planning a weekend to visit one of the many amazing Christmas Tree farms located throughout New York State.
● 300 Things To Do In Niagara Falls and Buffalo, NY – This is a long list of events, places, and things to do in Buffalo, and Niagara Falls, New York. This includes things to do in all of the 8 counties of Western New York. From touristy things to do, to things only locals know about, this great list of 300 Things to do in Niagara Falls and Buffalo, NY has something for everyone on it!
● Estate Wineries on Seneca Lake – Hubby and I visit a lot of New York State wineries. These are a few of the estate winery stops we made on Seneca Lake!
---
● Disclosure: the links in this post may be affiliate links.
● For more New York State Travel posts on Ann's Entitled Life, click here.
● If you enjoyed this post, be sure to sign up for the Ann's Entitled Life weekly newsletter, and never miss another article!
---