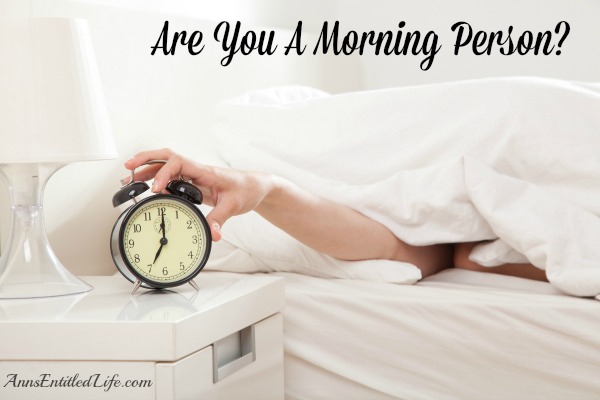 Are you a morning person?
By that I mean do you arise at some ungodly hour – say, before 8am, all happy and chipper, eager to start the day?
Blech.
I am in no way, shape, manner or form a morning person. As a matter of fact, if I get up before I am finished sleeping ie, with the alarm instead of naturally, it is best that no one talk to me for at least an hour. Truly for the best. Ask Hubby, he will confirm this.
Making matters worse at the Ann's Entitled Life household? Hubby is the most disgustingly happy, chipper, perky, lively morning person you would ever want to meet. It is positively revolting. We've has more than one exchange in our marriage before noon where he thinks he's being cute, and I've snapped at him for no good reason.
Don't mess with a non-morning-person before noon, is my motto.
I have told Hubby repeatedly we should make it a habit to have lunch together between 1-3 every day, because just as he is winding down, I am gearing up. I'm at my peak somewhere between 3-6 … well past morning, but before evening fully sets in.
So how about it? Are You A Morning Person?
---