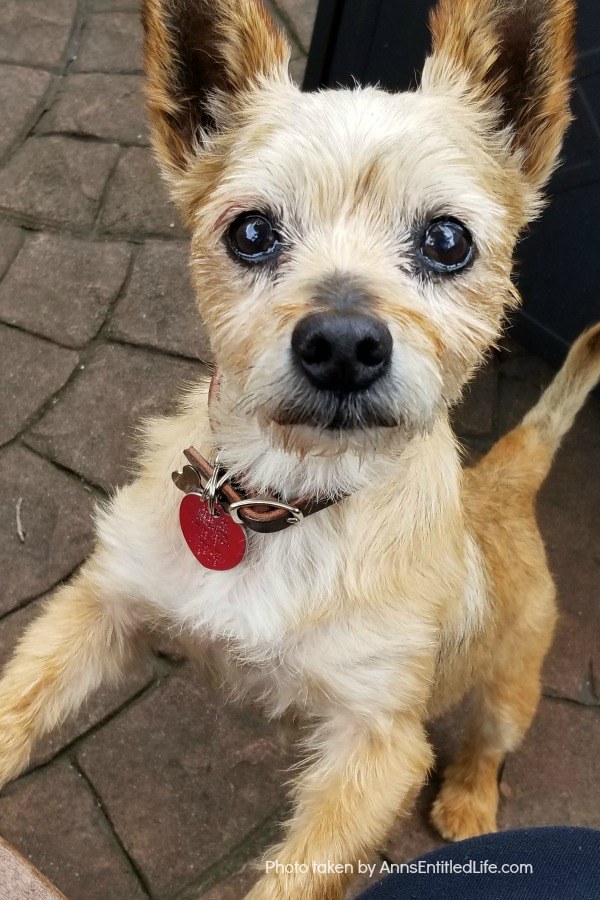 I cannot believe I am writing this post such a short time after we welcomed Frankie into our family. I did not expect to write something like this for many years. Our sweet little dog Frankie passed away on Friday, October 9, 2020.
On Tuesday, October 6th, Frankie woke up feeling poopie. He did not want to eat, he only wanted to sleep. Now, Frankie was a Class A eater. Turning down food signaled a serious issue for him so we quickly got him over to the vet. She prescribed some pain medications and said if he worsened she would provide a referral to the local animal hospital the next morning.
On Wednesday we woke up to Frankie vomiting. He was sleeping in his bed on a small couch at the foot of our bed, so we immediately heard him. I called the animal hospital at 6:30 am, and we were there a little after 8 am.
EVERYONE to this point suspected a back issue. His back legs were weak, he was presenting pain along his spine. We were simply waiting for the orthopedic to get out of surgery and do an exam.
Hubby got antsy and decided to pull Frankie from the animal hospital (the orthopedic had not looked at him at all by 1 pm) and head over to Rochester for an MRI. The animal hospital did facilitate this transfer for us (we took him, but they gave the animal hospital in Rochester the heads-up to expect Frankie).
When we got to Rochester, Hubby explained he wanted a back MRI done on Frankie. After looking at Frankie the attending vet said that she wanted to MRI his head as she thought it was a neurological issue.
She got him into the MRI within 15 minutes and they had the scans done, read, and Frankie ready to roll by 9:30 pm. We were on our way back to Cornell. The MRI showed Frankie had encephalitis.
When we got to Cornell Frankie was showing neck stiffening from the encephalitis. His neck was basically a stiff board tilting and stretched up.
There were several telephone calls with the Cornell ER vet and ourselves after we dropped Frankie off at 11:30 pm (we could not go in due to their Covid protocols) and approximately 2 am, with Hubby emphasizing that he wanted the on-call neurologist woken up (this was not our first time dealing with this issue with a pet). They started Frankie on mannitol to drain the fluid around his brain and brain stem at approximately 3am. At 5 am they started Frankie on steroids.
We had a discussion with the neurologist assigned to Frankie at about 8 am and went ahead with the chemotherapy treatment. This was Thursday, October 8th.
Since this was something we had gone through with Max, we had hope (GME is a form of encephalitis).
On Friday, October 9th we received an early morning phone call. Frankie had not progressed and had lost his ability to swallow. Pneumonia had set in.
At the point, we decided to make the trip to Cornell to say good-bye. When we arrived, Hubby made certain Frankie had shown no improvement, and when we were told he had not, we decided it would be more humane to end his suffering. While we were assured Frankie was not in physical pain, there was nothing more to be done and no hope of recovery.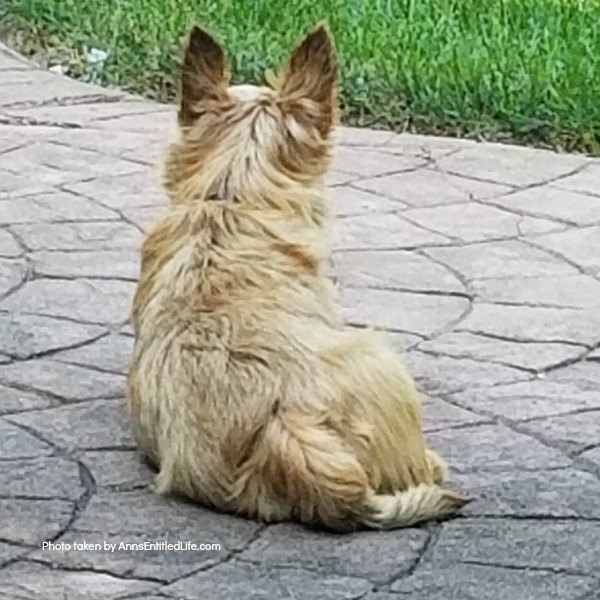 Frankie relaxing in the backyard.
Frankie crawled into our hearts. We did not have him with us for very long, but he was the sweetest, best-natured little buddy you could ever imagine. He was a lover, not a fighter. He was always ready with a kiss, eager to please, and oh so smart.
Honestly? I am having a lot of trouble with Frankie's death. With my first dog, Boscoe, he was a large dog that lived a long life (over 13 years). His death was difficult but understandable. With Max, we also understood why he passed away. With Frankie? I simply cannot rationalize it.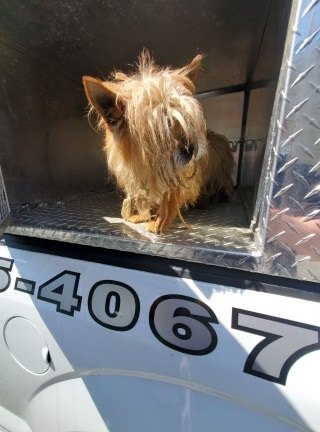 Frankie getting off the Paddy wagon in Virginia.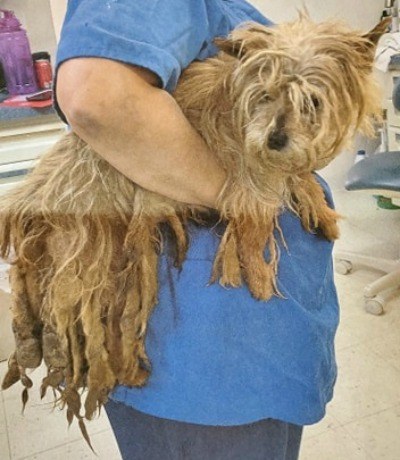 Frankie before he was shaved.
This little guy had a horrible life before he came to live with us. He landed at Club Med (he liked to eat and was no longer severely underweight) and it was a good retirement home for his later years. Why, oh why was he only with us for such a short while? We had gotten his GI issues squared away, his teeth were fixed and no longer painful, he was housebroken and living the good life. He was settling in so well, gaining confidence and he was generally a happy, curious, mischievous little dog. So, why did his body do him in?
I cannot make sense of Frankie's death. We had such success with Max's encephalitis. Why couldn't Frankie have responded the same way?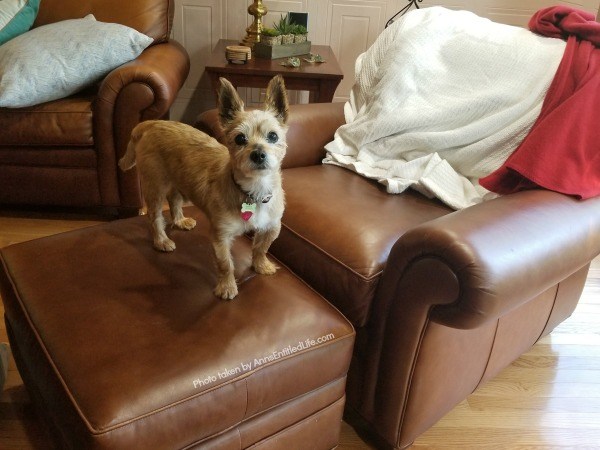 Frankie liked the soft chair.
I was so against another dog and yet Frankie quickly made his way into my heart. I honestly liked him. He was such a sweet soul. He did not deserve the lousy hand he was dealt in this life. It's not fair! sounds so trite, but it accurately describes his life. I only wish there had been some way to save him.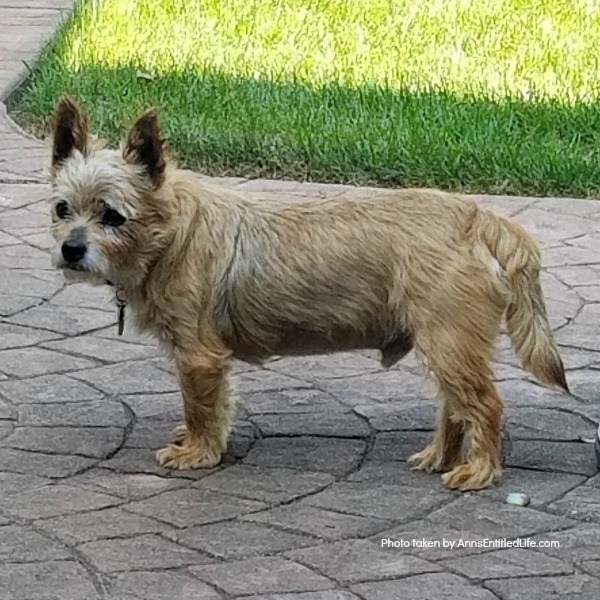 Frankie's hair was growing out and he sported a scruffy look.
We love you, little buddy. You were with us such a short time, yet you brought so much joy into our lives making each day brighter.
We will see you on the other side. Catch a squirrely for us.
Good-bye Frankie-Buddy. Good-bye.
---
● If you enjoyed this post, be sure to sign up for the Ann's Entitled Life weekly newsletter, and never miss another article!
---