Hubby bought a new truck a few weeks ago. He was waffling on whether or not he wanted one. His RAM was four years old, drove great, had low mileage, and had no physical or mechanical problems.
So why buy a new truck?
Well, the RAM truck had an 8′ bed. Hubby bought it thinking he was going to really need that long bed, but we didn't get as much use out of it as planned. Then too, I wouldn't drive it. It took up two parking spaces and was so long; I was always nervous about clipping something or other.
When we bought my vehicle two years ago we noticed it came equipped with a lot more safety features. And Ford was leading the way with new and innovative technology, much of which was available on their trucks (and some of it was leased to Land Rover.) They had blind spot alert, adaptive cruise control, great cameras, etc. A ton of wonderful safety features not currently found on many other vehicles.
Hubby was also playing around with tow packages. He was considering going to 12,000 pounds to match his trailer. That made his world of vehicle choices much smaller.
So safety plus towing capacity were his main criteria. From test drives durning his last purchase search, we knew diesel was not for us.
Hubby spent a lot of time zeroing in and comparing the RAM (which he was very familiar with), Ford (which is not aesthetically pleasing to him), GMC and Chevy (there were variations even among those two brands, and his business owns an old Chevy that he is very pleased with). Once again he took to the internet to find out what packages fit his criteria, and which additions he could live without. He then did an area search for various vehicles that met at least most of those criteria.
Along the way, he stumbled upon the Kelly Blue Book Instant Cash Offer program. The program was something he keyed on hard as his truck was "unusual" with that 8' bed, and there just were not enough data points (same vehicles sold) in the United States to give a firm trade-in value for it.
Locally, the highest trade-in offered to him at a non-participating dealership was $28K. That just was not enticing enough to trade in his truck and get a new one.
The Kelly Blue Book Instant Cash Offer program said his trade-in was worth $30,500. That meant if he found a dealership that understood how the program worked (and not all of the dealerships that were part of the program did), he could get $2500 more credit toward his new purchase (and pay less sales tax too).
The KBB authorized dealerships have a no risk proposition – they can either turn that trade-in over to KBB for a check for the trade-in value or keep the vehicle on their lot and sell it (for hopefully more money than the trade-in value).
Some of the dealerships did not understand that. They were offering Hubby far less in trade-in value even with being a participating dealership.
Hubby went down the road of "this close" to purchase with three dealerships and was in final negotiations with a dealership in Tennessee (he decided not to go with them as the delivery was not by flatbed), locally (for a RAM), and in Warren, Pennsylvania for a Chevy. Best deal wins.
He went with the Jones dealership in Warren, PA, as they not only gave him a terrific deal, but they found him a truck that had the options he wanted (350 miles away in Virginia) and went down to pick it up to make the sale. They understood exactly how the KBB program worked, and they even gave him a bonus $500 off (via coupon) after he verbally agreed to the price. (Hubby wanted me to make sure I mentioned the dealership as he felt they really went above and beyond.)
They told Hubby that the KBB trade-in is not always the best trade-in price. Sometimes the dealership itself can give a higher trade-in value for a vehicle. Where the KBB trade-in really helps the consumer is if they have a vehicle that is unusual, so lack of data does not mean a lower trade-in price.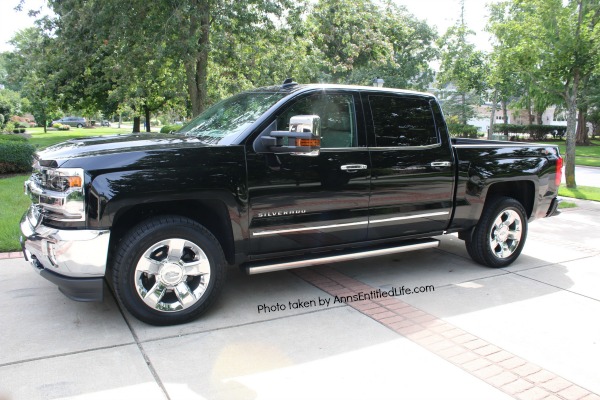 Hubby chose the Chevy Silverado over the RAM and the Ford for several reasons – the Chevy had better safety features than the RAM. The newest RAM wasn't all that much different than the one he purchased four years ago in safety features, so he'd just be buying a new truck to have a new truck. The Ford was loaded with safety features. But he finds those trucks unappealing, and just couldn't do it (it was also $10K more; the only one the dealer could find that had the options hubby wanted was a fully-loaded, top of the line truck).
Hubby made the mistake of taking me for a test drive in a Denali. Oh my, that was nice! I loved the fold out running boards, the lovely leather interior, the dual climate control, the navigation system – you know, all the stuff that is so important to driving. I disliked the sluggish shift though. Hubby explained that the engine was smaller, so that was why it seemed to stick.
With this in mind, Hubby went down the path of GMC and Chevy.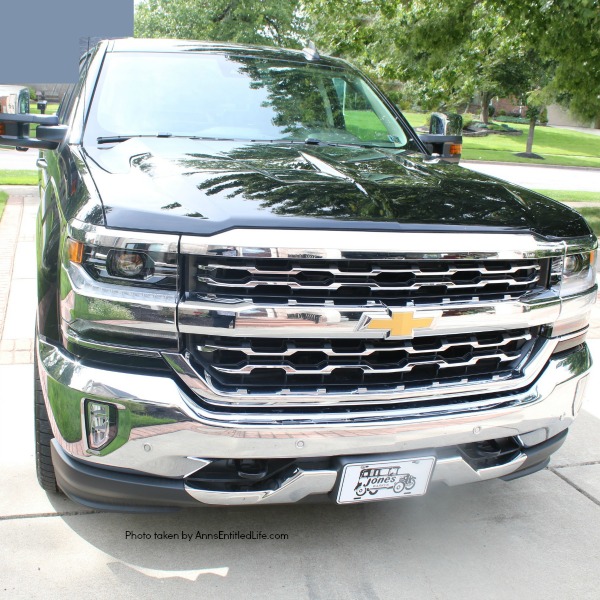 The Chevy offered increased safety feature, a tow package he could live with, a larger engine, and all the lovely little "things" that make driving more comfortable (except for the magnetic suspension which is only available in the GMC Denali trim Sierra truck – he couldn't get that). The price was also incredibly right. General Motors was giving a ton of rebates on the purchase of a new truck (some ended at the end of August), the dealership gave a bit off the asking price, and then there was that terrific KBB trade-in.
The only hesitation Hubby had was what if the Labor Day sales offerings were better? My concern with going down that path was he was looking for packages that were so specific that the inventory would be even more squeezed. As it was, he had a choice of a black or white truck, and that was about it. After Labor Day, there may not have even been that available, and then the opportunity would be lost.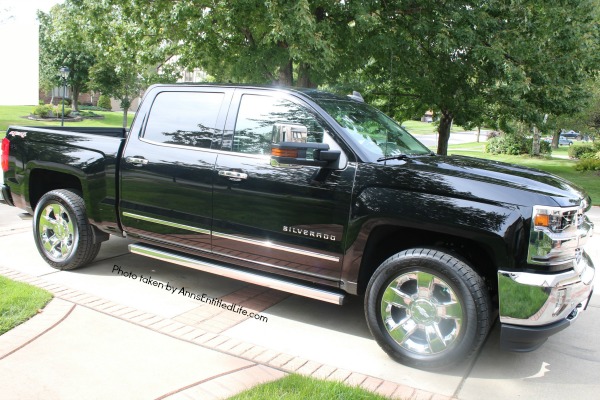 In the end, he purchased this beautiful Chevy. It came with those retractable running boards (see photo below), leather interior, dual climate control, bed liner, the max trailering tow package he wanted, safety features we found acceptable (no adaptive cruise control though – which is just about our favorite feature on my vehicle). He wants to add the fender flares, and he has ordered a new bed cover (the same one he ordered for his last two trucks, an Extang Tri-Fecta).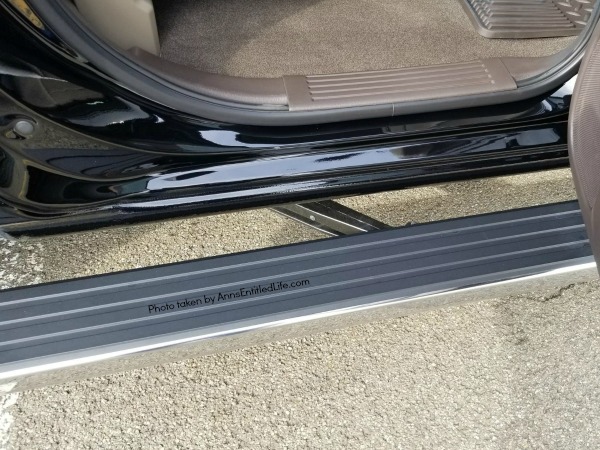 All-in-all now seems to be a very good time to purchase a new truck. The manufacturers are giving deals to move merchandise. The KBB program really helped make our deal happen. In the age of the internet, this was our third vehicle we bought online sight unseen. We have learned something new every single time we have purchased a vehicle online, and would not hesitate to do the experience a fourth time.
---
● Disclosure the links in this post may be affiliate links.
● If you enjoyed this post, be sure to sign up for the Ann's Entitled Life weekly newsletter, and never miss another article!
---