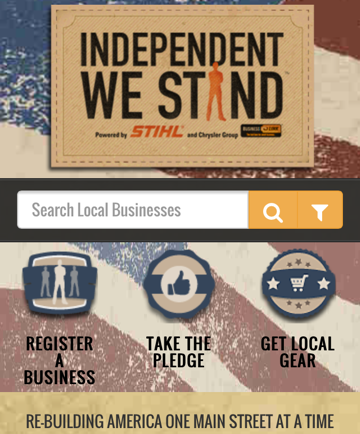 Do you prefer to buy local when the opportunity presents itself? Independent as opposed to big-box? Have trouble finding local restaurants, hardware stores, landscapers, florists and more? Independent We Stand has an app (and you can use it on your laptop/desktop too) to help you locate local businesses.
You can search for independent businesses here. There is a mobile app for when you are running errands, on vacation, or just can't get to your laptop.
Our free mobile app doesn't just help you find stores or restaurants; it does much more than that. It helps you find the best flowers for your first date. The "say yes" engagement ring for when you pop the question. The perfect paint color for your baby's nursery. Our mobile app helps you find love in all the local places. We know that shopping local is part of your lifestyle, and we also understand that you lead a busy life. So we took the only independent business search engine of its kind for millions of independent businesses, and turned it into a mobile app, to help you find and support locally owned businesses on the go. Best of all, it's free
You can download the mobile app here It is available for apple and android.
Independent We Stand is a movement of independent business owners across the country to inform their communities about the importance of "Buying Local" and how these efforts bolster their local economy. This movement supports all local and national causes committed to boosting local economic development projects. The Independent We Stand movement is co-sponsored by STIHL Inc. and Chrysler Group.
Visit IndependentWeStand.org to locate local independent businesses. Here's a bit more about the company and to see how the app works:
---