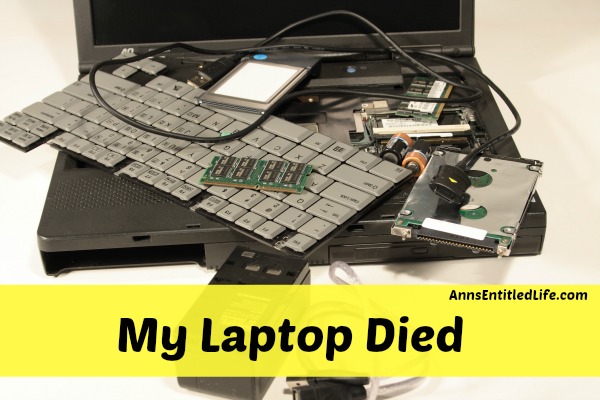 So last week Thursday I woke up to a dead laptop. I remember the exact day because I wrote about it on facebook.
Hmmm I think I finally figured out a use for facebook!!
When I came downstairs Thursday morning, my computer was dead, dead, dead. Apparently something happened to the power jack, and it spent the night dying from lack of juice. When I got up, there was no revival.
I tried the first spare we have in the house, and it wouldn't work.
I tried the second spare we have in the house, and it was dead too.
Poop. No more spares.
Hubby got online and discovered a similar model to mine on fleabay, and the guy selling it shipped it out Friday for me. Since he was located two hours away, Hubby picked it up at our mailbox Saturday, and swapped out my hard drives, and tada! New computer.
There were some burps along the way though:
The two dead spares. The first one just required (what seemed like) a thousand updates to work. After doing those for a full day (seriously), it worked. Hubby gave it some TLC this week updating the RAM and a few other things, and now it zips along quite nicely.
The second dead spare he hasn't gotten to yet. That one won't boot past the windows screen, but I know Hubby looooooves a challenge.
HTH do people work on their phones?
Seriously.
I have 20-20 vision now, and I swear I can't see a darned thing on that smart phone. At least not enough to blog off of. While my ipad is better, I can't really blog on it. My websites have extra layers of protection, and apparently so does my ipad – and the two really aren't compatible.
So, Hubby "allowed" me to work at his computer on Thursday. He's got his computer hooked up, three screens – and I am telling you, I can't ever figure out what screen I left my cursor on, and his mouse is one of those ergonomic jobbies that hurts my wrist to use (oh the irony).
Probably why I did the updates on spare #1 asap.
And then Hubby has this thing about my not dropping food on his keyboard. He gets upset when I do it.
He is so darned finicky.
After one day, I wasn't sure who was more anxious for that replacement laptop to arrive: Hubby or me!
But, arrive it did, Hubby had it up and running for me in under an hour and I am now a happy camper.
I guess after this scare (because I never learn), I should probably back up my hard drives on the external again, huh? And maybe find a cloud or two to automatically back-up to?
But then where would the "excitement" be the next time my computer dies and I have all my pictures and folders safe and sound?
Do you back-up your computer regularly? If so, where to?
---