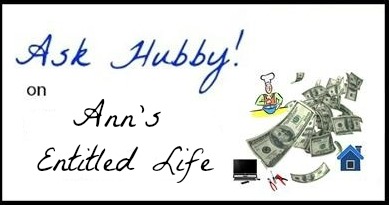 I would love to return Ask Hubby to a regular series here on Ann's Entitled Life – mainly because I wouldn't want Hubby to get bored at home sitting around eating bonbons.
Ok, ok, the real reason I'd like to return this series is because my husband has a lot of knowledge to offer to people. This series was actually quite successful back on Coupons, Deals and More, but it never really gained traction on Ann's Entitled Life. No idea why – same Hubby, same skill-set.
In order for Ask Hubby to succeed, I need questions from you.
Let me reiterate his qualifications:
Notes about my hubby: He's a great guy who thinks he is funny (see Crap My Hubby Says). He went to undergraduate school for Hotel and Restaurant management, but, since he decided he liked money, switched his concentration to hotel real estate. He got his MBA from a top U.S. business school. He was one of those "Evil Wall Street Bankers" for over 10 years before moving west to marry me. He was a partner in a very successful real estate company for six years before being fortunate enough to retire in his early 40s. In other words, he isn't a finance schlump although some areas of his expertise are better than others.
He enjoys cooking, and is very, very good at it! Nearly all the non-dessert recipes on Ann's Entitled Life are Hubby's.
In the beginning, I cautioned people about his Home Improvement expertise, but the last few years of owning, and rehabbing, rental properties have really upped his skills. He now has calluses on his hands!
I have often asked Hubby why he never got a job repairing computers. He told me that while he finds computer repair fun if he had to do it for a living it is less fun. He's so good, I have abdicated all computer repairs and responsibilities to him… and I like it (said the former computer programer).
So, if you have any questions for my hubby make sure you Email Ask Hubby questions here!
Note: if you do not want your real name used, just say so in the email and he will respond "to a reader".
---
Disclaimer: This information is not to be considered legal or financial advice. It is for discussion purposes only.
A few things:
1) The disclaimer. Gotta have it because he isn't an attorney or your financial adviser and he isn't dispensing legal or financial advice, just giving his opinion.
2) Hubby is willing to give his opinions and answers on a wide variety of subjects listed here. That post also explains his background.
3) If you would like to submit a question to Ask Hubby you can email here and make the subject title "Ask Hubby", or use the contact page, same subject line.
4) You can use your name or be anonymous. Either works.
---
For past Ask Hubby posts on Ann's Entitled Life, click here.
---