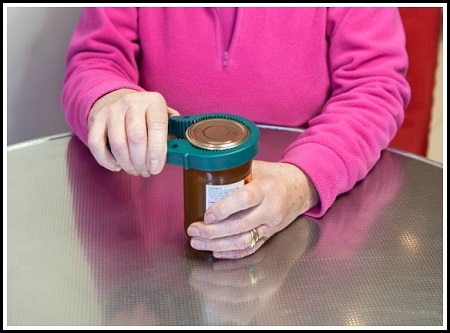 I was attempting to open a jar the other day. I banged it on the counter. I tapped it against the kitchen counter. I used a flexible jar opener. I ran the jar under hot water, and then used a towel to try and open it. That actually worked, but you have to figure the 47 other things I tried must have loosened it up.
Now, I am not elderly. Ok, maybe a 10 year old would consider me elderly. Possibly a 15 year old. But I doubt many in their twenties would consider me elderly; to them I am just old. I am a middle aged woman without any arthritis issues, and I could not open this freaking jar!!
Which brings me to my original question: why is it so hard to open a jar? And, how do the elderly open any jars? The hot-fill pasteurizing process does ensure freshness and block disease and rot, but couldn't there be a happy medium? A jar that ensures freshness, blocks air preventing disease and rot, and allows people to opened the darned thing would make someone a bazillionaire! It would be as useful (probably more so) than inventing an alternative for oil.
Do you have any easy-open tips for opening jars?
(For those wondering, no that is not me. I bought the photo at istock.)
Disclaimer, the links in this post may be affiliate links
---
FOLLOW US ON: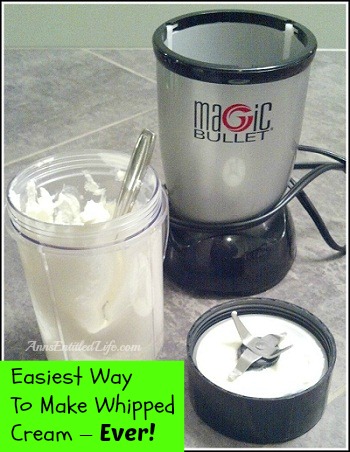 Would you like to know the easiest way to make whipped cream? Hubby discovered it a while ago.
We like real, homemade, whipped cream when needed for a recipe, but there are times when a dollop on top of a piece of pie is quite enough.
Now, my regular whipped cream recipe goes like this:
• 1 pint heavy whipping cream
• 2 TBSP confectioner's sugar
• 1/2 tsp real vanilla extract
• Combine in a mixing bowl
• Beat on whipping cream (or high) setting until stiff
Delicious!
But, what about when a little dab will do ya?
Hubby decided one day he wanted a personal size portion of whipped cream (take the "personal" size with a grain of salt) on a piece of pie, so he got out the Magic Bullet, added an inch of heavy cream, a teaspoon of confectioner's sugar, and turned it on.
He says it takes about 1.5 minutes to turn the heavy whipping cream into real, homemade whipped cream, but not running the magic bullet continually as he is afraid to burn out the motor. He runs the Magic Bullet for 20 seconds, shakes, runs it for 20 seconds, etc. He does this 5-6 times, and when he is finished, whipped cream!
---
• For a list of all recipes available on Ann's Entitled Life, click here.
This recipe originally appeared on Coupons, Deals and More.
Disclaimer, the links in this post may be affiliate links
---
---
FOLLOW US ON: