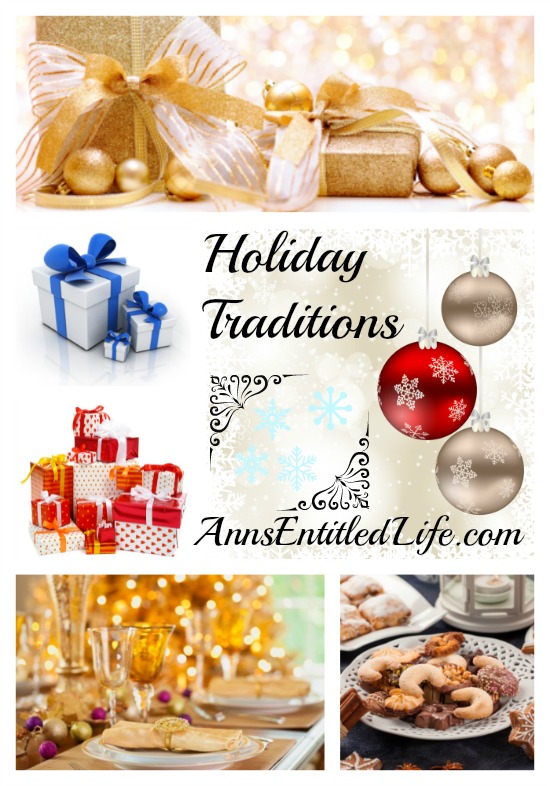 As we enter the holiday season: Thanksgiving, Hanukkah (which falls on Thanksgiving Day this year!), Christmas, New Year's and so on through to Epiphany, many people make it a point to spend time with their family and friends. And quite a few of those people do the same thing year after year – commonly referred to as traditions, and many other people do something new each year, eschewing anything that they have done for the holidays before.
So I ask you: Do you and your family have any holiday traditions?
In my family we have Wigilia. My ancestors came to the United States from Poland (or close to it depending on the European borders that week). Wigilia comes from the Latin term vigilare which means "to await". This is the Polish name for Christmas Eve.
The Polish center describes the tradition of Wigilia very well.
For my family, my grandparents (paternal) always had Christmas Eve dinner. This was a no-excuse dinner. You went. Period. If you lived far enough away, you might be able to receive a dispensation, but disappointment was quietly noted.
We passed the oplatek (only one was blessed, we kids would grab a pack or two and stuff it in our faces without regard to religious connotations, so my grandmother only had one blessed), ate our pierogi, cabbage and other meatless entrees (Christmas Eve is meatless for the Italians and Poles) and then opened gifts. Sometimes people trotted across the street for midnight mass (my grandparents lived (and my grandfather still does) across the street from a church), other times it was bundle the kids up for the ride home so they can dream of Santa's arrival.
Over the years many things have changed in our family, but the main change that impacts Christmas is almost none of us are religious. That would seem to infer that Wigilia should have gone by the wayside in our family, yet it hasn't. When my grandmother passed away 14 years ago, we continued to have Christmas Eve at my grandparent's house. My sister, niece and I would go in, decorate and then cook the food at our houses and bring it over to grandpa's to be heated for dinner, and we would clean up afterward. This went on for some time until it became evident that it really was too much work for us, and it tired my grandfather out to have so many in his house at one time.
So, 7-8 years ago, I insisted we move the production over to our house. Now, Hubby and I have Christmas Eve dinner for my family. We still do many of the same things – oplatek (only blessed if my mother provides it), pierogi and meatless entrees, it is just at a different location than my grandparent's house. When my grandparents had Christmas Eve dinner, no one outside the family was invited unless you were engaged to them! At our house, Christmas Eve dinner is still a sit-down meal, but as long as I know how many are attending, we are pretty open to who comes. We can fit up to 30 people at the same table. We've had in-laws, exchange students, friends, room-mates, etc attend Christmas Eve dinner at our house. 'Tis the season is our motto!
While we have had a number of changes to our holiday traditions over the years, definitely the biggest shift has been the move from the religious aspects of my youth, to the family gathering traditions of my middle years. And, I am very comfortable with that change. To me the holidays are a time for loved ones and friends. A time to reflect on days past, and to look forward to the future. While some may scoff at the idea of the holidays, I do not: I appreciate the time I have with my family, recognizing that we all age, and those that we hold near and dear may not be with us much longer. The holidays are a time for all of us to gather together – something we don't do often enough with our busy schedules and lives.
Do you have any holiday traditions? What are they?
---
---
FOLLOW US ON: