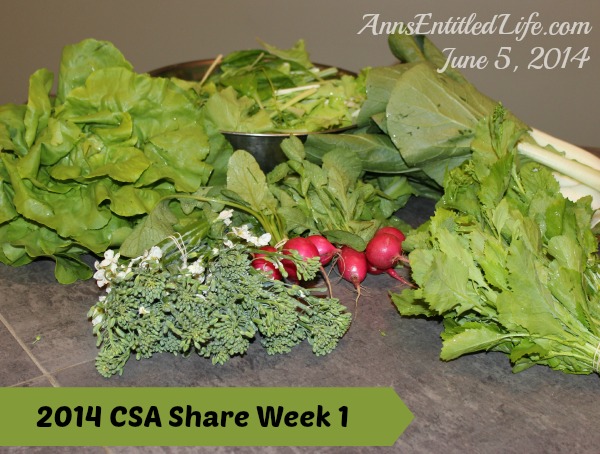 This is the diary of our 2014 CSA share. The cost of our full share is $545 for 22 weeks (this CSA offers a winter share) which will bring us to the last week in October, and works out to $24.75 per week. Western New York weather is such that June is lightest CSA month. September and October will be more than abundant! Usually I feel I don't get my money's worth the first few weeks (which will be predominantly lettuces), but the fall bags more than make up for that.
We also purchased a Fruit Share this year for $180, lasting 18 weeks which works out to $10 per week. The local fruit included in the fruit share starts with cherries, apricots, plums, peaches, nectarines, blueberries, and moves into pears, raspberries and of course apples! This portion of the share begins in July.
---
As I mentioned last week, our start of our CSA is already upon us! Looking at my backyard garden, I can't believe that produce was ready and available for us this week, but it definitely was! From the Root Down Farm Blog:
Part of this season started last fall, planting garlic cloves. The bulk of the season started in March when the greenhouse kicked off with onions, leeks, celeriac and celery, and herbs. But here we are a whole quarter of a year later and there are vegetables ready for harvest.
Since May dried out (April was pretty wet and warm), they have had to irrigate this past month. I know my sprinklers have been running three times a week, so I can believe they are pumping a LOT of water to those veges. Still, better to add water than have too much (like last year!). We do live on a pretty big lake.
This week we all got a bit of everything. There wasn't much variety, and it was pretty green. I had hoped to purchase eggs, but they didn't have any this week; they are contacting the egg man for eggs for next week.
There was actually less available this year first week compared to last year. We shall see how things develop going forward.
2014 CSA Share Week 1
● Bok Choy
● Broccoli Raab
● Broccolini
● Head Lettuce
● Radishes
● Red Leaf Lettuce
● Romaine (I think)
● Salad Turnips
● Various Greens – including Arugula, Tot Soi, Vitamin Greens and Tokyo Borkan
This week's selection was actually a disappointment to me. I expected all the greens, but had hoped for Romaine lettuce – I reallllllly wanted Caesar salad. LOL Maybe next week?
Do you belong to a CSA? If so, what type? How much? Do you find it as worthwhile as I do?
---
● For more CSA posts on Ann's Entitled Life, click here.
● Mind Your Peas and Cukes pinterest board: All things CSA, Produce, Farmstead Fresh – community supported agriculture, farmstand fresh produce, organic produce, more from all over the United States.
● CSA posts
● Find a CSA
● Porter Farms CSA (we belonged for years)
● Root Down Farm CSA (our 2013 and 2014 CSA)
● NYS Fruit and Vegetable Harvest Calendar
● US Agricultural Data
---