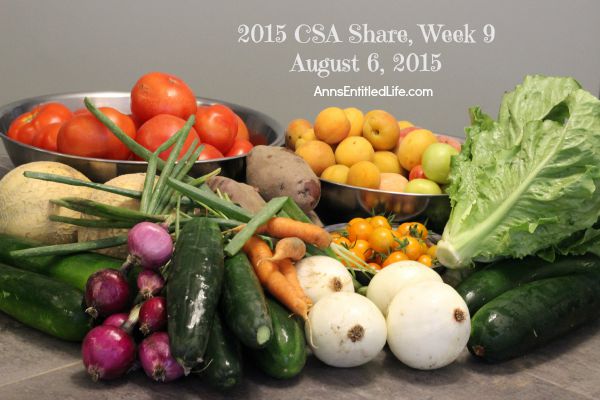 This is the diary of our 2015 CSA share. The cost of our full share is $545 for 22 weeks, from June through October, and works out to $24.75 per week. Western New York weather is such that June is lightest CSA month. September and October will be more than abundant! The first few weeks are light, and very, very leafy. As we move to the fall, the CSA becomes more abundant, and the variety increases greatly.
We also purchased a Fruit Share this year for $180, lasting 18 weeks which works out to $10 per week. The local fruit included in the fruit share starts with cherries, apricots, plums, peaches, nectarines, blueberries, and moves into pears, raspberries and of course apples! This portion of the share begins in July.
---
Cherries are done for the season (and wow were they fantastic this year!), we had one week of blueberries, and I wonder if there will be more? Apricots are plentiful (and Hubby and I are refining a recipe with these and hoping the third time is a charm!), and the plums and peaches are out in force. This week we received 6 pounds of mix and match apricots, plums and peaches, and I took a bit of each.
The produce selection seems more fall-ish right now than summer-ish, except for the tomatoes. I did purchase an 1/8th of a bushel for $4. This weekend Hubby and I are heading up to the town above Niagara Falls for an art festival, so I think we will take the scenic route and look for cheaper tomatoes to buy for freezing.
2015 CSA Share Week 9
● Apricots
● Cantaloupe
● Carrots
● Celery How To Dry Celery
● Chard
● Cucumbers 20 Cucumber Recipes
● Eggplant
● Kale
● Lettuce
● Peaches 20 Fresh Peach Recipes
● Plums 20 Fresh Plums Recipes
● Potatoes 25 Scrumptious Real Potato Recipes
● Salad Greens
● Salad Turnips
● Scallions
● Summer Squash 20 Zucchini and Summer Squash Recipes
● Tomatoes 20 Fresh Tomato Recipes
● Zucchini 20 Zucchini and Summer Squash Recipes
Do you belong to a CSA? If so, what type? How much? Do you find it as worthwhile as I do?
---
● For more CSA posts on Ann's Entitled Life, click here.
● Mind Your Peas and Cukes pinterest board: All things CSA, Produce, Farmstead Fresh – community supported agriculture, farmstand fresh produce, organic produce, more from all over the United States.
● CSA posts
● Find a CSA
● Porter Farms CSA (we belonged for years)
● Root Down Farm CSA (our 2013-2015 CSA)
● NYS Fruit and Vegetable Harvest Calendar
● US Agricultural Data
---