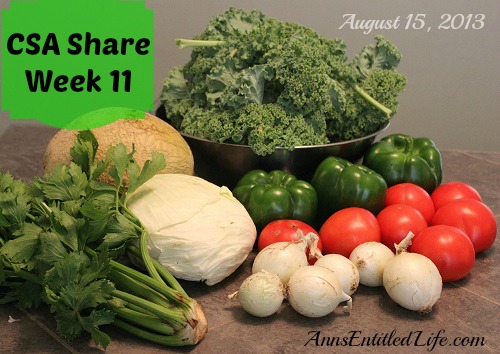 This is the diary of our CSA share this year. The cost of a full share is $545 for 22 weeks (this CSA offers a winter share) which will bring us to the last week in October, and works out to $24.75 per week. Western New York weather is such that June is lightest CSA month. September and October will be more than abundant! Usually I feel I don't get my money's worth the first few weeks (which will be predominantly lettuces), but the fall bags more than make up for that.
I decided not to take any salad greens this week. We haven't been eating salads lately, and I hate to take something just for the sake of taking it. Since we have a good supply of onions, peppers and tomatoes, Hubby decided to make a pot of chili this weekend. Sounds good to me!
This week we took:
● Cabbage
● Cantaloupe
● Celery
● Green Peppers
● Kale
● Onions
● Tomatoes
Also available that we didn't take:
● Arugula
● Beets
● Carrots
● Chard
● Collards
● Salad Greens
● Squash
● Zucchini
What we could have taken in the garden (but didn't):
● Cherry Tomatoes
● Cut Flowers
● Yellow and Green Beans
● Basil
● Cilantro
● Dill
● Lavender
● Marjoram
● Rosemary
● Thyme
Do you belong to a CSA? If so, what type? How much? Do you find it as worthwhile as I do?
● Past CSA Shares
● Find a CSA
● Porter Farms CSA (we belonged for years)
● Rootdown Farm CSA (our 2013 CSA)
● NYS Fruit and Vegetable Harvest Calendar
● US Agricultural Data