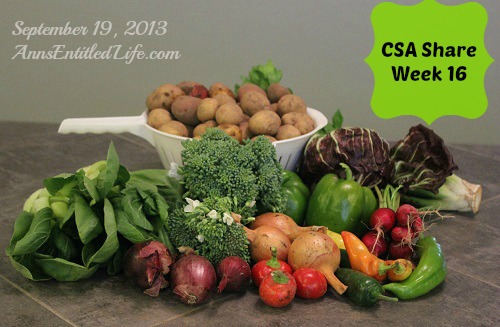 This is the diary of our CSA share this year. The cost of a full share is $545 for 22 weeks (this CSA offers a winter share) which will bring us to the last week in October, and works out to $24.75 per week. Western New York weather is such that June is lightest CSA month. September and October will be more than abundant! Usually I feel I don't get my money's worth the first few weeks (which will be predominantly lettuces), but the fall bags more than make up for that.
---
Our winter share csa sign-up came out last week. I don't think Hubby pulled the trigger, and it is now sold out. I am not heartbroken though; we won't be here for two of the three pick-ups, and we'd basically be buying for my sister. She can buy her own CSA share. 😉 My fear is Hubby will go out and do another 1000# squash buy though. My head can't handle that this year.
This week we didn't really need anything. Hubby spent last weekend foodsavering a lot of the CSA veges we had in the refrigerator, and we still have garlic, onions and squash to use from prior weeks. Sooooo I went to pick-up myself this week (well, Max went along for the ride) and stood there and looked and looked before making my decision. I took a lot of potatoes because those we will use, and one of the choices were Yukon Gold which are excellent! I also know what time to pick-up now that school is back in session: 3pm. The kids haven't been picked up nor are they off the bus yet, so the CSA is pretty empty! YAY!
This week we took:
● Bok Choy
● Broccolini
● Celery
● Onions (red and white)
● Peppers (hot and sweet)
● Potatoes (ref and white)
● Radicchio
● Radishes
Available that we did not take:
● Beans
● Beets
● Chard
● Collards
● Eggplant
● Fennel
● Kale
● Kohlrabi
● Salad Greens
Do you belong to a CSA? If so, what type? How much? Do you find it as worthwhile as I do?
---
● Past CSA Shares
● Find a CSA
● Porter Farms CSA (we belonged for years)
● Rootdown Farm CSA (our 2013 CSA)
● NYS Fruit and Vegetable Harvest Calendar
● US Agricultural Data