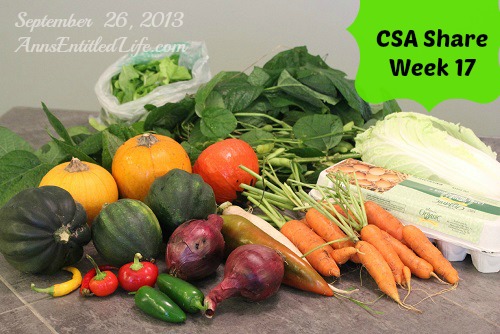 This is the diary of our CSA share this year. The cost of a full share is $545 for 22 weeks (this CSA offers a winter share) which will bring us to the last week in October, and works out to $24.75 per week. Western New York weather is such that June is the lightest CSA month. September and October will be more than abundant! Usually, I feel I don't get my money's worth the first few weeks (which will be predominantly lettuces), but the fall bags more than makeup for that.
---
Fall harvest time has begun here in New York State. The next few weeks will be plentiful, and Hubby and I have to decide if we should be ambitious this year with freezing and storing. I am thinking "no" just because we plan on being away so much of the winter. I asked him if we were planning on bringing any of our cow down to Florida with us, and he nixed that idea. There isn't all that much left (omg was it GOOD), but I thought we could take the remains. I am certain if he won't take meat, he is not going to want to take down vegetables.
So, I guess we enjoy the veggies while they are fresh! And next we we will be getting Halloween pumpkins.
This week we took:
● Acorn Squash
● Carrots
● Daikon (white radish)
● Edamame (soy beans… that is the giant pile in the back)
● Napa Cabbage (OMG this makes the BEST frizzled cabbage!)
● Onions (red)
● Peppers (hot)
● Pie Pumpkins
● Salad Greens
Available that we did not take:
● Bok Choy
● Beans
● Beets
● Celery
● Chard
● Collards
● Eggplant
● Kale
● Kohlrabi
● Peppers (sweet)
● Radicchio
● Radishes
And I once again bought the free range, organic fed, brown chicken eggs for $5 a dozen. I think I will miss these most of all when the CSA ends in a few weeks. I'll just have to remember to buy a few dozen the last week to tide me over.
Do you belong to a CSA? If so, what type? How much? Do you find it as worthwhile as I do?
---
● Past CSA Shares
● Find a CSA
● NYS Fruit and Vegetable Harvest Calendar
● US Agricultural Data