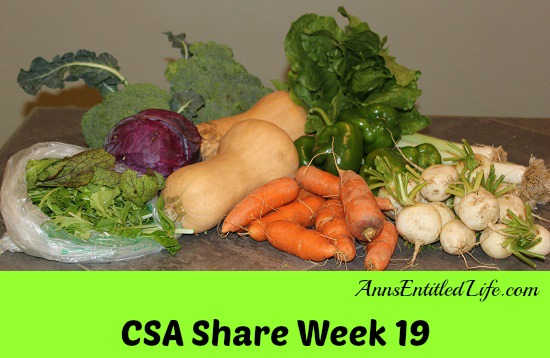 This is the diary of our CSA share this year. The cost of a full share is $545 for 22 weeks (this CSA offers a winter share) which will bring us to the last week in October, and works out to $24.75 per week. Western New York weather is such that June is lightest CSA month. September and October will be more than abundant! Usually I feel I don't get my money's worth the first few weeks (which will be predominantly lettuces), but the fall bags more than make up for that.
---
The u-pick is now closed. They had announced that it would close last week, and they were true to their word.
This week there wasn't a large assortment, but that's ok because we still haven't used what we picked up the last two weeks! Hubby plans on a broccoli-cheese or broccoli-potato-cheese soup this weekend. That would help. And he's going to freeze the leeks. They are beautiful, so we are taking them while we can.
We added some butternut to our squash stash, and the delicata are due to be back again next week. Since squash will keep, we like this fall vegetable.
He still hasn't used the other six cabbage in the fridge, so what's one more??? Shesh
And, I tried to get eggs (organic fed, free range brown eggs), but they were sold out. I asked for two dozen for next week, and I will ask for two dozen again our final week. I honestly loved them!
This week we took:
• Broccoli
• Cabbage
• Carrots
• Leeks
• Lettuce
• Peppers (sweet)
• Salad Greens
• Salad Turnips
• Squash
Available that we did not take:
• Beets
• Chard
• Eggplant
• Kale
• Kohlrabi
• Radicchio
Do you belong to a CSA? If so, what type? How much? Do you find it as worthwhile as I do?
---
• Past CSA Shares
• Find a CSA
• Porter Farms CSA (we belonged for years)
• Rootdown Farm CSA (our 2013 CSA)
• NYS Fruit and Vegetable Harvest Calendar
• US Agricultural Data