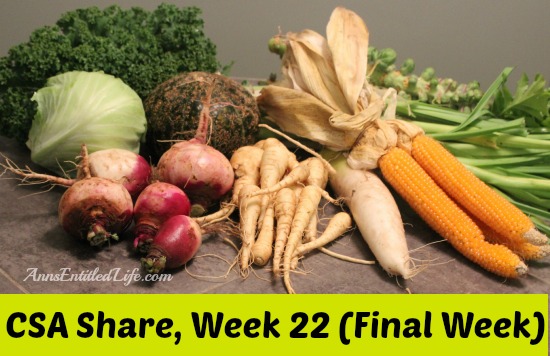 This is the diary of our CSA share this year. The cost of a full share is $545 for 22 weeks (this CSA offers a winter share) which will bring us to the last week in October, and works out to $24.75 per week. Western New York weather is such that June is lightest CSA month. September and October will be more than abundant! Usually I feel I don't get my money's worth the first few weeks (which will be predominantly lettuces), but the fall bags more than make up for that.
---
This is the final week of our 2013 CSA Share, and honestly I am glad it is over. We kept up very well with our share this year – mostly because it wasn't that plentiful due to the crazy weather we had in June. It rained 10″ in June where normal is under 4″ for the entire month! That stunted the growth of a lot of vegetables. However since September was glorious weather, the October shares have been abundant, and we've had a hard time keeping up. We probably should have given away more than we did this past month. We have stored a lot of the squash, Hubby spent some time last week freezing extra vegetables, and he made a number of soups which also helped us up the CSA shares.
The Brussels sprouts we received this week are a tad small. I am sure if this went a few more weeks like our old CSA does, we'd have seen the Brussels sprouts in two weeks and they would have been much larger.
The popping corn is cool! We have to leave it in a paper bag for two weeks so that all the moisture is out before popping in the microwave. I look forward to that!
This week we took:
● Brussels sprouts
● Buttercup Squash
● Cabbage
● Kale
● Leeks
● Parsnips
● Popcorn (this is cool!)
● Turnips
● Winter Radishes (daikon)
Available that we did not take:
● Broccoli
● Carrots
● Cauliflower
● Celery Root
● Chard
● Delicata Squash
● Kohlrabi
● Tomatillos
● Winter Radishes (black Spanish, watermelon)
Do you belong to a CSA? If so, what type? How much? Do you find it as worthwhile as I do?
---
● Past CSA Shares
● Find a CSA
● Porter Farms CSA (we belonged for years)
● Rootdown Farm CSA (our 2013 CSA)
● NYS Fruit and Vegetable Harvest Calendar
● US Agricultural Data
---