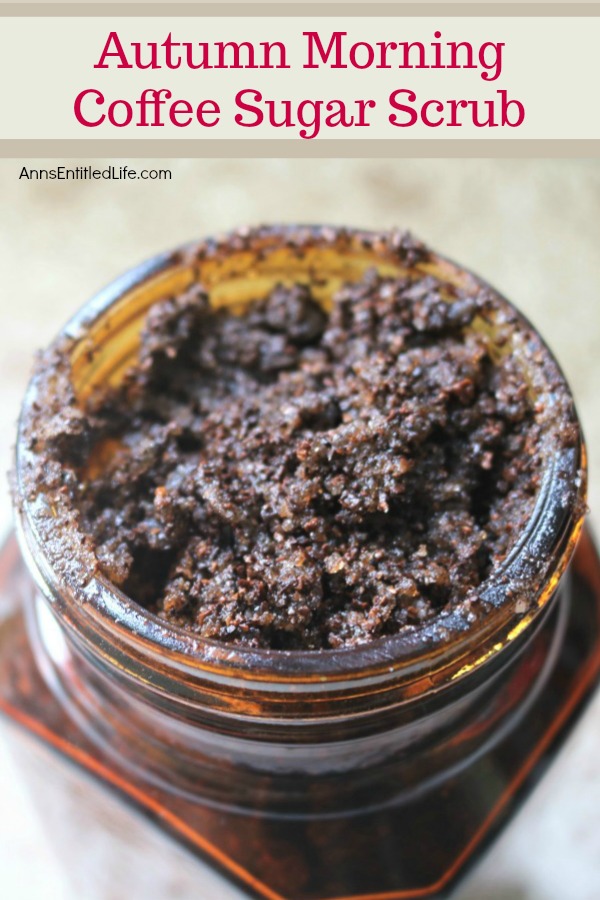 Autumn Morning Coffee Sugar Scrub
Try this amazing sugar scrub which features the wonderful crisp scents of the fall season. This Autumn Morning Coffee Sugar Scrub moisturizes and exfoliates leaving your skin feeling oh so soft and smooth.
● The Orange Essential Oil
adds a fresh, sweet scent to the scrub, and is considered by many to be a happy mood oil!
● The Cinnamon Essential Oil
bosts a wonderful, spicy aroma! A little goes a long way with cinnamon oil. The oil is 70 times more potent than the herb form, so when using it in any recipe, keep that in mind and use sparingly. You can always add more, but you cannot remove it!
● Always be sure your oils are of a pure therapeutic grade, too. Do not use the cheap, store brand copycat oils, as they may be diluted and many times have may have perfumes added into them.
If you like sugar scrubs, you might be interested in making some of these:
● Spearmint Sugar Scrub Cubes – If you like the smell of spearmint, you will fall in love with these easy to make Spearmint Sugar Scrub Cubes. This is a very easy DIY beauty product you will want to make again and again!
● DIY Grapefruit Sugar Scrub Cubes – These DIY Grapefruit Sugar Scrub Cubes smell wonderful! These Grapefruit Sugar Scrub Cubes have exfoliating properties due to the sugar, and as a bonus are a great cleanser.
● Apple Pie Sugar Scrub – This easy to make apple pie sugar scrub is a wonderful addition to your beauty regime. The warm, comforting scent of apple pie is simply delightful; your skin will feel and smell amazing!
Autumn Morning Coffee Sugar Scrub Materials:
● 1 cup Fresh Coffee Grounds – experiment if you like: hazelnut, vanilla, etc
● ½ cup Brown Sugar
● ½ cup White Sugar
● ½ cup Organic Coconut Oil
● 10 drops Orange Essential Oil

● 3 drops Cinnamon Essential Oil
Autumn Morning Coffee Sugar Scrub Mise en Place:
● Glass Measuring Cup

● Bowl
● Fork
● Whisk
● Spatula
● 16 oz Glass Jar with lid
● Label and Ribbon if desired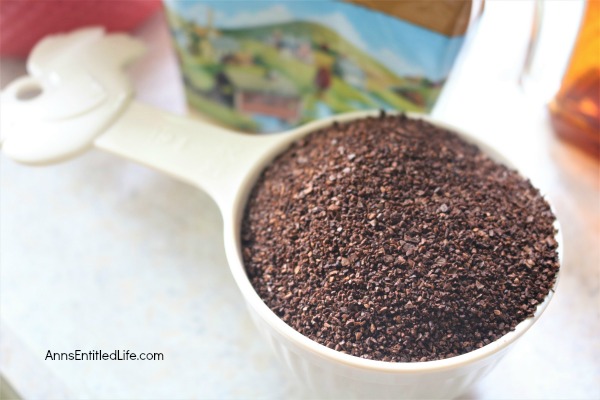 Autumn Morning Coffee Sugar Scrub Directions:
● Pour fresh coffee grounds into a bowl. (You may wonder if you can use your coffee grounds after you have made coffee with them and that is a good question. I tried this before, getting the recycled ones from Starbucks since they will give you a big bag for free. I dried them in the oven, thinking that would do the trick, but after making up scrubs with them, they gold moldy in the jars anyway, and within no time! NOT worth it. Use freshly ground coffee.)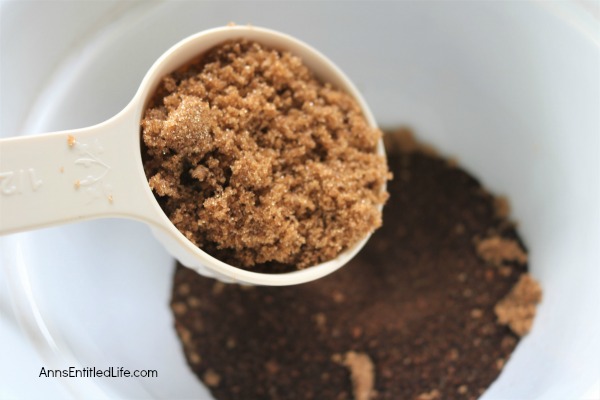 ● Measure out the brown sugar and add to coffee grounds. Use a scraper or a fork to remove any lumps in it.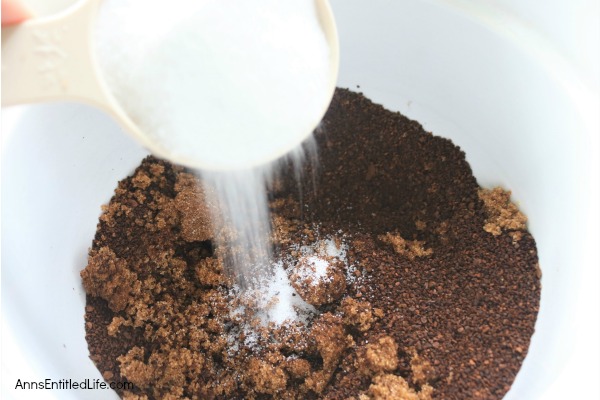 ● Then add in the white sugar and the coconut oil.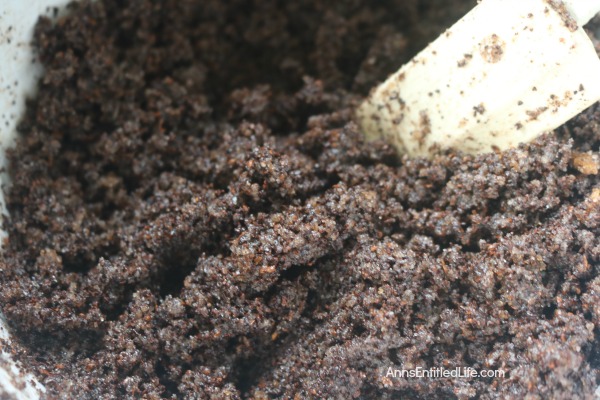 ● Mix well; double check for those lumps one last time.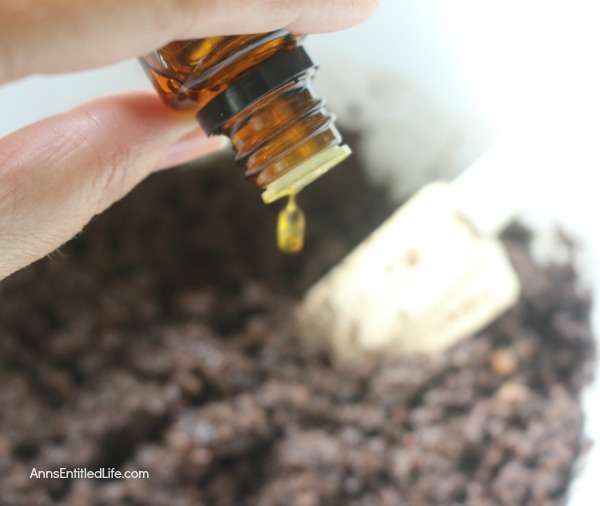 ● Add 10 drops Orange Essential Oil
and 3 drops Cinnamon Essential Oil.
These are both very thin oils, so they run out of the bottle fast and the last thing you want is twice the cinnamon oil – take it slow when pouring. It is a wise ideas to put the cinnamon drops in 3 separate spots in the mix just to be certain they do not end up in one place in the scrub.
● Using a whisk or a fork and blend it all in the mix good. Make sure to get down in the bottom edges of the bowl, the sugar likes to stick there.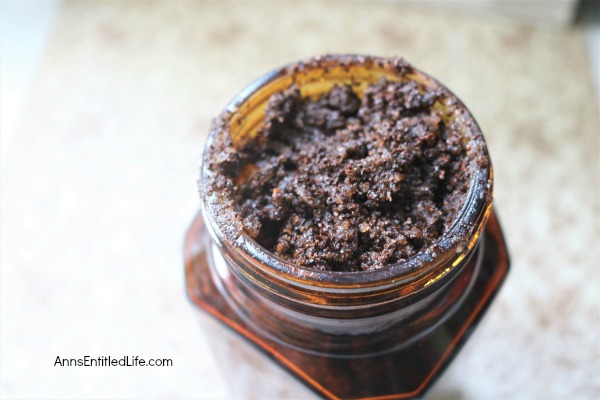 ● The consistency should be wet, but not drippy wet, just a damp. Scrubs do not need a ton of moisture: just enough.
● Transfer the scrub into a glass jar and place on the lid.
● Optional: label and ribbon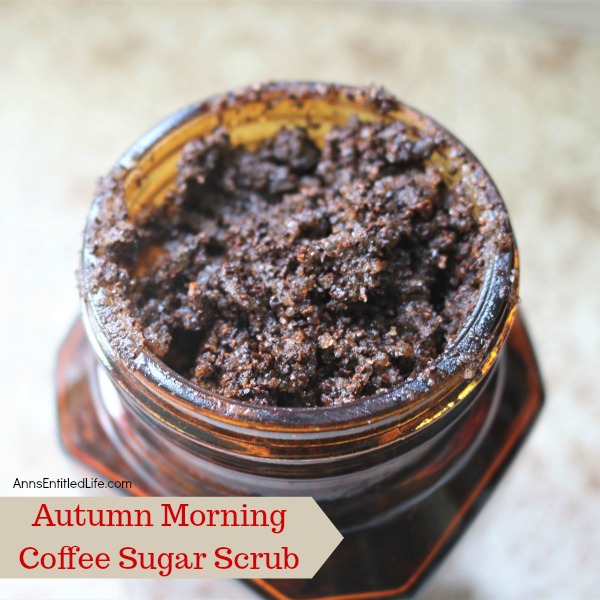 To use the Autumn Morning Coffee Sugar Scrub:
● Take just two fingertips full of the scrub and rub into rough areas like elbows or knees, or on hands or feet where skin can be rougher, or use in the shower all over the body. Rub it in until it breaks down well and dissipates so that it is really working to exfoliate.
● Rinse well!
Note: None of this is meant as medical advice. I am not a doctor and do not play one on the internet. Please consult a physician if you have any questions about using essential oils or sugar scrubs so your doctor can better explain to you the benefits, possible side effects, and any warnings about essential oils and sugar scrubs.
---
● Disclosure: the links in this post may be affiliate links.
● For more DIY Beauty posts on Ann's Entitled Life, click here.
● If you enjoyed this post, be sure to sign up for the Ann's Entitled Life weekly newsletter, and never miss another article!
---