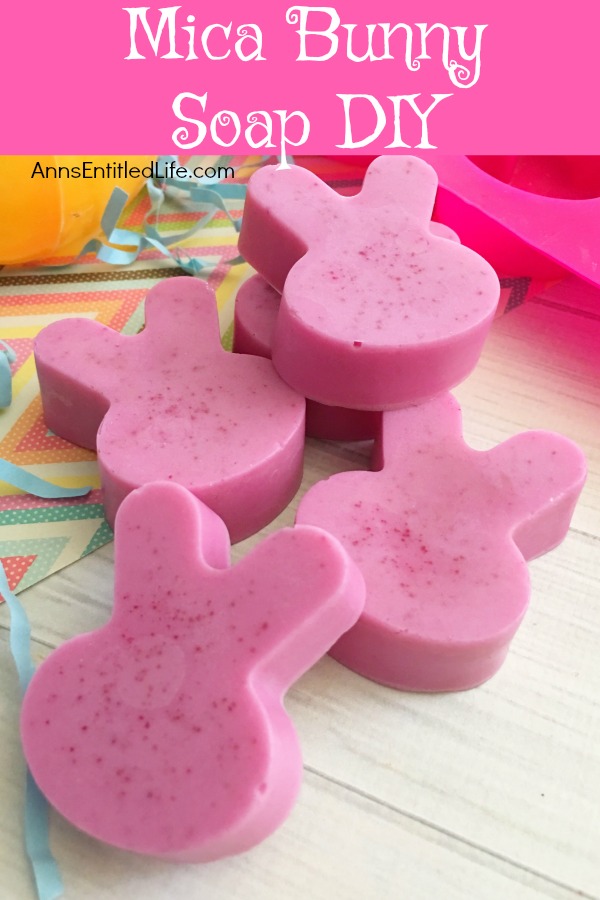 Mica Bunny Soap DIY
If you have wondered how to make your own soap using mica powder, this mica bunny soap tutorial will show you how. It is much easier to do than you would think, and the colors come out lovely.
Making handmade soap is fun and easy! If you are looking for homemade soap recipes, here are a few you might like to try: this snowflake soap is wonderful for the winter season! This tutorial teaches you how to make your own peppermint soap! Another wonderful winter soap to use at home or give as a gift. If you like creamsicles, you may want to learn how to make your own orange creamsicle soap.
For a little bit of luxury, this homemade bar soap recipe cannot be beat: lavender and oats goat milk soap recipe (oh the decadence!) And if you like real flowers in your soap (truly!) try this lovely rose petal soap recipe. It is just wonderful.
Now on to the mica bunny shaped soap recipe…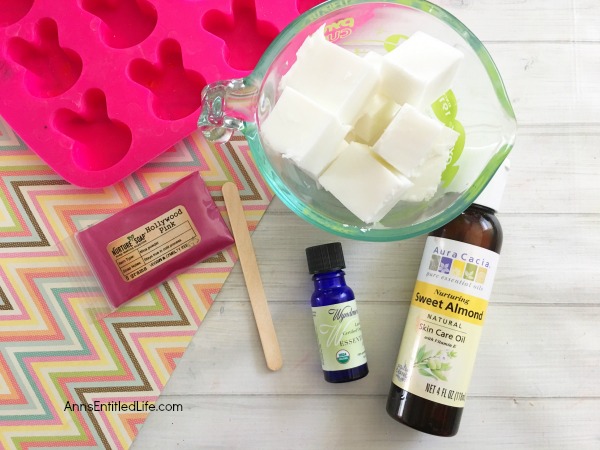 Mica Bunny Soap Ingredients:
● 2/3 cup Shea Butter Glycerin Soap Base

● (2) .15cc scoops Cosmetic Grade Mica Powder
(Hollywood Pink was used in this tutorial)
● ½ tsp Sweet Almond Oil

● 3 drops Lavender Essential Oil
Mica Bunny Soap Mise en Place:
● Large Glass Measuring Cup

● Silicone or Wooden Spoon or Stir Stick
● Silicone Bunny Mold

● Rubbing Alcohol (and spray bottle if needed)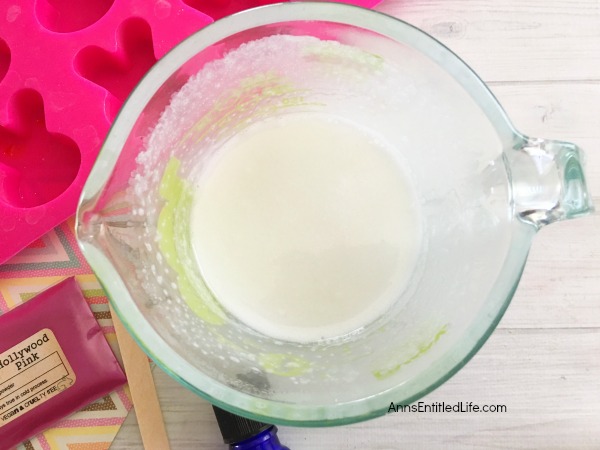 Mica Bunny Soap Directions:
Mica Powders will stain so make sure you lay newspaper down before using.
● Lay down a covering to protect your work surface.
● Melt approximately 6-8 ice cube sized blocks of soaps in the microwave in a glass measuring cup (more or less until you have 2/3 cup of melted soap).
● Once completely melted, mix in your sweet almond oil and essential oil until combined.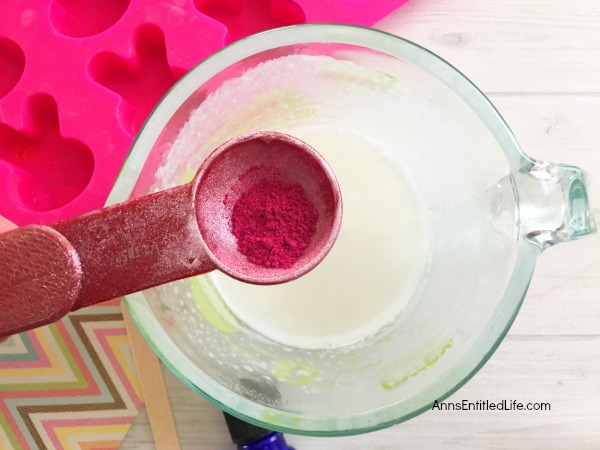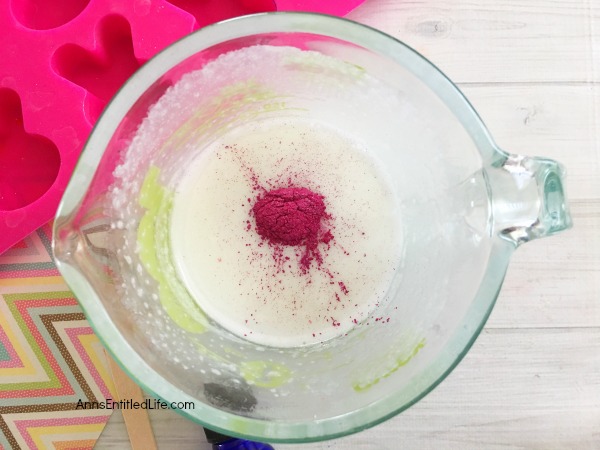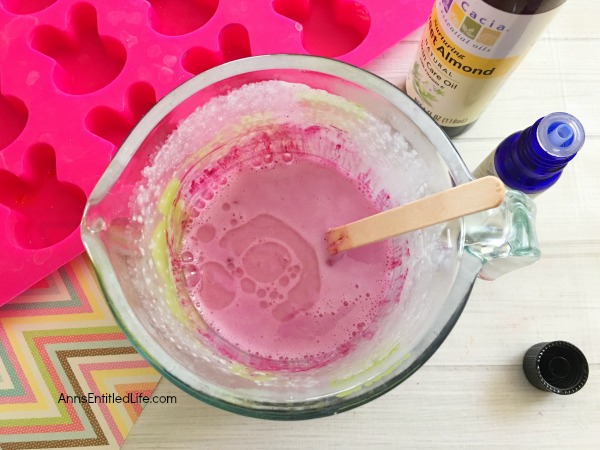 ● Now add in your mica powder and mix with a craft stick until the mica powder is completely dissolved.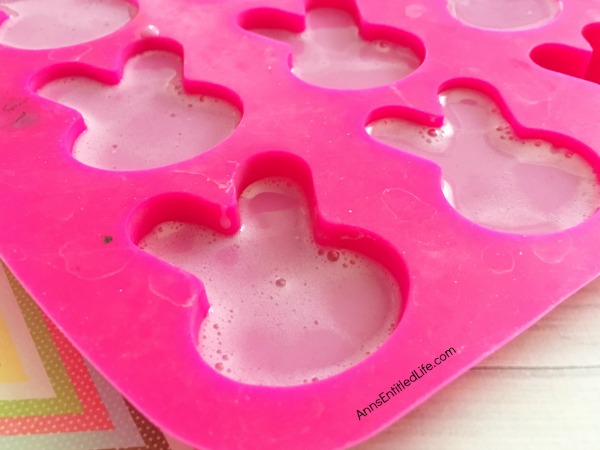 ● Carefully pour the melted soap into your bunny molds and lightly mist with rubbing alcohol to prevent air bubbles from forming on the surface (optional).
● Freeze for 15-20 minutes and carefully remove each bunny from the molds (they should pop right out of you press up on the bottom).
● If presenting as gifts, you can tie with a ribbon, wrap with cellophane and a ribbon, etc.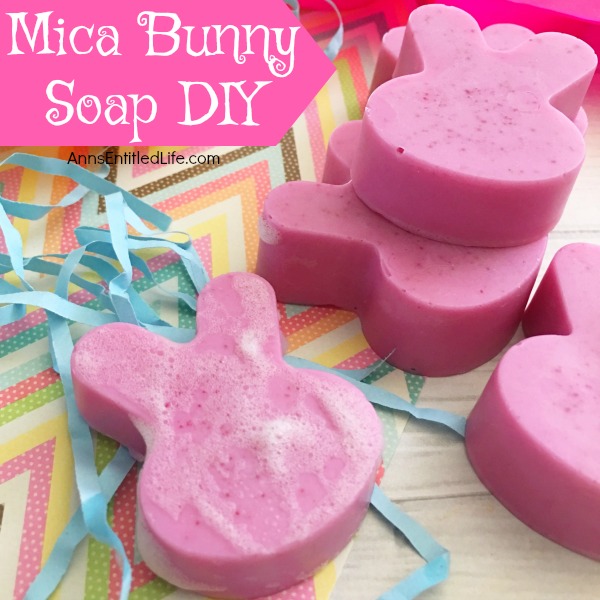 ● These are perfect for display for spring or Easter holiday in a guest bathroom (I can't be the only one that does that!), gift giving, or to set in a linen closet for a wonderful smelling scent, as well as everyday use!
● To print the Mica Bunny Soap DIY Recipe click here.
---
● Disclosure: the links in this post may be affiliate links.
● For more DIY Beauty posts on Ann's Entitled Life, click here.
● If you enjoyed this post, be sure to sign up for the Ann's Entitled Life weekly newsletter, and never miss another article!
---