Enjoy succulent meats, crispy and flavorful skins, and perfectly cooked roasts when you utilize these 12 Tips For Roasting Meat and Poultry. Your dinner never tasted so good.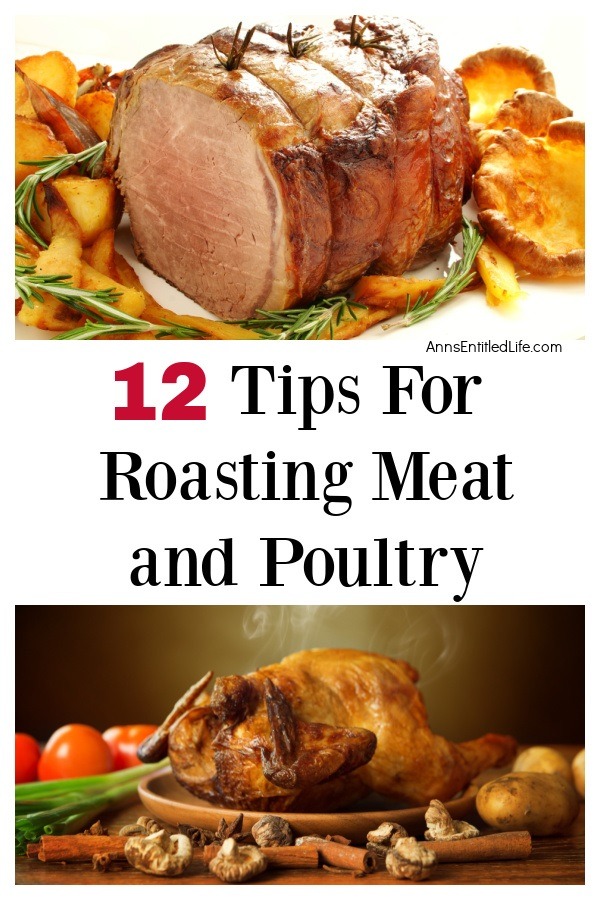 12 Tips For Roasting Meat and Poultry
● Use a thermometer to calibrate and verify your oven temperature. If you have a convection oven and use the convection setting to roast (and why wouldn't you!?), remember that your meat will cook faster than at traditional oven temperature.
● Let beef rest at room temp before you start cooking at least 1 hour, but no more than 2 hours.
● Set your meat or poultry on a rack inside a roasting pan so it roasts, and does not steam it its own juices.
● A dry rub or marinade will help with flavor.
● If you are doing a marinade, place your meat in a 2 gallon Ziploc bag overnight to contain the marinade-mess, and evenly distribute marinade to the surface area of the roast.
● Rub butter on turkey or chicken skin and cook the last 30 minutes – 1 hour uncovered.
● Stuff a whole onion inside the cavity of a chicken, as well as a few tablespoons of butter. This is OMG delicious!
● Do not salt a roast before cooking as salt will draw the moisture out of meat.
● If roasting a very lean cut of meat, covering with bacon slices will help with moisture, browning, and flavor.
● Cooking a beef roast (prime rib, eye of the round) the first 15 minutes at a very high heat (450°F) and then lower the temp to 300°-325°F for the remainder of cooking time to form a good outer crust. If you lower to 300°F, Hubby says to not open the oven again until you are ready to take the meat temperature at the end of the roasting time.
● There are all sorts of cook-time charts out there. Set your timer for the low end of the recommended cooking time, and use a thermometer to check for done. You can always roast longer if necessary, but once your roast is overcooked, there is no going back.
● Let meat and poultry rest for 10 minutes before cutting, and always cut against the grain. Remember the meat and poultry still cooks when at rest. It will not only continue to cook, it will increase in temperature when you pull it out of the oven to let it rest!
What tips for better roasting do you have!?
---
● For more Household Tips on Ann's Entitled Life, click here.
● Click here for Recipes on Ann's Entitled Life.
● Enjoy this post? Sign up for the Ann's Entitled Life FREE Weekly Newsletter to stay connected.
---