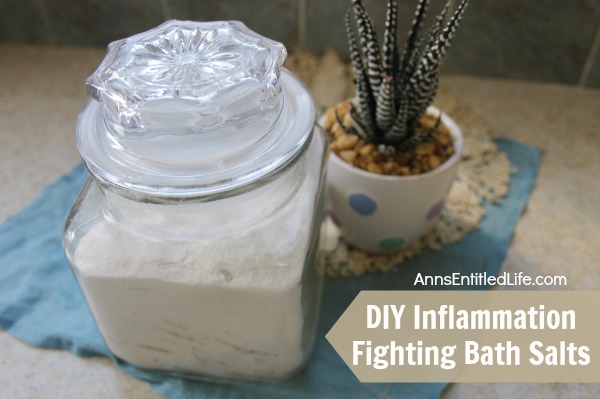 DIY Inflammation Fighting Bath Salts
Make your own inflammation fighting bath salts with this easy homemade recipe featuring Bergamot and Lemongrass Essential oils.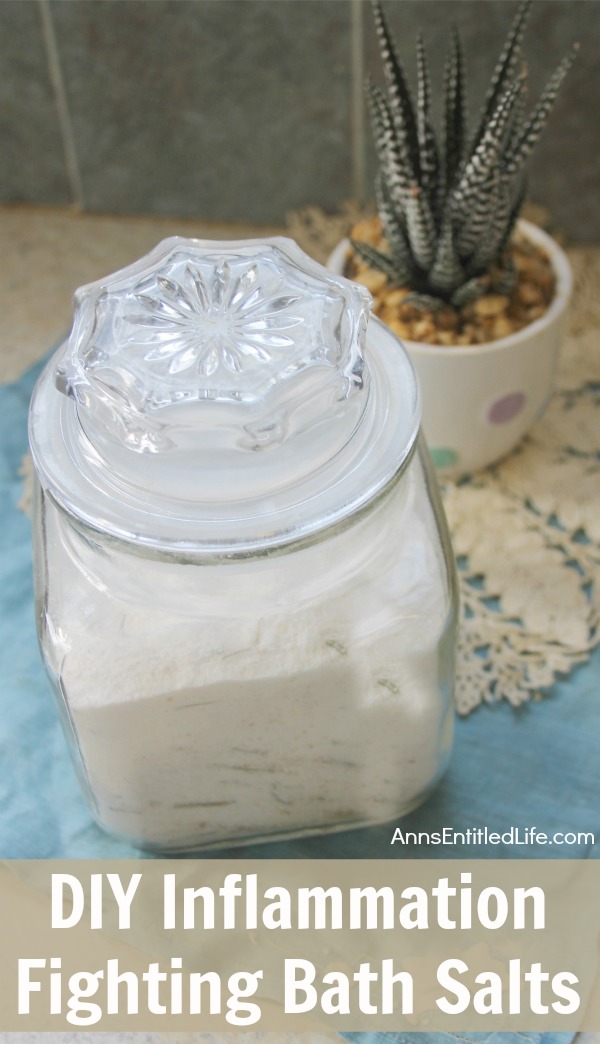 From time to time most of us can really use a really good hot bathtub soak to help relieve stress to our tired muscles. A long soak can also help calm us down, relax, and help with mental stress. There is a reason the "Calgon, take me away" campaign was so successful for so many years: time in the tub can really help mentally and physically.
Tor someone who fights chronic inflammation this DIY Inflammation Fighting Bath Salts may be quite helpful. The bergamot is very calming and good for your skin. The Lemongrass Oil can help relieve muscle tension. If you apply Lemongrass Oil directly to and area of sore muscles after a bath (or anytime really), it may help to help loosen tight muscles.
This particular recipe features borax in its base ingredients as well, which alone is a needed mineral for anti-inflammation and overall bone health. Borax itself is normally thought of as being something you use to wash clothes in and so people do no not usually of it as being safe for use in things like bath salts – but if you think about it, your clothing touches your skin all day long. Here are some common uses for Borax! It is made up of sodium, boron, oxygen & water. Boron actually an essential nutrient. We usually get our boron intake from nuts, fruits and vegetables (usually via chickpeas, almonds, walnuts, legumes, bananas, avocado, broccoli, prunes, oranges, red grapes, apples, raisins, pears, and vegetables).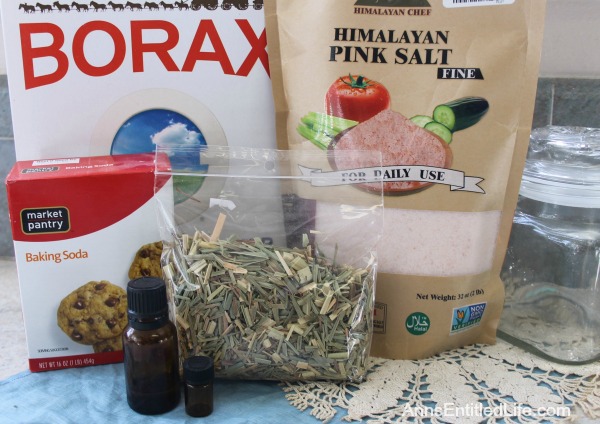 DIY Inflammation Fighting Bath Salts Mise en Place:
● Mixing Bowl
● Measuring Spoons
● Whisk
● Glass Measuring Cup
● Glass Jar with Lid (12oz)
● Ribbon and Label (if desired)
DIY Inflammation Fighting Bath Salts Ingredients:
● 6oz Baking Soda
● 4oz Borax
● 2oz Himalayan Sea Salt
● 12 drops Pure Bergamot Essential Oil
● 15 drops Pure Lemongrass Essential Oil
● Optional 1 TBSP Dried Lemongrass
DIY Inflammation Fighting Bath Salts Directions: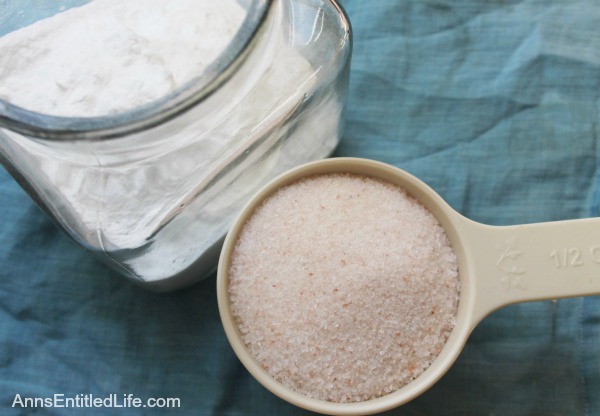 ● Measure out the baking soda into a mixing bowl and be sure to remove (or break apart) any large clumps.
● Add in your Himalayan Sea Salt and Borax.
● Whisk together until well blended.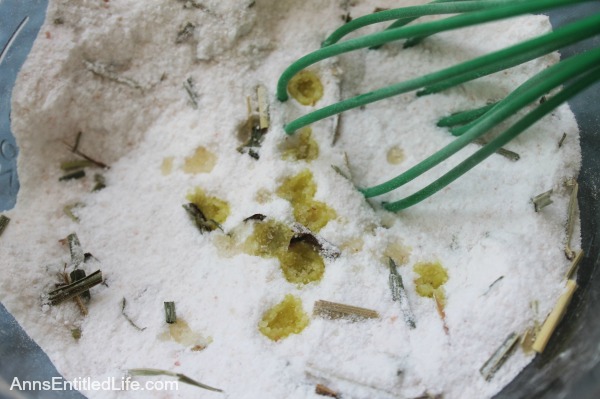 ● Add in the dried lemongrass (if you are using it) and just mix in until it's coated in the salts.
● Add in the Bergamot Essential Oil and Lemongrass Essential Oil.
● Whisk together until well blended.
● Take a deep breath while you're mixing, it smells so good!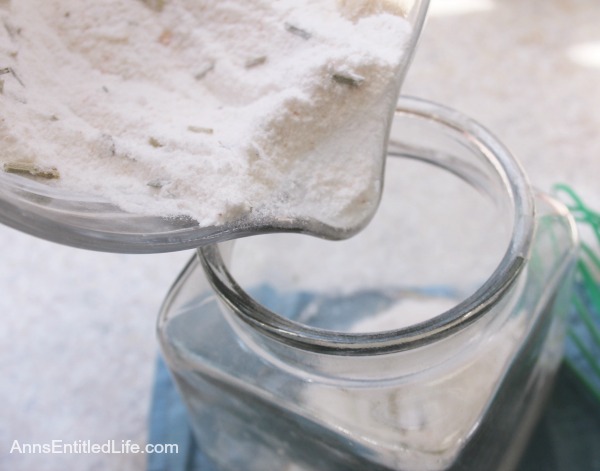 ● Spoon your Inflammation Fighting Bath Salts into a jar (12oz+) with a lid.
● Label the jar if desired. (To keep the label from getting damaged in the bathroom moisture, just cover it with some scotch tape!)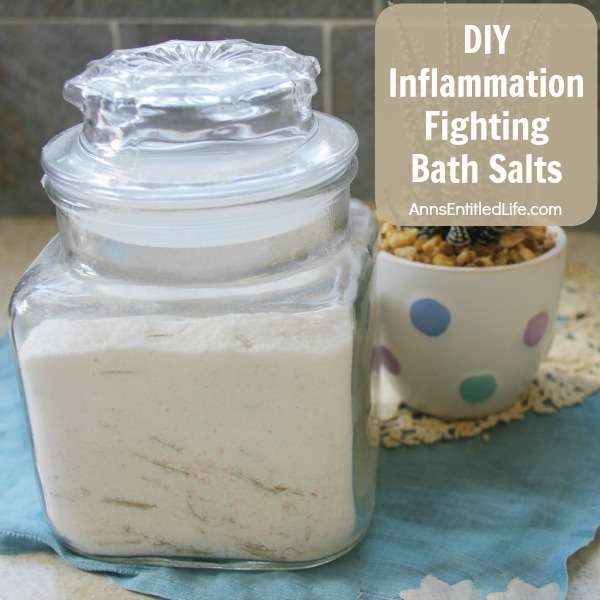 To Use the DIY Inflammation Fighting Bath Salts:
● Add two tablespoons of DIY Inflammation Fighting Bath Salts to your bath water. You don't want to over-do it. Use this once or twice a week, or as needed to help you relax and relieve muscle pain.
● To print the DIY Inflammation Fighting Bath Salts instructions click here.
Note: None of this is meant as medical advice. I am not a doctor, and do not play one on the internet. Please consult a physician if you have any questions about using essential oils or bath salts so your doctor can better explain to you the benefits, possible side effects, and any warnings about essential oils and bath salts.
---
● Disclosure: the links in this post may be affiliate links.
● For more DIY Beauty posts on Ann's Entitled Life, click here.
● If you enjoyed this post, be sure to sign up for the Ann's Entitled Life weekly newsletter, and never miss another article!
---