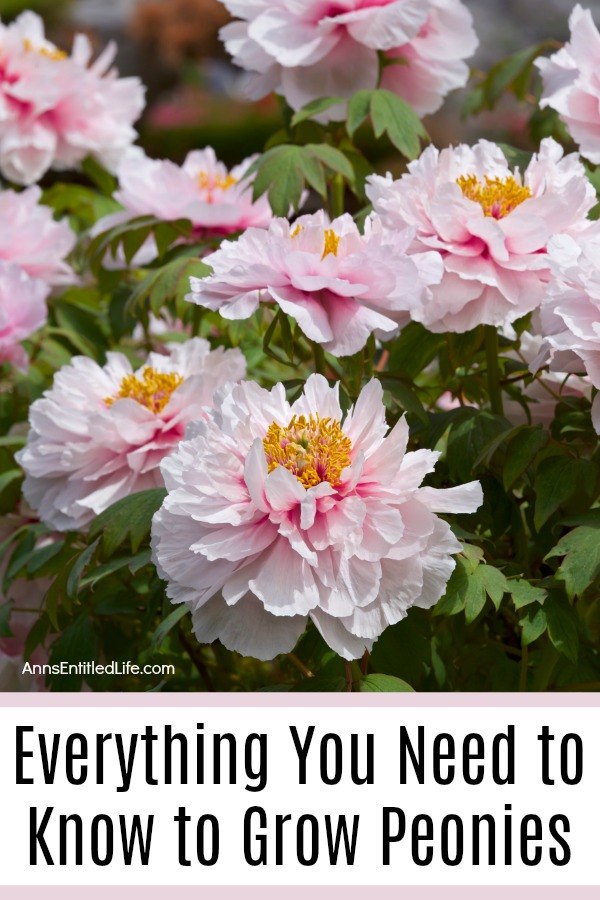 Peonies are a beautiful addition to any garden. They are extravagant bloomers, beautifully fragrant, and they also provide glossy and lush foliage. You can also see peonies in many garden shops and they make perfect decorations at home. Because of their beauty and longevity, these flowers symbolize a happy marriage and good fortune.
Everything You Need to Know to Grow Peonies
These flowers are outrageously fabulous when in full bloom during summer and spring. They are on every magazine and poster and all over Pinterest.
With the proper placement and soil care, you can grow these fragrant perennials for many years. Believe it or not, peonies can produce a vibrant display for up to 100 years.
Three Types of Peonies
There are three types of peonies to choose from. Each peony differs on the shape, color, and fragrance.
Herbaceous Peonies
These bush-like peonies have thin and limber stems. Due to the weight of its massive plentiful flowers, the stems often bend.
Herbaceous peonies grow to about four feet high. Once matured, the plants can produce up to 40 large blooms at a time.
Tree Peonies
Tree peonies grow up to ten feet tall. They are woody shrubs with flowers that are much larger than the herbaceous peonies. They also display sturdy, woody branches.
Due to the strength of the branches, they remain intact and strong throughout the winter season.
Itoh Peonies
Also known as the intersectional peonies, itoh peonies are hybrids of the herbaceous and tree peonies. They share the characteristics of both types.
Like the herbaceous peonies, in the fall they can be cut down to four to six inches to encourage new stem growth. Same with the tree peonies, they produce long-lasting blooms.
When to Plant Peony Flowers
Peonies are best planted in zones 3-9 before the first hard frost, between late September to October. These flowers can also be planted later in the warmer climates. However, if you are keeping them in pots and containers, peonies can be planted as early as the late spring or even during the early summer months.
Once your plant is established, at least two to three years after you started growing them, you will start to see the dormant plants emerging as soon as the spring temperatures begin to rise. You can also expect the flowers to begin blooming in April and you can enjoy the blooms up to June. One bloom generally lasts for one week up to 10 days.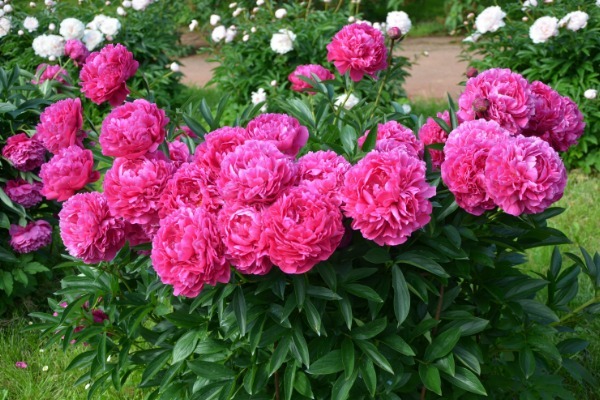 How to Plant Peonies
Here is what you need to get started growing peonies.
Prepare the Materials:
Before you start planting, gather your supplies.
● Shovel
● Well-draining soil with a neutral pH (if the soil is too acidic, you can add a cup of lime juice)
● Organic matter
● Bare root peony with the roots firmly attached to the crown and with at least three to five buds
● Peony rings or stakes
Choose the Peony Location
Since peonies love full sun, at least six hours of direct sunlight in a day, be sure to choose a sunny location.
You need to have at least three to five feet of space in between the plants, the fences, and the walls. This will allow sufficient air circulation. Keep the area well-weeded to avoid competition.
Planting the Peonies
You need to make sure that the flowers will grow happy and healthy so they will produce a lot of gorgeous blooms for the years to come. To start planting your peonies, follow these steps:
1. Dig a large hole of at least two feet deep and two feet wide.
2. To prevent root rot, spread a layer of gravel or sand to help with drainage.
3. Using the soil from the hole that you dug, mix in organic matter. You can also use bonemeal, compost, or peat moss. Use this prepared mixture to create a firmly packed mound.
4. Spread the roots of the peony around the top of the mound. Make sure to keep the eye, or the pink bud coming from the roots, no deeper than two inches below the surface of the soil.
5. Filling the remainder of the hole with soil, make sure not to let the bud discussed above drop more than the two inches mentioned.
6. Water the plant deeply.
You also need to prepare a support for the flowers, especially if you are planting herbaceous peonies. Stake your peonies with either a homemade stake or store bought peony ring. You want to keep the blooms high and off the ground. Once a peony blooms, it is top-heavy and will fall over. If you forget to stake before the peony blooms, no worries; it is not too late. Simply stake your plant as soon as you see the buds.
Insert the support into the soil over the plant once it is six inches in height. As they grow taller, the plant will start to grow through the ring or stake and be supported well.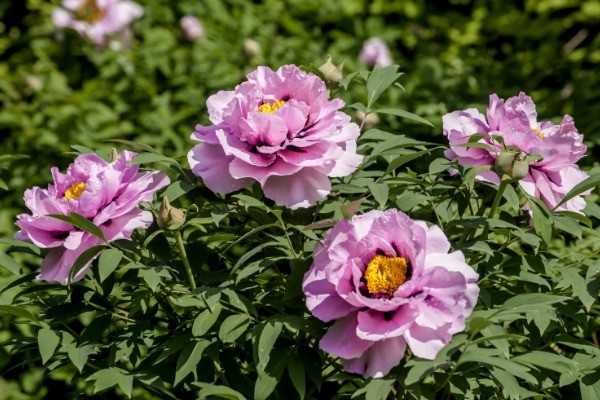 How to Care for Your Peonies
Once you are done planting your peonies, you also need to nurture them. Here are a few pointers to keep in mind so you can turn your garden into a peony paradise.
Give the Peonies Some Time
Peonies need to settle in to bloom. You should not expect them to fully bloom for the first two to three years after planted. With proper care and good soil, they will start producing flowers and continue for many years.
Provide Enough Space for Peonies to Grow
Allow no less than three feet between the plants. Even if they start small and grow slowly, you need to give them space.
Planting the peonies too close together can lead to leggy plants as they are vying for room to spread out. If you provide enough space between the plants, this will encourage plenty of airflow which helps in disease prevention.
Plant Peonies Away From Your House
Ants and peonies go hand in hand. Do not be alarmed if you see ants on your peonies, although they do not need ants to bloom, the nectar they secrete draws ants. The ants do not harm the plants, but, before you take a bouquet inside, you might want to rinse them off or dip them in a bucket of water to remove any possible hitchikers.
For this same reason you might want to consider where you would like peony plants to live in your garden, probably not outside your kitchen window so as not to encourage ants entering your home.
Feeding Peonies With Fertilizers
Peonies do not need a lot of fertilizers. Work the soil well before you start planting by mixing in compost, organic matter, and a little fertilizer.
However, if the soil is poor, you can start applying fertilizer like compost, bone meal or rotted manure to help correct any deficiencies.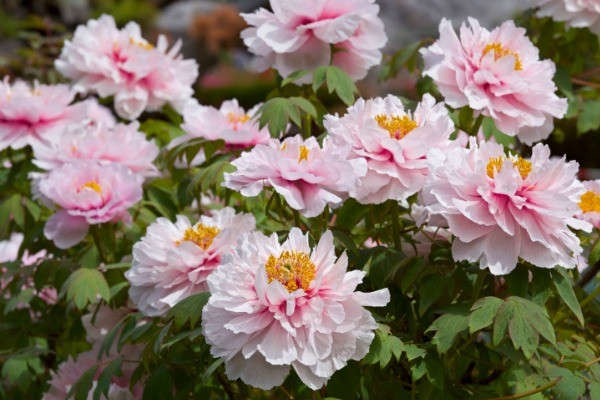 Cut the Peonies
Cutting the peonies can help them last longer. The best time to cut is when you see the bud looking and feeling like it's a marshmallow or when it just opened.
When cutting peonies, cut the stem at an angle. Strip off the leaves as well. Also, it is best to cut the peonies during the coolest part of the day, either in the morning or very late in the afternoon.
Dunk the heads into a bucket of water then swish them around the container. Doing this will remove any ants on the petals. Shake the water before bringing them indoors.
You can also wrap the flowers in a newspaper. Place rubber bands on the ends of the newspaper and store them on their sides, inside the refrigerator.
Peony flowers will remain fully open for 48 hours and can last up to 10 days.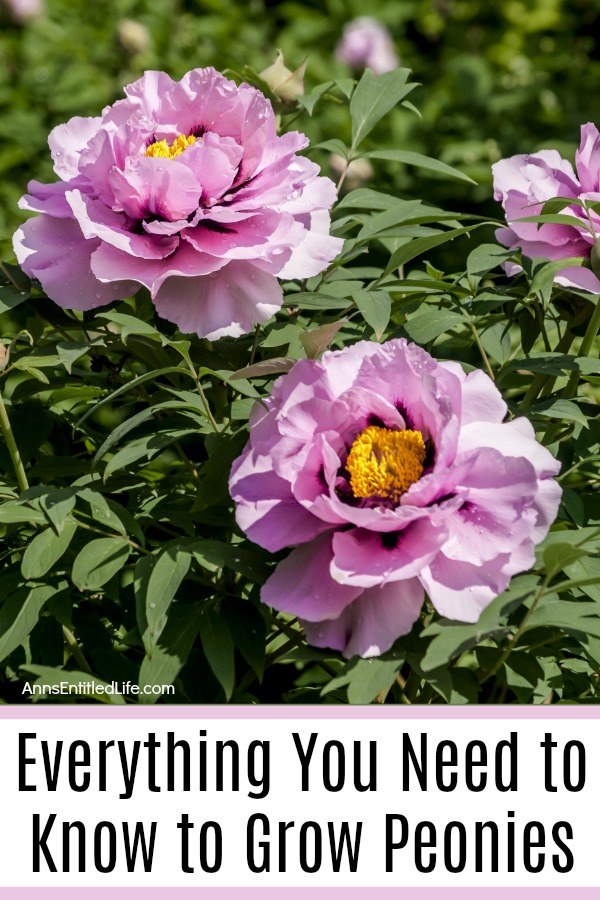 Like garden flowers? You may want to read up on caring for some of these great flowers for your garden:
● How to Grow and Care for Bromeliads – Bromeliad plant care and growth; how to grow and care for Bromeliads! Learn how to take care of your bromeliad plant and how to maintain a long lasting collection of bromeliad plants with fairly low maintenance using the tips in this post.
● Impatiens Flowers: Tips for Growing Impatiens – Impatiens are the perfect plant for those limited on space, sun, and time. They are one of the most forgiving plants you can grow, and can quickly add a pop to color to even the smallest of growing spaces. If you are curious about growing impatiens, look below at some helpful growing tips. You will find that these tips for growing impatiens can help you achieve the yard of your dreams!
● 10 Tips for Growing Daylilies – If you are a gardener on a budget, daylilies are one of the best plants you can grow. A small investment in daylilies will give you blooms for many years to come, and these quick growing plants can fill your yard up fast. Daylilies are fairly simple to grow too. Look below at some helpful tips for growing daylilies, and see why this is a plant you should add to your yard this year!
---
● Disclosure the links in this post may be affiliate links.
● For more Gardening posts on Ann's Entitled Life, click here.
● Enjoy this post? Sign up for the Ann's Entitled Life FREE Weekly Newsletter to stay connected.
---