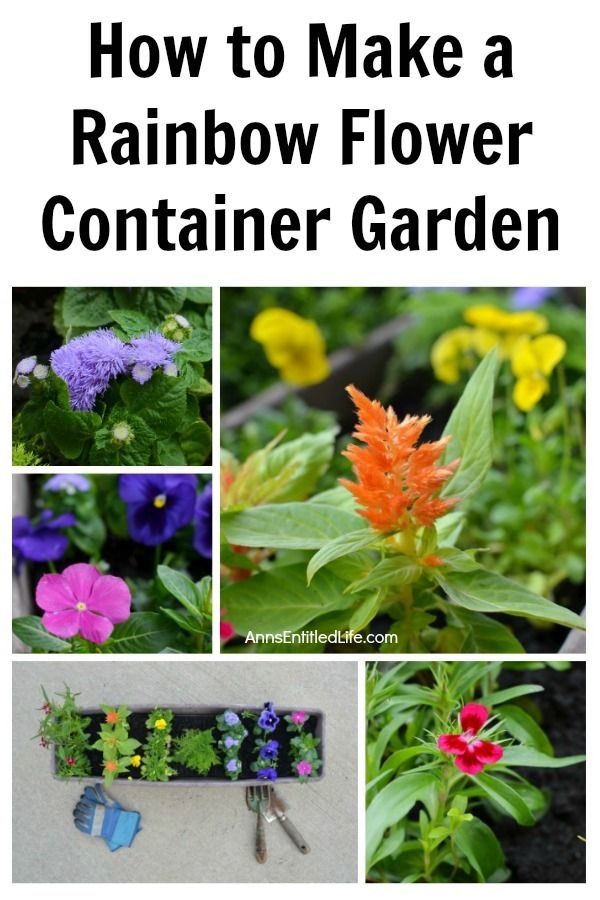 Small space flower container gardening does not have to be boring. Create a beautiful rainbow flower container garden to sit on your patio, window box, or three-season room. This post gives step-by-step detailing what flowers to plant, and how to grow a beautiful rainbow flower container garden!
How to Make a Rainbow Flower Container Garden
You can purchase seeds or already sprouted flowers at: your local garden center, Home Depot, online seed and plant companies such as Burpee. Heck, even Amazon sells seeds.
As I have shared before, I use earth boxes for most of my container gardening. While I predominately grow vegetables, I also love the beauty of containers filled with flowers!
Growing a rainbow garden in the ground or in a container is fairly easy. The most important points are selecting the correct colors (Note: the colors of the rainbow are Red, Orange, Yellow, Green, Blue, Indigo, and Violet), as well as what will grow well in your zone. Knowing your planting zone can quickly help you pick flowers that will work well for you.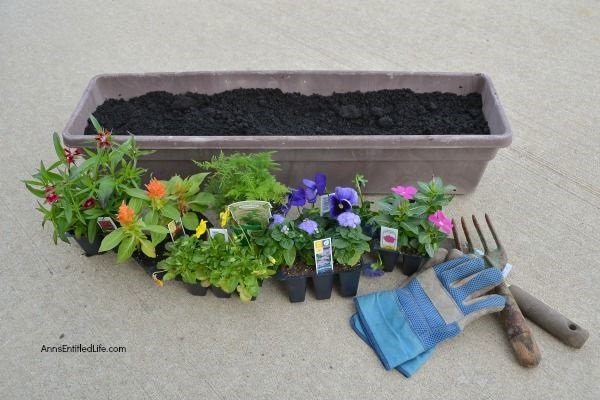 Rainbow Container Garden Supplies:
● Garden Containers – you can choose pots, long rectangles, grow towers, raised containers, and more! These days the type of plant containers truly seems endless. Use what works best for your space and physical needs.
● Potting Soil – potting soil (as opposed to top soil) is lighter and contains nutrients to give your flowers a great start. You can choose from traditional potting soil, or organic potting soil.
● Plant Food – if your soil does not contain plant food (and even if it does) all-purpose plant food will give your flowers a great start!
● Garden Spade – todig a hole to transplant your flowers
● Garden Gloves – if you don't like to get your hands dirty – or if you have long nails. I seldom use gloves when gardening, but I started my containers last week and my nails are unusually long right now (for me). Yikes. It took two days to get them clean (yes, yes, run them over a bar of soap first but I can't be the only person who thinks that feels weird). I set in my vegetables and flowers this week and did pull on a pair of gloves.
● For a comprehensive list of garden tools, click here.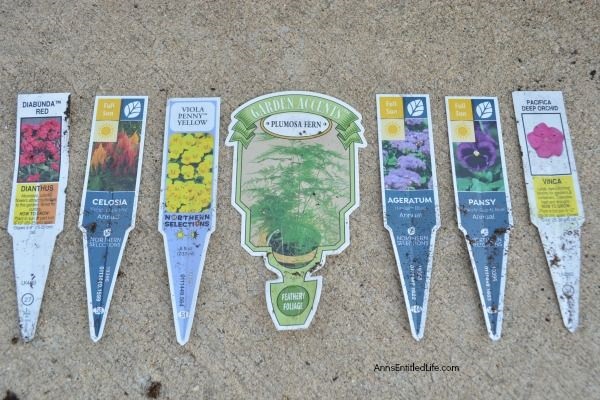 ● Flowers, a few of each color of the rainbow (the colors of the rainbow are Red, Orange, Yellow, Green, Blue, Indigo, and Violet)
Used in this tutorial:
* Red: Diabunda Red
* Orange: Celosia
* Yellow: Viola Penny Yellow
* Green: Plumosa Fern
* Blue: Ageratum
* Purple: Pansy
* Pacifica Deep Orchid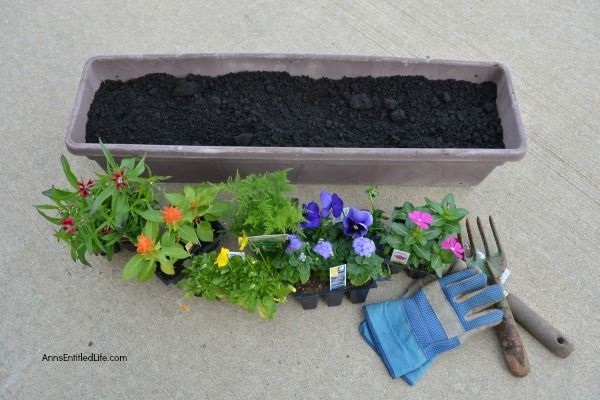 Rainbow Container Garden Instructions:
● Select 7 different types of flowers, one for each color of the rainbow (the colors of the rainbow are Red, Orange, Yellow, Green, Blue, Indigo, and Violet).
● Select different types and textures to create a unique arrangement. Take caution to select flowers that all need similar sun conditions; full sun or partial sun or full shade.
● Next, fill the flower bed with Potting Soil making sure to breakdown any clumps with your hands.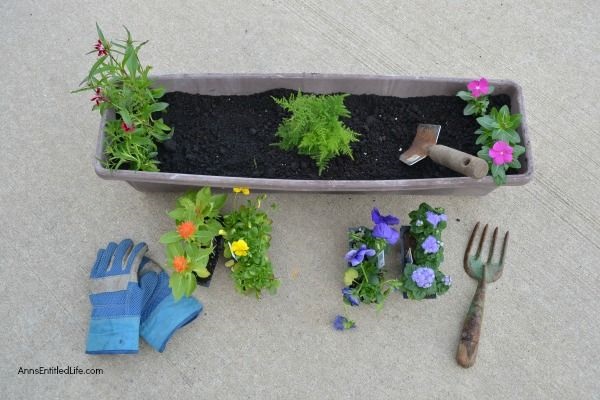 ● Now, you will want to take the flowers and arrange them outside the box, evenly spacing them and following the traditional pattern: red, orange, yellow, green, blue and purple. Keep in mind which plants will grow taller as that may how you decide to place them.
● Now its time to planting. Start with the two ends and middle; the red, green and pink flowers, this will help keep things evenly spaced. Remove the flower from the container (give the roots a little fluff), dig a small hole & place the flower in it. If your soil did not come with ferilizer (or even if it did), give a scoop of all-purpose plant food so your plants have the nutrients they need to grow large and beautiful (you are going to want to feed again later in the season based on flowers selected).
● Pat the dirt around the flower to secure it in place.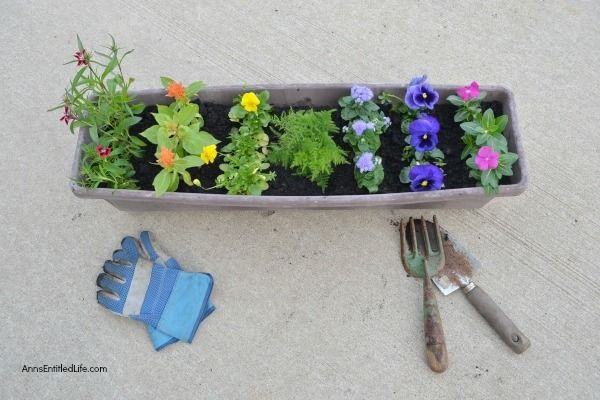 ● Repeat with the remaining flowers.
● Give your flower bed a drink of water and it is ready to grow.
Make certain you water regularly, and feed your flowers according to their specific needs. I know it sounds complicated, but it really isn't. Picking commonly available flowers makes it easy to read the little tag that comes with them for light, watering, and feeding requirements. That little tag is a wealth of information for how tall the flowers grow, how close together they can be planted, etc.
You do not need to be an expert to grow a beautiful rainbow container garden. It can usually be assumed that if your local gardening center has flowers out in the flats for landscaping, they are good to grow in your area (of course you can ask at the garden center to be sure).
More Gardening Articles You Might Enjoy:
● If you would like to plant a rainbow garden or fruits or vegetables check out this How to Grow a Rainbow Garden post for details.
● How to Create the Perfect Vegetable Garden on a Patio – small space patio gardening tips and tricks!
---
● Disclosure the links in this post may be affiliate links.
● Click here for more How Does Your Garden Grow Topics on Ann's Entitled Life.
● Enjoy this post? Sign up for the Ann's Entitled Life FREE Weekly Newsletter to stay connected.
---