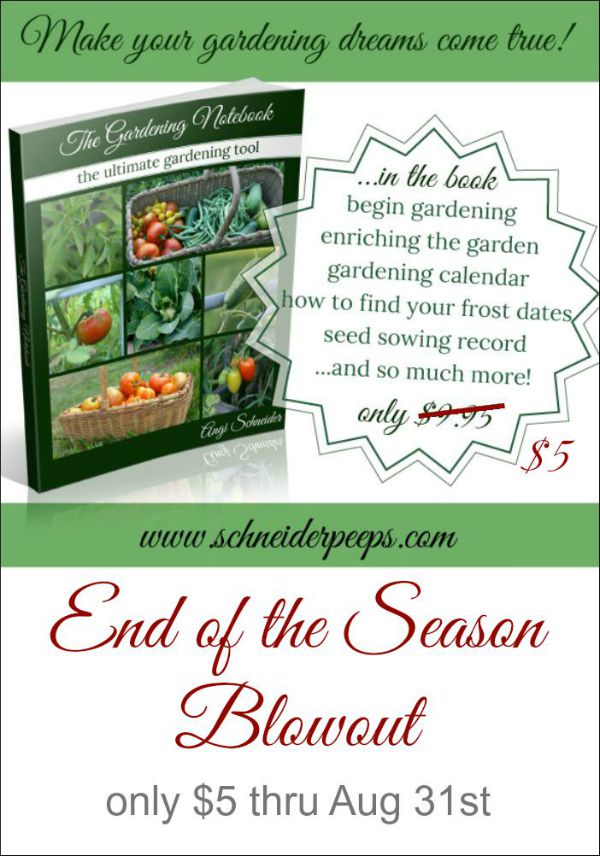 Angi Schneider over at schneiderpeeps.com wrote The Gardening Notebook; a custom printable e-book to help you keep track of everything that is important to you in your gardening.
The Gardening Notebook contains the following:
• Book list record
• Enriching the garden (soil, compost, etc.)
• Garden Calendar
• Garden expense worksheet
• Garden layout pages
• How to begin gardening
• How to find your frost dates
• Local resource contact page
• Monthly journal
• Pests, problems and solutions worksheet
• Planting by frost dates calendar
• Resource list
• Seed and plant purchase record
• Seed sowing record
• Worksheets with tips for growing vegetables, fruits, herbs and ornamentals -with plenty of room for you to write your own notes from your own research
• Lots of space for you to make notes of what is important to you
• Blank plant profile page to help keep track of specific plants and varieties
• Blank plant worksheets to fill out for the vegetables, fruits, herbs and ornamentals not already included
You print out the ebook (127 pages long), and start filling it in with information that matters to you and your garden, in your area.
This is what The Gardening Notebook looks like when printed (note: I 3-hole punched and placed it in a 3 ring binder as I do all e-workbooks)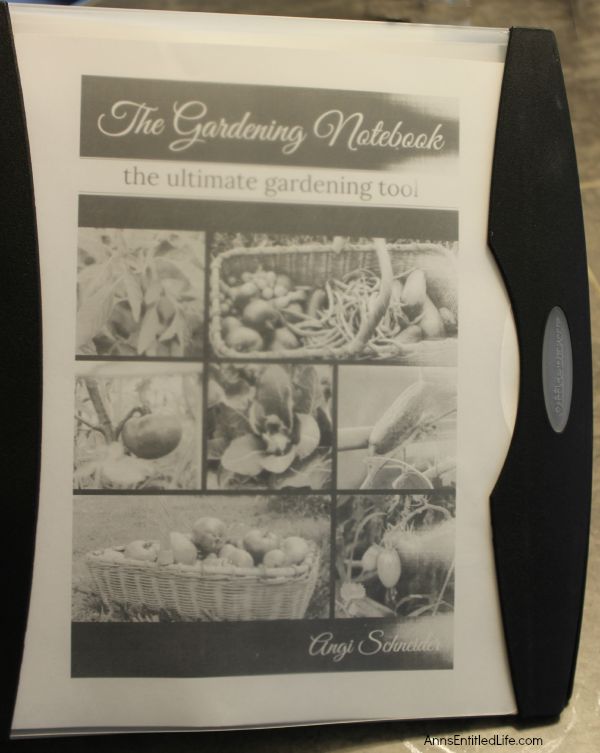 I printed in black and white. While the cover of The Gardening Notebook is lovely in color, Hubby is too cheap to print in color.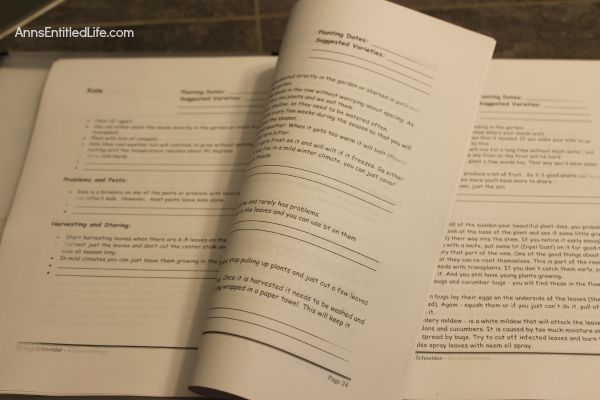 For the remainder of the month, The Gardening Notebook is on sale for $5, and for a very special reason:
Angi writes:
Our son got accepted to the NY Conservatory for Dramatic Arts (sft.edu) for their two year program. He comes home from NY on the 8th and goes back on the 26th until Christmas. He's worked super hard to get there, including paying for all of his acting internships and this summer program by himself. He just turned 19 and over the last 3 years has spent about $12000 following his calling. To say we are incredibly proud of him is a huge understatement. But even after scholarships and grants, we still have a chunk of change that we need come up with so we're having a month long sale on The Gardening Notebook and we'd love your help.
After reading that, I signed on as an affiliate, and posted The Gardening Notebook on my sidebar for purchase after looking through it, and determining the worth.
As I told a fellow blogger who asked about The Gardening Notebook: I just printed it out and looked through it. Buy it. You will not get a better deal for $5.
Click here to purchase The Gardening Notebook
If you would like to keep track of your gardening… the whys, whens, hows and whats, The Gardening Notebook is a excellent tool, and at $5, an excellent value. It is basically your gardening diary. Heck for the regular price of $9.95 The Gardening Notebook is well worth it. At $5? The Gardening Notebook is a downright steal.
So if you want to keep track of your gardening, help a kid with college costs, and get gardening organized, buy The Gardening Notebook for $5 before the end of the month. It really is worth the money.
Click here to purchase The Gardening Notebook
---
• Disclosure the links in this post may be affiliate links.
• Click here for more How Does Your Garden Grow Topics on Ann's Entitled Life.
• Enjoy this post? Sign up for the Ann's Entitled Life FREE Weekly Newsletter to stay connected.
---