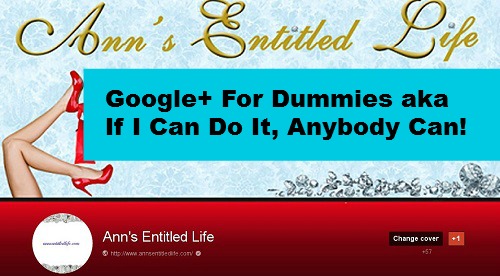 I have been playing on Google+ a lot the past few months. I am resigned to the fact that Google is going to take over the world, and Google+ is their social media contribution to that take-over. I've also discovered that I like Google+ – a lot. Twitter may always be my first love, but Google+ is definitely where I go to cheat.
At first, Google+ looked daunting. I wanted an easy-peasy Google+ for Dummies post. Most of the stuff I read was for bloggers or businesses, but what about non-bloggers and non-businesses? Wasn't there an easy list of "how tos" that started with the basics? I mean hangouts and videos were all well and good, but what about the basics!? This shouldn't be complicated, I wanted step by step simple instructions for the average person, not a business.
A lot of people are on facebook. A whole lot. And a lot of people that used facebook for something other than keeping track of what Aunt-Hester's-best-friend's-dog-Fido is doing, or fighting with frenemies about politics or religion, have become disenchanted with all the ads, the lack of relevant posts in their feed, the privacy changes … heck all the changes period! And those that use facebook to follow their favorite blog or business may be most frustrated of all with facebook throttling feeds and picking and choosing what you can see!
An alternative is Google+. Basically a combination of twitter (hashtags), facebook (+1 = likes, easy to comment, easy to follow) and a unique way to have a circle of friends or business acquaintances separated (private groups), Google+ at its most basic is the easiest form of social media to use.
First things first: sign up for Google+. If you have a Gmail account, Youtube, Picasa, basically anything that Google owns, you already have an account.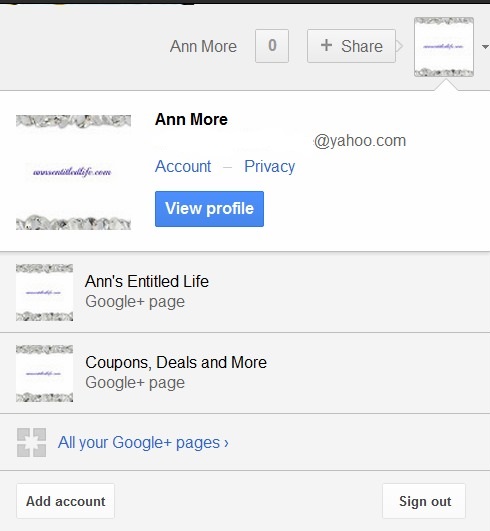 Set up your profile if you don't have one from Gmail. And, edit your settings preferences on who can see what, send you email, comment, etc.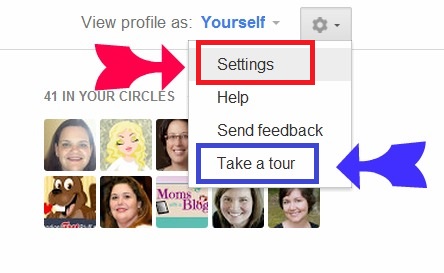 I also urge you to take the short tour when you begin. It will make Google+ much easier to understand.
Now head over to Google+ and look up your interests! The easiest way to do this, is through a hashtag. Just type in anything you'd like to find at the top bar…
I typed in the word "deals", click the blue search icon, and got a stream full of people who used #deals (the # is a hash, the word is a tag, #+ a word = hashtag) or just the word "deals"!
If this is my interest, I'd want to follow and explore those folks that looked interesting. I can either lump everyone together "following" for me, or I can make a circle that says "deals" or "deal bloggers" or "this is my circle for deals" or whatever you'd like to call it.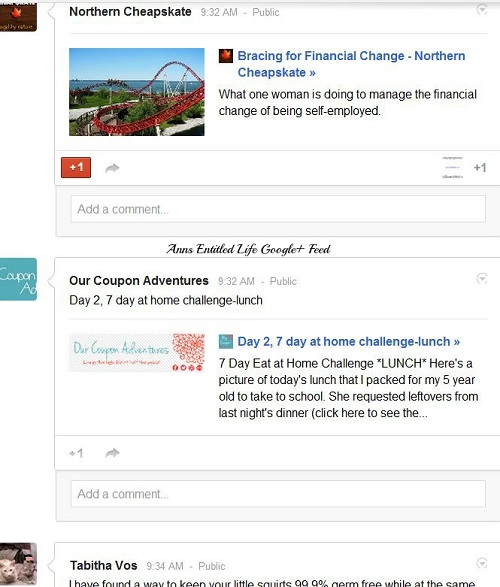 The beauty of following people? Every single last person or business you follow will show up in your stream!

Something else that is fun is seeing what is trending now. Click the explore button on the left to get top 10.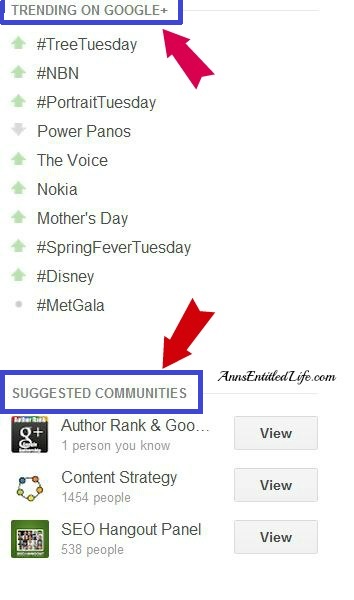 If a topic interests you, click it. You'll get a stream full of people using the word or hashtag! Like a suggested community? Join it! That is where you will find people with likes and passions similar to yours. As you get into Google+, people will invite you to join their community! The joy of common interests.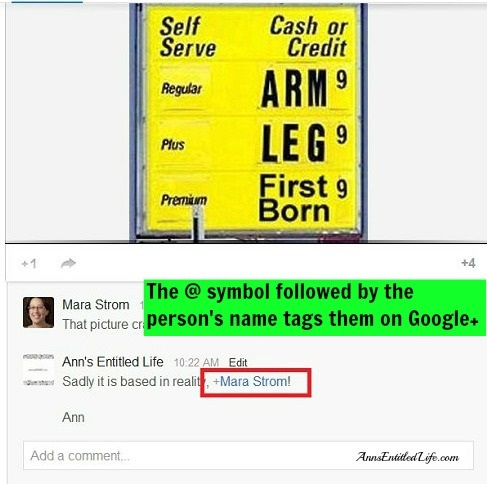 If you want to capture someone's attention by tagging them, the @ symbol plus their name will do it for you!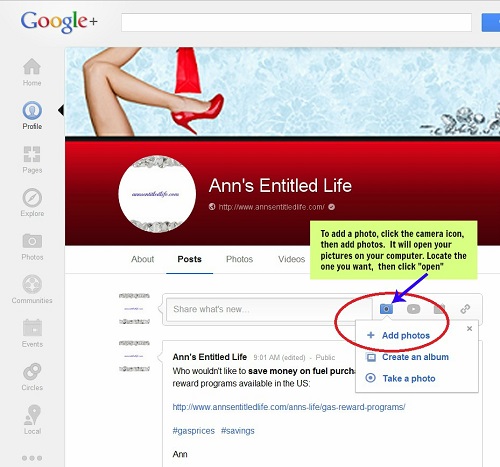 If you post on Google+, upload the photo from your computer. It will capture attention of those in your stream.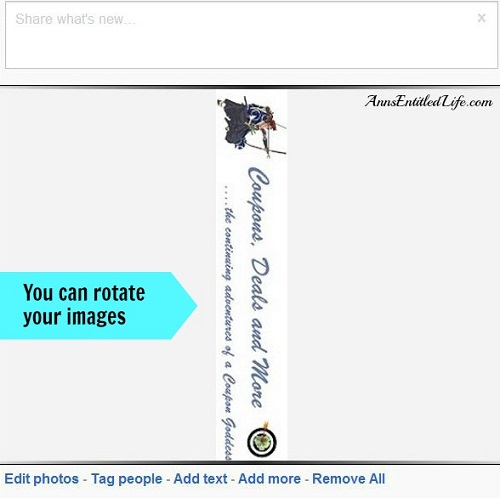 Once you upload that photo, rotate it, crop it …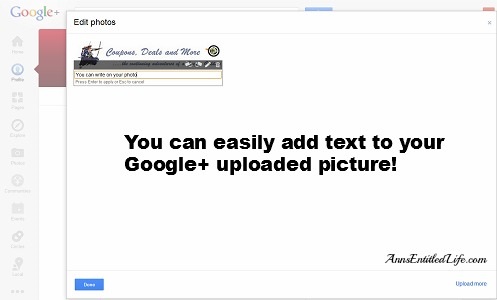 Or add text to the photo!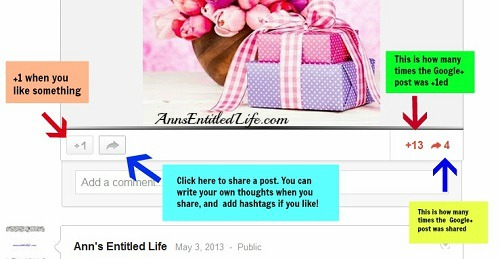 You can share a Google+ post by clicking the action arrow. The post will open allowing you to write on the top of your share and add hashtags if you like.
The +1 is a "like". As a blogger I have to say, like once, like often!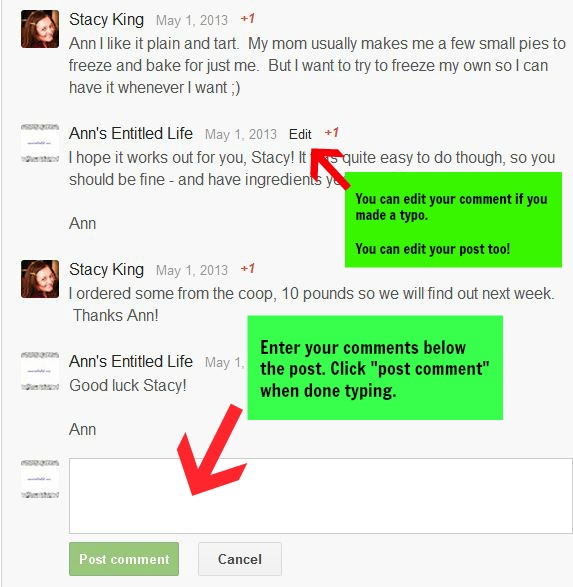 Comments are entered below the post. A great feature for many people is you can reply to Google+ from your Gmail when you receive a comment notification! What could be easier?
I hope these Google+ instructions will help you get started. I am not kidding when I say that if I can do it, anyone can!