I have never considered myself to be someone who owns a lot of shoes. I have a high arch which makes it difficult to just walk into a department store and buy something cute, so when I purchase a pair of shoes they tend to be comfortable, fairly well made, and black.
The other day I decided to go through my dressers and my clothes closet and see if I had anything to donate. My dressers are pretty well organized, and my clothes hanging in my closet are too, so it is a quick process.
This is a picture of my closet prior to reorganization. Needless to say, little organization was necessary.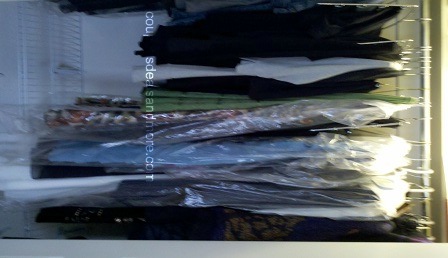 And here is a picture of the space I have to work with for my shoes. Plenty of space … or so I thought!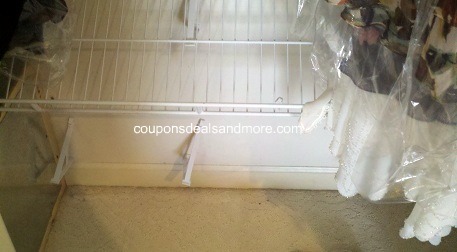 This is what I hauled out of there: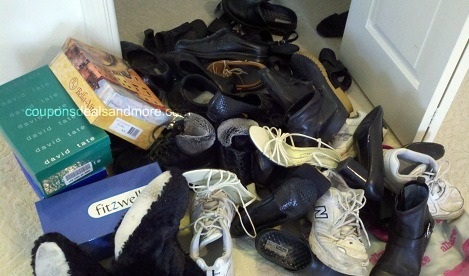 While the lighting is not the best in this picture, I think you get the idea.
I threw out two pair of shoes and two pair of sneakers. One of the shoes I tossed the dog had chewed when he was little. I have no idea why I kept them!
The two sneakers were worn down. I like to keep a one pair of old, worn sneakers on hand for painting or garden duty, but since my current pair are being replaced this week, I did not need three old "garden sneakers" laying about.
I also put a pair of shoes into the donation pile. While I like the ones I donated (only worn 4-5 times), the left shoe would always cause my left foot to hurt when I am driving (really strange if you think about it). There was no point to keeping them.
When all was put back in place, I discovered I still have a few too many pairs of boots and shoes, but nothing I really want to part with. I guess I will just forgo any shoe buying for a while… or possibly take over one of hubby's four clothes closets?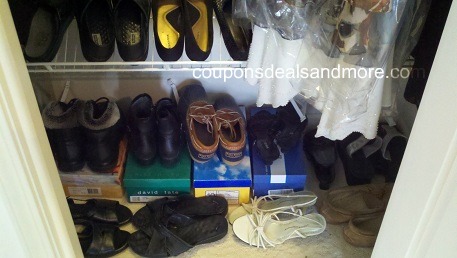 Note: this post originally appeared on Coupons, Deals and More
Confess: how many pairs of shoes do you own!?