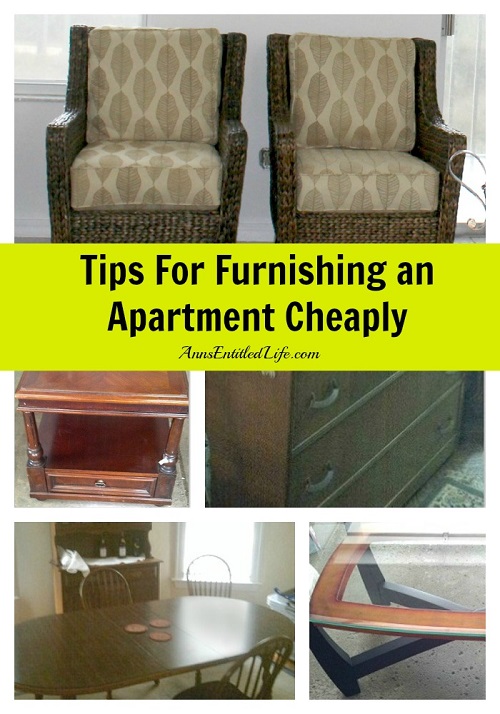 Sonny-boy graduated from college this past May. While he is going to grad school, he also is working and 24 years old. That means he needs to spread his wings and rent an apartment of his own instead of living at home (while he lived off campus in college, he did return home for vacations). Or, since he is still basically a poor college student, an apartment with several other roommates.
By mutual agreement, we decided Sonny-boy would not take his bedroom set from home, or the other case goods he has here that my grandfather gave him, until he has a more permanent residence. That will save these furnishing from the dings and dents of moving.
Sonny-boy has experienced the durability of IKEA furniture first hand, and wanted nothing to do with any of the cheap particle-board furniture now being sold at so many furniture stores. Since he can't afford well made higher-end constructed furniture, I suggested he look to consignment stores and the like for older, better made furnishings. They didn't have to be lifetime purchases, but sturdy enough to withstand the flopping of 20-something young men.
With all of his purchases to date, he spent just slightly over $400 to furnish his bedroom, living room and dining room. He still needs nightstands, but is confident that he can get them for less than $75 which would put his grand total to furnish his apartment at under $500. Note: they actually cost $200 which brought his grand total to $600.
Here are some of the things he did to furnish is apartment so inexpensively:
● Contacted friends and family members for cast-offs. He was offered a sofa from my grandfather, a kitchen table from my mother, but ultimately his big score was the two-year-old sofa and loveseat my brother decided he didn't care for! Hubby gave Sonny-boy his old bed frame from his bachelor days, and we told him to take his mattress and box springs. Asking for cast-offs is the cheapest way to furnish your apartment.
● Consignment stores. Sonny-boy had a lot of luck locating heavy, decently constructed pieces at local consignment stores. He was resigned to having to refinish or paint if necessary, but most of what he ended up purchasing needed little touch-up.
These two dressers were $125 total. They are real wood, have dovetailing at the joints, and were a true bargain with only a minor problem at the bottom of one.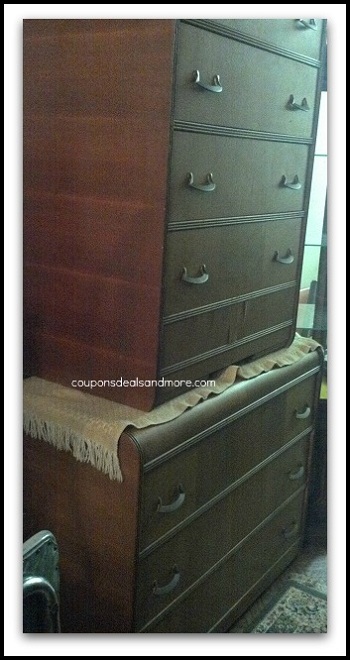 Many consignment stores have tags that lower the prices on day X, again on day Y and a final price on day Z. Depending on the store, this can result in significant savings.
Sonny-boy picked up this coffee table – no chips or dents, for $64 on the very day it was slashed by 50%.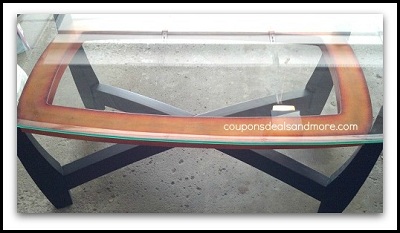 This was arguably his most expensive purchase, and it does have a few bangs and nicks. He paid $40 for this end table. It is so well constructed, they could probably dance on it and it would hold their weight.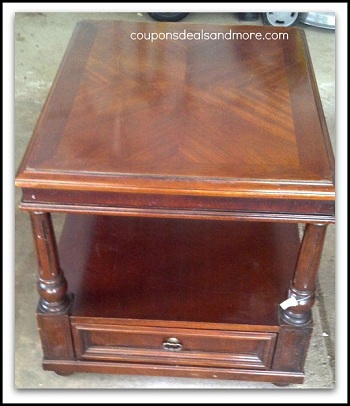 ● Habitat For Humanity Restore. Habitat For Humanity takes furniture, old doors, windows, toilets, sinks, etc donations. Sometimes you can really "find" some great stuff! Hubby and I found our (new in box) outdoor lights at Habitat For Humanity years ago, and then saw the exact same lighting at the Great Indoors later that same year for over three times the price we paid at Restore! Some of the donations are remainders from big-box and hardware stores, as well as from housing reconstruction and general donations from everyday people.
Hubby and I happened to go to Habitat For Humanity earlier in the week, and I saw this hutch, dining room table and four chairs for $125. While they didn't really need-need the hutch, they will use it for storage. The table and chairs are very well made though, and should withstand many a flop-sit.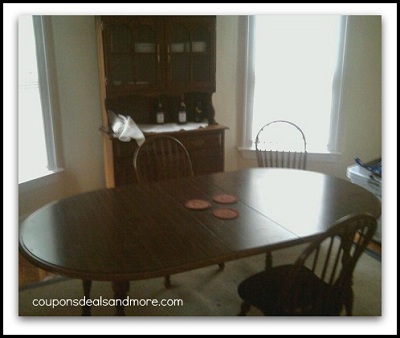 ● Goodwill, Salvation Army, Amvets. We didn't have much luck at any of these places in our area. There was little furniture, and what was available was more expensive than the consignment stores and of lesser quality. YMMV of course!
● Yard Sales. We did not go this route, but it can be a great source of used furniture.
● Estate Sales. Depending on the family and who is running the sale, these can either be a terrific sources of bargains, or too expensive to consider.
While Sonny-boy's purchases were all case goods, there are soft goods like chairs and sofas available at various sale outlets. Be careful about critters. A place like Cort Furniture Clearance does have a disinfection and bug-bomb procedure not necessarily found in other sale outlets. It can be a concern.
Note: This post originally appeared on my old blog, Coupons, Deals in More. In the 11 months since this was posted, Sonny-boy has lived with his new furnishing, and they have held up very well indeed. I would definitely urge anyone looking to set-up a new household to at least consider this route… it really was a great way to save money and get quality goods.
Have you any other tips and ideas for furnishing an apartment cheaply?