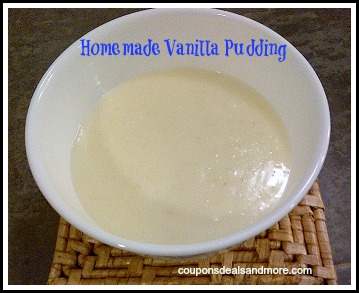 Ever run out of vanilla pudding mix? Concerned about the ingredients in pre-made vanilla pudding? Here is an easy recipe to make homemade vanilla pudding!
Homemade Vanilla Pudding
Ingredients
4 cups milk, divided
1 cup white sugar
6 TBSP cornstarch
1/4 tsp salt
2 tsp vanilla extract
2 TBSP butter
Directions
• In a pot on the stove heat 3 cups milk until the edges bubble
• Combine the salt and sugar in a separate bowl
• In a bowl (I actually use a plastic drinking cup), stir in 6 TBSP of corn starch into 1 cup milk, beat until smooth
• Add corn starched-milk slowly to heated milk, stirring constantly
• Add sugar and salt mixture to heated milk, stirring constantly
• Allow milk mixture to become hot and thick, but do not allow to boil. (look for the mixture to attach itself to your metal whisk)
• Remove from heat
• Add butter, stir until melted
• Add vanilla, stir
• Pour into serving dishes
• Chill before serving
This recipe originally appeared on Coupons, Deals and More back in 2011.
---
• For more Recipes on Ann's Entitled Life, click here.
---
---
FOLLOW US ON: