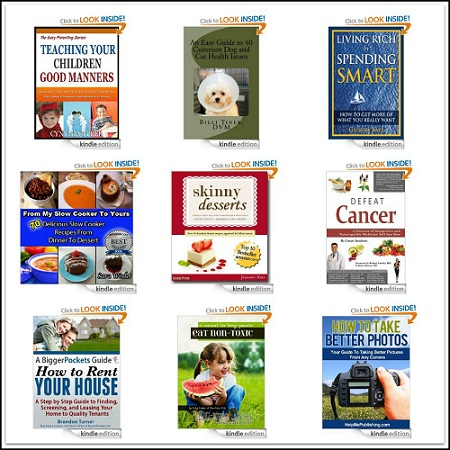 It is Saturday morning, and with it a whole new list of 10+ free ebook downloads to enjoy! Remember, you do not need a Kindle
to download and access these free ebooks. You can (and I do) read the free Kindle
ebooks on your PC via amazon.
Note: the graphic above may not represent all the free ebooks to download listed below.
• 30 Delicious Sweet Potato Recipes
– Tasty and Healthy Sweet Potato Recipes – The Ultimate Sweet Potato Cookbook Including Recipes For Sweet Potato Soup, … Potato Salad, Sweet Potato Souffle and More (reg $2.99)
• The Beautiful Home:
Decorating Ideas on a Budget for Your Dream Home (reg $2.99)
• Cocktail Wiz
– 60 of the best cocktails, shot and punches to impress your friends (reg $2.99)
• The Creamy Craft of Cosmetic Making with Essential Oils and their friends
(reg $6.99)
• From My Mama's Kitchen:
food for the soul, recipes for living (reg $13.95)
• How to Attract Amazing, Happy Relationships
– Start With A Smile (reg $2.99)
• How To Cook Healthy in a Hurry:
Volume 2, Over 35 New Recipes For When You Don't Have Time To Cook (reg $2.99)
• Mind Over Money:
How to Program Your Mind For Wealth (reg $2.99)
• Scrumptious Treats For Vintage Housekeepers
(reg $3.99)
• The Stress Free You:
How to Live Stress Free and Feel Great Everyday, Starting Today (reg $6.97)
• Surprisingly…Unstuck:
Rewire your brain to exercise more, eat right, and truly enjoy doing so (reg $9.99)
• What's It Like to Be Married to Me?:
And Other Dangerous Questions (reg $16.99)
• Link to Amazon Kindle
• Related Topic: Is Amazon Prime Really Worth It?
Remember that Amazon pricing can change quickly, so download while you can!

Disclosure: the links in this post may be affiliate links
---
FOLLOW US ON: