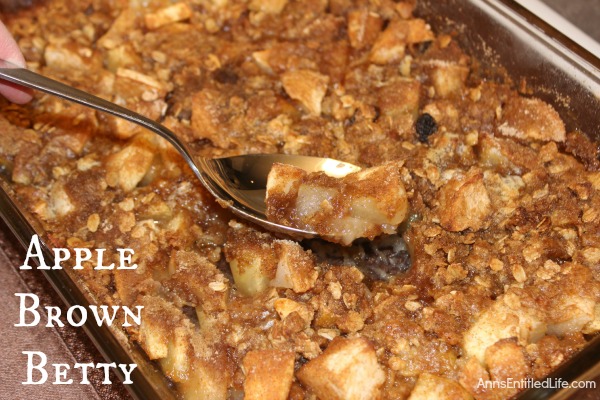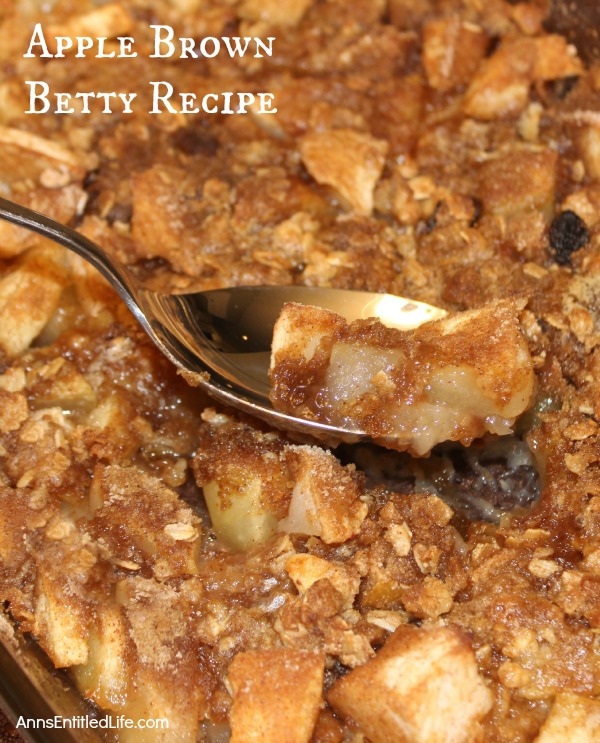 Apple Brown Betty Recipe
By Ann
A totally delicious ending to any meal, a great nighttime snack, or a breakfast treat, this old fashioned, sweet and tasty Apple Brown Betty recipe is easy to make and a wonderful use of fresh apples.
Prep Time: 20 minutes
Cook time: 40 minutes
Ingredients:
• 6 cups Apples, peeled, cored and diced
• 3 TBSP Lemon Juice
• 3/4 cup Brown Sugar, firmly packed
• 1/2 cup Flour
• 1/2 cup Rolled Oats OR Granola OR Museli
• 1 stick Butter, divided
• 1 tsp Cinnamon
Directions:

• Preheat oven to 375°.
• Lightly spray a 13 x9 pan with non-stick baking spray.
• Place peeled, cored and diced apples at the bottom of the 13 x 9 pan, spreading to fill the pan.
• Sprinkle lemon juice over apples.
• In a separate bowl, combine brown sugar, flour, 1/3 cup butter, cinnamon and oats OR granola OR museli (for this picture I used granola).
• Cut butter into dry ingredients until well blended and pebbly.
• Sprinkle mixture over the apples in the pan.
• Cut remaining butter into pieces and dot top of mixture.
• Bake on 375° until brown and bubbly, 40-45 minutes.
• Remove from oven and allow to cool 10-15 minutes before serving.
• May be served warm or cold, and can be topped with ice cream or whipped cream.
Makes 8 servings Apple Brown Betty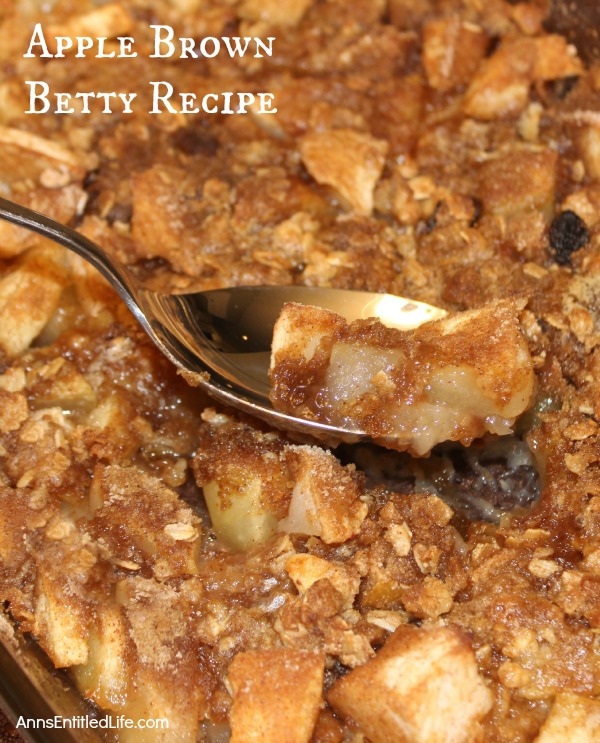 • To print the Apple Brown Betty Recipe, click here.
---
• For more Recipes on Ann's Entitled Life, click here.
• If you enjoyed this post, be sure to sign up for the Ann's Entitled Life weekly newsletter, and never miss another article!
---