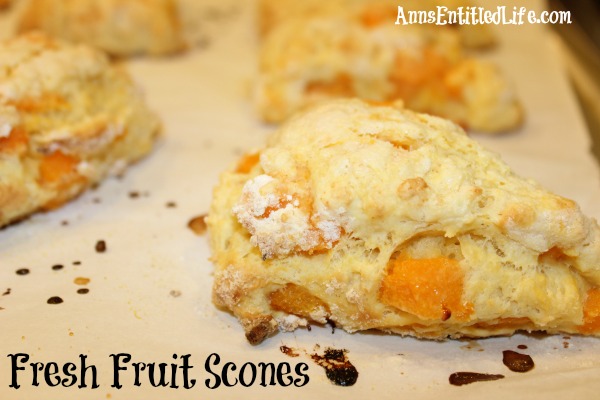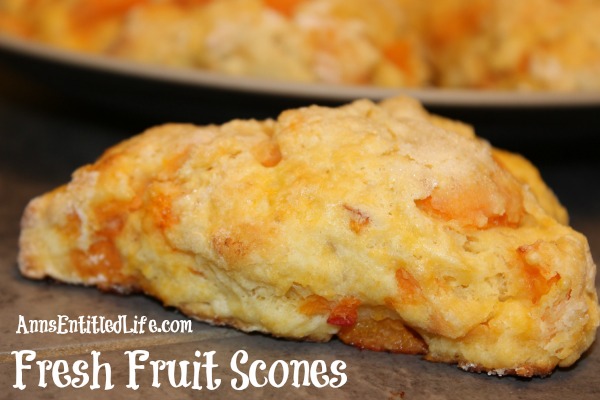 Fresh Fruit Scones Recipe
By Ann
These Fresh Fruit Scones are delicious, moist and flavorful. A wonderful way to use fresh, in-season produce.
Prep Time:15 minutes
Cook time:15 minutes
Ingredients:
• 2 1/2 cups White Flour
• 3 TBSP Sugar, plus an extra teaspoon, divided
• 2 tsp Baking Powder
• 1/8 tsp salt
• 1/3 cup cold butter, diced into 1/4″ pieces
• 2 cups Fresh Fruit use: Apricots or Nectarines or Peaches, washed, skinned, pitted and diced
• 3 TBSP Milk, plus an extra dash, divided
• 2 eggs
Directions:

• Preheat oven to 425°.
• Wash your fruit, peel the skins and remove pit and discard both. Dice your fruit flesh into small pieces. (1/4″-1/3″ pieces)
• In a large mixing bowl combine flour, sugar, baking powder and salt.
• Dice cold butter into 1/4″ pieces.
• Add butter to the flour mixture, and combine until the flour resembles course meal.
• Add your fresh fruit (washed, skinned, pitted and diced) to the flour mixture, and toss until all pieces are coated.
• In a separate bowl, whisk together milk and eggs.
• Add egg mixture to the flour mixture and combine until a ball forms.
• On a lightly floured board, knead dough gently 8-10 times. Dust board with flour (as needed) to keep dough from sticking to the board.
• Pat dough into a 3/4-inch thick round (approximately 7″ across); cut into 8 pie-shaped pieces with a floured knife.
• Place dough on parchment paper-lined baking sheet.
• Brush scones with a small dash of milk (the extra dash), and sprinkle lightly with sugar (the extra teaspoon).
• Bake 12 to 15 minutes at 425° or until golden brown and a pick inserted near the center of one of the scones comes out clean.
• Cool on a wire rack for 10 minutes.
• Serve warm with butter.
• Store in a bread bag for up to 3 days.
Makes 8 Fresh Fruit Scones
It was a rainy Monday morning last week, and Max got me up early so I decided to bake something for breakfast. These fresh fruit scones are truly delicious, not like the dry, tasteless scones most people are used to. The abundance of fresh fruit in the dough makes these moist!
I used apricots for my fruit in these photographs. You could use peaches or nectarines if you prefer.
Since apricot season isn't especially long, I doubled the recipe and made a second batch. BUT instead of baking both batches, I froze 8 scones, uncooked, for a later date.
This is what I did: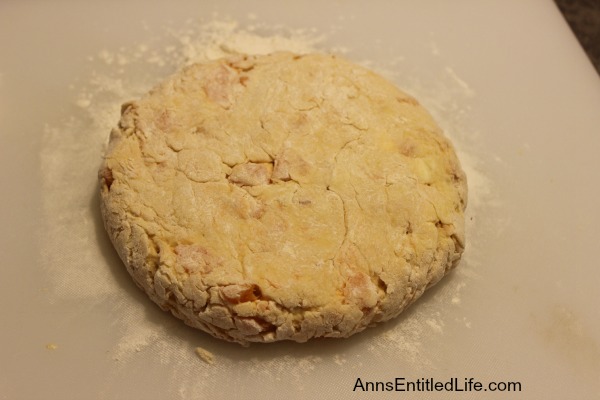 I rolled out the dough and formed a circle, just as if I were going to bake immediately.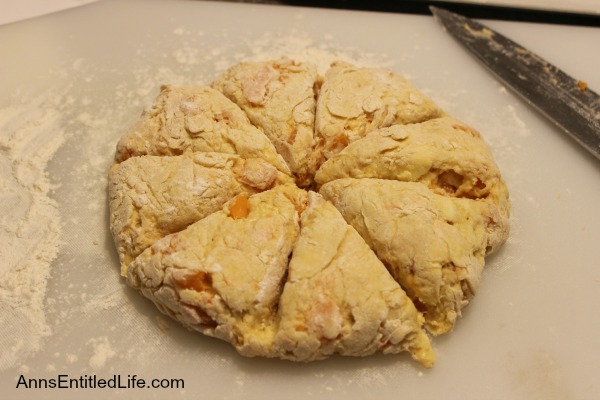 I then cut the sphere with a floured knife, again as if I were to bake immediately.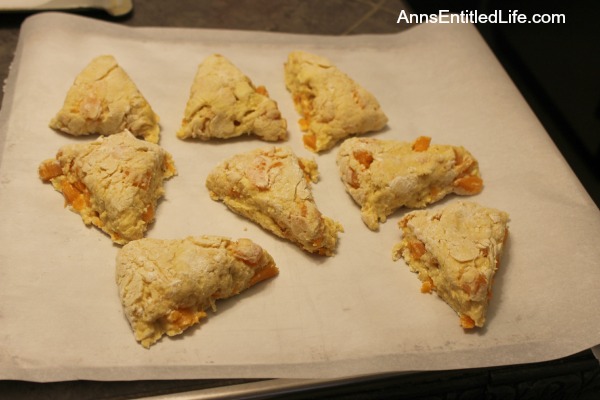 And placed them on a parchment lined baking sheet. Just as if I were to bake immediate. But now the difference was instead of the oven for these beauties, it was the freezer!
While my other 8 scones were baking, I was quick-freezing these so they wouldn't be too soft to stack in a container.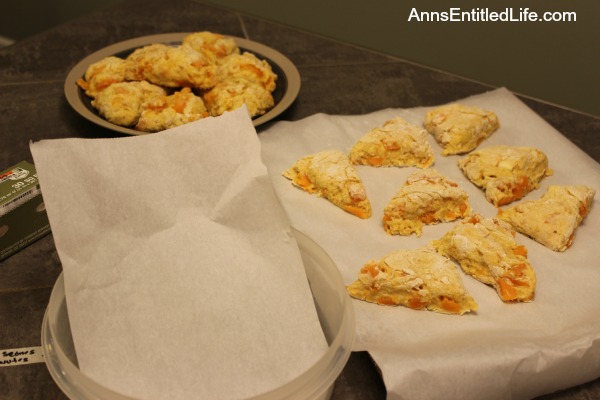 When my scones came out of the oven, I removed the freezer scones too.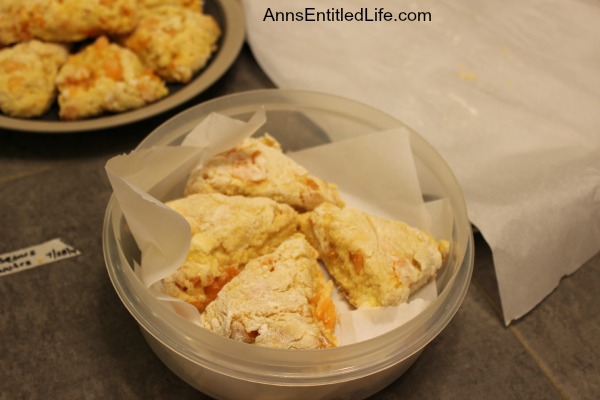 At this point I parchment lined a freezer container, and placed my scones inside.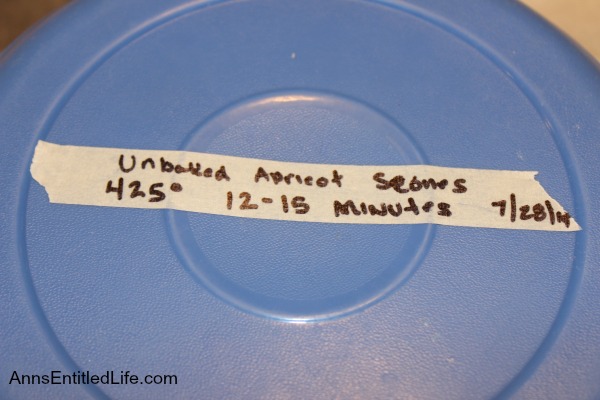 I then labeled my scones: name of product, date frozen, temperature to be cooked at, and time needed to bake. I will defrost before I bake.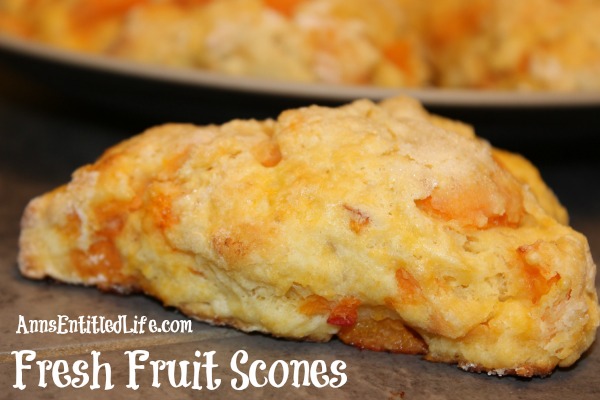 ---
• For a list of all Recipes available on Ann's Entitled Life, click here.
---
---
FOLLOW US ON: