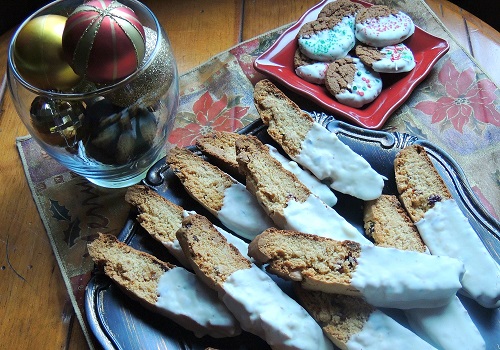 Day 4 of 15 Days of Holiday Cookies on Ann's Entitled Life the brings us this beautiful White Chocolate Cherry Almond Biscotti Recipe compliments of Dishin' With Didi.
White Chocolate Cherry Almond Biscotti Recipe
● Yield: 2 1/2 dozen cookies
Ingredients:
1 pkg vanilla cake mix
1 cup all purpose flour
1/2 cup butter, melted
2 large eggs
1 tsp almond extract
1/2 cup dried cherries, chopped
1/2 cup slivered almonds, toasted and chopped
1/2 cup white chocolate chips
Directions:
● Pre-heat oven to 350F.
● Line cookie sheet with parchment paper, set aside.
● In a large mixing bowl, place all your ingredients (wet and dry) and mix using an electric mixer until thoroughly combined. (the dough will be very stiff)
● Transfer dough to flat floured surface. With floured hands shape dough into two rectangular loafs, approximately 14″ x 3″.
● Place dough on parchment lined cookie sheet. Space the biscotti about 4-5″ inches separated on baking sheet as they will puff and spread lightly.
● Bake for 30 minutes until firm to touch; remove from oven (leave oven on) and let pan cool on wire racks for 5 minutes
● Remove biscotti and place directly on wire racks for another 5 minutes or so or till thoroughly cooled.
● Cutting on the cookie sheet using a sharp knife; slice each rectangle into 1/4 inch slices on the diagonal. Carefully turn the slices onto their side.
● Return cookies sheet to oven and bake biscotti for 10 more minutes. Turn off heat and and time for 15 minutes.
● After 15 minutes, turn biscotti over to ensure even crispiness and time again for another 15 more minutes.
● At the end of the crisping time, remove biscotti from oven and place wire rack to cool.
● Optional – as biscotti are cooling, melt white chocolate using the ration of 3 bars per 1 tbsp of shortening or 1 package of white chocolate chips plus 1 tbsp of shortening.
● Using the microwave method, microwave at 20-25 second increments till all ingredients are melted, incorporated and smooth.
● Dip half of the biscotti into the white chocolate mixture as desired.
● Place on waxed paper sheets and let cool till all chocolate has hardened.*
● Store in airtight container or plastic Ziploc for up to 3 weeks.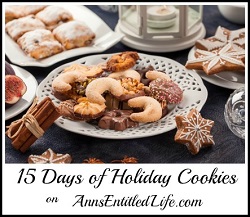 ● For a list of all recipes available on Ann's Entitled Life, click here.
---