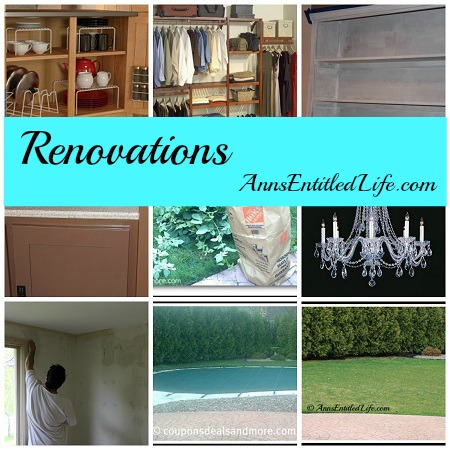 Sometimes, I think these renovations are never ending! In 2013 I shared with you our long list of renovations, and followed up with a lot of blog posts on how these were accomplished. We have owned our house since 2006, and we didn't do that many renovations on the inside prior to 2013. We had previously updated a half bath, replaced the foyer floor and dining room floor as well as painted the interior but not much else. That was why 2013 was such a big renovation year for us; when you put it off, eventually everything needs to be done at the same time.
After adding a roof to our house last year, painting the wood window frames, and filling in our in-ground pool the year before, the outside of our house is done. We have completely redone the landscape, installed a new drive-way, replaced the fence and gate, replaced the walkways, railings and all the stairs leading into the house since we bought the place. About the only thing we could even consider doing outside our house is painting it – we have aluminum siding on some parts and it has faded a bit. The exterior brick is fine. We had the brick pointed when we moved in, and had a mason out last year who said it was in great shape, so nothing to do!
Circling back to the interior of the house, we have very few projects left:
New York State House
● Hubby's office cabinets need to be redone (I have a feeling this one will be on the list for years)
● Replace banister
● Replace foyer chandelier
Last year we replaced our dining room chandelier. I am not thrilled with it. I mean it is beautiful, but it doesn't "go" with our furnishings. I really needed to buy a brass chandelier. I was considering replacing the ugly, cruddy, cheap (omg you should see it up close) foyer chandelier with the one in the dining room, and then getting another new chandelier for the dining room. Either that, or replacing both and taking the dining room chandelier down to Florida (where it wouldn't really fit in), or giving the current dining room chandelier to my brother. Or just keeping it and buying something new for the foyer. Decisions, decisions.
The banister is being replaced when we are down south. I'll ask the man doing the work for pics of the process. If he forgets or cannot do it, I will just post before and after pictures.
Where we have a significant list is for our Florida condo. We are down there for 10 weeks this season, and will get accomplished what we can. To date we have painted the kitchen, dining room/living room area, the master bathroom, one spare bedroom and some closets as well as the ceilings. We also replaced the kitchen faucet.
Our ambitious list for this year (which will not all get completed):
Florida Condo
● New sink and counter
● New bathroom vanities, counter tops and faucets
● New bathroom medicine chests
● New windows
● Backsplash
● Refinish kitchen cabinets
● Clean air vents
● Replace interior doors
● Replace closet shelving systems
● Finish painting
Realistically I expect the kitchen cupboards, sink and counter top to be done. I expect the ducts to be cleaned, the windows replaced and the painting to be completed. We also need the interior doors and closets systems completed.
We can live with the vanity space in both bathrooms for this year if necessary. They are extremely LOW. I am a tad above average height for a woman (5'6″), and I think are too low for decent function and comfort. They are definitely too low for anyone taller than I am, which is my entire family (this of course includes Hubby), except my mother and nieces. They'll probably love the height!
That is our list of Renovations For 2014. As things progress, the list will be added to, and some things will be pushed to 2015. Still, I was very pleased with what we accomplished last year, and see no reason why 2014 cannot be an equally productive year.
Do you have renovations, painting, updating planned for your house this year? If so, what projects are you undertaking?
---
● Link to our completed renovations.
---