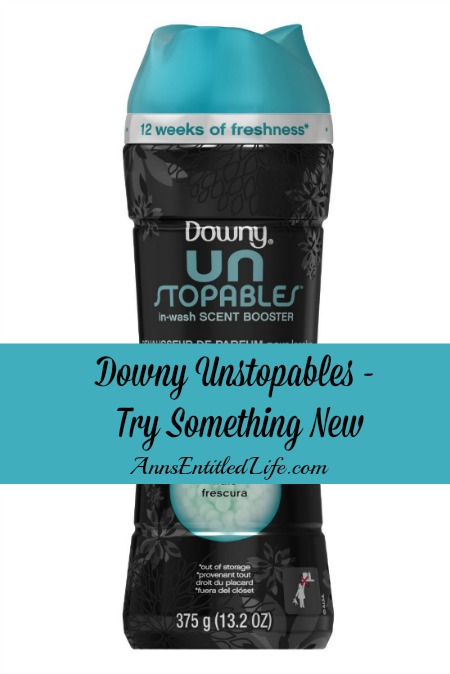 Note: I originally wrote this post in 2012, and it went down with the ship when my old blog died. I was recently using Downy Unstopables
and it jogged my memory about this post. I checked to see if I had reposted it here after the blog-death, and I had not, so here it is. Clearly I think this is a great additive when you are in a desperate situation.
Oh, and as an aside… WOW am I glad Sonny-boy is now a functioning member of society and not still pulling crap like he did in college.
Downy Unstopables – Try Something New
Recently, my darling son moved out of his frat house and back to the Buffalo area. He graduated from college, so it was time to find a new apartment closer to work and … graduate school.
He was kind enough to give me a present – a car-load of dirty laundry! (And if you think I am exaggerating, Lea Ann and Michelle will confirm – they stopped with me on the way home from Erie.) Not only was the laundry dirty, a lot of it was not fully dried when er, put away … either it had been dumped in a ball while wet or some unknown alcoholic beverage had been dumped all over this pile of clothes.
The smell was abominable!
The first few loads were white towels, so I just ran them on the sanitize cycle of my Miele washer. The water heats to over 200º, so the smell (and whatever was causing the smell) was destroyed.
However, now we were on to the colors. After the first wash and dry, the blues still stunk. I was at a loss. Hubby suggested color safe bleach, and I did consider it, but after a bit of thought, I decided to get the Downy Unstopables.
I tried the Downy Unstopables
when they first came out. There was an initial free offer, P&G sent me a few free boxes of stuff and I think they were in at least one of those boxes – and they were inexpensive when first introduced. But, as the price went up, I decided I wasn't that impressed with the scent – not for $7 a bottle anyway!
But, I have to tell you this stuff really worked to get out all the odors that Sonny-boy dumped in the vehicle that day. Too bad I couldn't use it in the back of my vehicle! Phew! That needed airing too after I unloaded his clothes.
So while I won't use it every load, the truth is the Downy Unstopables
really saved Sonny-boy's clothing. I was truly afraid I was going to have to toss a lot of it out, they smelled that bad!
Have you tried Downy Unstopables?
What did you think?
---
For more Try Something New posts on Ann's Entitled Life, click here.
Disclosure: the links in this post may be affiliate links.
---