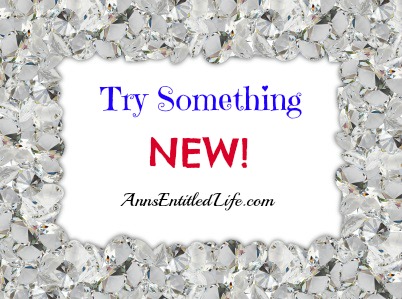 Try Something New – Thomas' Corn Bagels is a post I have been meaning to write for a number of months now. This past January I was shopping at a local grocery store and noticed that they had Thomas' Bagels on sale B1G1. I gave a quick look for the flavors, and was ready to move on when the corn flavor caught my eye. It was "different" and so therefor intrigued me. I purchase a blueberry (which are still in the freezer), and a corn variety during that sale.
I swear I ate a corn bagel every day for six days until they were gone! Since I seldom eat breakfast, that will tell you something.
Thomas' corn bagels are sweet. And this appeals to me. They do taste a tad like sweet corn, but nothing overpowering. They also smell good when toasting. They are a bit heavy in the stomach, and I am sure I could solve that problem by only eating half a bagel, but these are so good I don't want to only eat half!
Each bagel has 280 calories, 9 total grams of sugar, 1 gram saturated fat, and 10 grams of protein.
When I decided to write about how much I enjoyed these bagels, I looked at the Thomas' product page for more details. These bagels aren't even listed!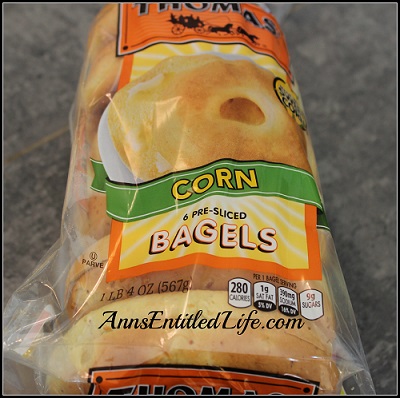 Here's a picture of the bag I finished this week. These do exist! I asked on the Thomas' facebook page for info on where they are available. Facebook was glitchy that day (shocker, I know) and I received the response of "in the northeast and…"
And where?
I asked Sonny-boy to retrieve the response on facebook for me, and he was baffled by what happened. Neither of us could read it, even though I had "liked" Thomas'. So, if you are interested in trying the Thomas' Corn Bagels you don't live in the northeast, ask on the Thomas' facebook wall where they are sold. The response I got from emailing them was to see the product and locator page. Ummm yeah. Check your page people. That information isn't there! This is a case where facebook is the best way to contact the company.
To recap: sweet, flavorful and delicious, although a bit heavy. Definitely worth a try!
Have you tried Thomas' Corn Bagels? What did you think?