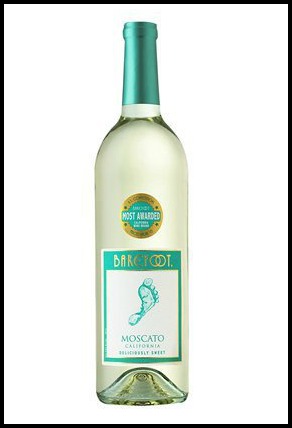 Barefoot Moscato Wine Review
My love of sweet moscato wines became many, many years ago with Barefoot Moscato Wine (bet you can see where this review is going). Barefoot Moscato is an inexpensive, sweet wine; a product of California from the vineyards of E & J Gallo Winery. The muscat grape ranges from white to black and they are generally grown for raisins and table wine. Considered the oldest domesticated grape, the muscat grape is known for its sweetness… which, as many of you know, is right up my alley!
Vintner's Notes
A lush, fruity aroma, full of the flavors of juicy peach and ripe apricots, this wine has citrusy hints of lemon and orange that wraps things up with a bright, crisp finish. An easy-sipping wine that is a bit sweeter than Riesling.
My Notes
No bouquet at all. I do not smell anything lush or fruity in this wine. However, all that is forgiven at the first sip. This wine is sweet without being icky, bright without being fizzy, the wine finishes very well will a pleasant fruity aftertaste! Absolutely perfect in the summer, this wine is sweet, fruity and very, very (maybe too) drinkable alone or with fruit.
Selling for approximately $6 a bottle, less on sale and/or with a rebate, I buy a case all the time when our local liquor store has this on sale buy one get one for a dollar just to have on hand. If I ever told folks how many cases we go through a year, they'd swear I have a drinking problem, but it is simply a great party wine! Yeah, that is where it all goes – parties – yeah that's the ticket, parties.
Recommendation: buy a bottle and try it. If you like sweet white wines, you will be very pleased.
Have you tried Barefoot Moscato Wine? What did you think?
---
As always, drink responsibly and please don't drink and drive.
For more liquor and wine tips and reviews, click here.
---