I don't know about you, but the first thing I think of when I pull out a wine and see a twist-top bottle opening ain't "fine wine". My thoughts usually run more along the lines of "Ut oh".
And when I pull out my Blue Bunny jar opener (from some conference) and use it to try to twist off the top – and that does not work the first time – alarm bells were going off in my head at an er, ummm, alarming rate.
Thoughts of cracking the bottle open (literally) without getting glass in the wine danced though my head briefly (ok, very briefly more like a segment than a waltz).
Buuuut with a little perseverance and a nut cracker (open the nutcracker, place it around the cap and twist), I was able to get this puppy open.
And it was worth the struggle – which makes me fear what I may do if the next bottle does not open easily.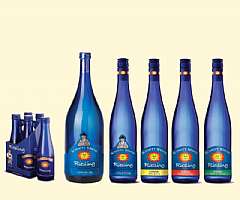 Today's wine discussion: Schmitt Söhne Riesling (Auslese)
Vintner's Description:
This Riesling is produced from individually selected overripe grapes resulting in a full bodied, luscious wine with hints of apricot, nectarine and honey. The intense flavors and lingering finish complements a variety of cheeses, fruits, richly seasoned foods and desserts.
Alcohol: 7.5 – 8.5% by vol.
Total acidity: 8.0 – 9.0 gr./Ltr.
Residual sugar: 52 – 56 gr./Ltr.
My Notes:
An Auslese is a late harvest wine where the grapes are so ripe, they are hand picked. There are dry Auslese, but this is not one of them.
Basically odorless, this wine was a pale yellow in color. While nothing to write home about in the glass, it was a party on my tongue! Its sweet, muted tones and slight tongue-tingle made for a most pleasant tasting (and drinking) experience. Absolutely delicious.
Definitely a "must buy" in my book!
Have you tried Schmitt Söhne Riesling? What did you think?
---
As always, drink responsibly and please don't drink and drive.
Note: this post originally appeared on my old blog, Coupons, Deals and More.
For more liquor and wine tips and reviews, click here.
---