Ok Two Buck Chuck is its nickname from days past when it cost $1.99. It now costs $2.99 and it is really Charles Shaw wine.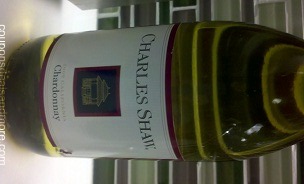 Hubby and I went to Trader Joe's when we were in Las Vegas, and since wine is not sold in NYS grocery stores and so I could never purchase wine at a Trader Joe's in my state, I decided, what the heck, and sprung the three bucks for some Two-Buck-Chuck.
I chose the Charles Shaw Chardonnay 2009.
While researching this wine online, I discovered that Franzia bottles the Charles Shaw, and buys grapes from all over. Like most Trader Joe's products, there is only so much available information.
My opinion of Two Buck Chuck: eeeewwwwww.
I'm sorry folks, I know a lot of you are fans but this is a non-oak Chardonnay, so no buttery taste. It was actually bitter on my tongue and produced bile in the back of my throat (that was a first for me!) after I swallowed. It had little bouquet, even with a vigorous swirl, although the color was clear and light yellow.
Thinking food could only help, I tried Two-Buck-Chuck with some Combos. Cheap wine should go great with a snack food in my opinion. The wine was marginally better, but still not good.
Even at the low, low price of $2.99 I could never recommend Two Buck Chuck Chardonnay. And wow am I sad about that.
Have you tried the Two Buck Chuck? What did you think?
As always, drink responsibly and please don't drink and drive.
Note: this post originally appeared on Coupons, Deals and More in 2011.
For more liquor and wine tips and reviews, click here.