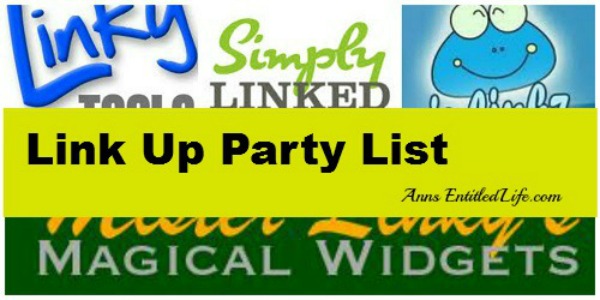 Here is a Link Party List to help you grow your blog and share your best posts. These generous bloggers are willing to send their traffic to your blog – for the price of a link-up! Make certain to not only link, but click a few posts while you are there. It is a great way to discover new blogging-talent!
One thing you will notice is many, many bloggers calling their linky party "Sunday Special Linkys" or "Monday Moping with Moms", "Tuesday Tips", etc but the party goes up sometime the evening before to the morning of – I have listed the parties before by the day they are posted on the blog, even if they have a different day name. Remember not everyone posts their linky at the same time (or day) each week, so you may have to check a few times.
If you discover a blog listed below is no longer hosting a blog link party, please email me so I can remove the linky from the list.
Likewise if you host, or know of, a blog link party, please email me so I can add it to the Link Party List.
Sunday
Bluesky at Home (Happiness is Homemade)
Flour Me With Love (mix it up Monday)
Life and Linda (love your creativity)
A Pinch of Joy (Busy Monday)
My Pinterventures (Merry Monday Link Party, 6pm Sunday)
Outside the Box Mom (Motivation Monday)
Raegun Ramblings (Must Make Projects) – starts Sunday at 9pm EST and ends Friday at midnight
Monday
Mostly Blogging (Inspire Me Mondays)
Home Stories A to Z (Tutorials and Tips)
Keeping It Real (The Really Crafty Link Party)
Mad In Crafts (Tutorial link up)
Make Ahead Meals for Busy Moms (Recipe blog hop)
My Uncommon Slice of Suburbia (Inspire Me Monday)
Our Home Away from Home (Tuesdays at Our Home)
Skip to my Lou (Made By You Monday)
Yesterday on Tuesday (Project Inspired) – The party starts Monday night at 8 p.m. ET and ends Thursday mornings at 8 a.m. ET.
Tuesday
Across the Blvd (Beautifully Made) – goes love at 7am eastern
Fluster Buster (diy, crafts, recipes) Tuesdays at 6pm
Gingersnap Crafts (Wow Me Wednesday)
My Girlish Whimes (Your Whims Wednesday) Opens at 9pm Tuesday
Pocket Change Gourmet (Delicious Dishes Recipe Party)
Sew Historically (Sew It Cook It Craft It)
The Sway (DIY Linky)
That Recipe Blog (Tasty Tuesday) – goes live at 8am easten
Wednesday
A Delightsome Life (Home and Garden Thursday) – opens 5pm Wednesday
Ducks in a Row (Wonderful Wednesday)
Embracing Change (Creative Inspiration)
Knick of Time (Talk of the Town)
Linda's Lunacy – Making A Home
Our Three Peas (Wine'd Down Wednesday)
Raggedy Bits (Waste Not Wednesday)
Thursday
Artsy-Fartsy Mama (diy, crafts, recipes)
Creative Kids (Thoughtful Thursday) – goes live at 8am easten
From Gardeners 2 Bergers (Handmade Hangout) 6pm
Imparting Grace (Grace at Home)
Marilyn's Treats (Thursdays Favorite Things)
Pin Junkie (begins at 9pm eastern)
Friday
Creative Kids (The Ultimate Pinterest Party) – goes live at 1pm eastern
A Glimpse Inside (handmade hangout party)
Julia's Simply Southern (Meal plan Monday)
Life With Lorelai Home Matters Linky Party (DIY, home & garden, recipes, decor, etc)
Petals, Pies, and Otherwise (Handmade and Otherwise) – begins at 8am
Saturday
Across the Blvd (Snickerdoodle, Create Bake Make) – goes love at 5pm eastern
Strawberry Butterscotch Saturday Shuffle
---
● If you enjoyed this post, be sure to sign up for the Ann's Entitled Life weekly newsletter, and never miss another article! Click here to subscribe.
---