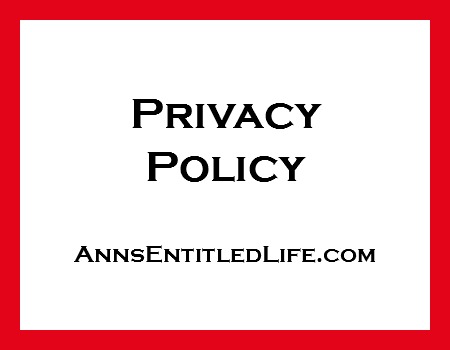 GDPR wants plain speak on this, so here is my "plain speak":
Summation: assume your IP is being tracked online. Always. If you sign up for a newsletter, you are giving people access to your email address and IP address. Why? This "free" content (social media, blogs, news sites, sports sites, etc) is not actually free. It costs money to run a website. Sooooo since the content is "free to you" (generic you) ads pay the bills. Remember: if you are not paying for the product, you are the product.
Now, with that in mind, here is more information on Ann's Entitled Life data collection.
AnnsEntitledLife.com Privacy Policy
The privacy of our visitors to Ann's Entitled Life is important to us.
At Ann's Entitled Life, we recognize that privacy of your personal information is important. Here is information on what types of personal information we receive and collect when you use and visit Ann's Entitled Life, and how we safeguard your information. We never sell your personal information to third parties.
● Log Files
As with most other websites, we collect and use the data contained in log files. The information in the log files include your IP (internet protocol) address, your ISP (internet service provider, such as AOL, Verizon, Spectrum, etc), the browser you used to visit our site (such as Chrome or Firefox), the time you visited our site and which pages you visited throughout our site.
● Cookies and Web Beacons
We do use cookies to store information, such as your personal preferences when you visit our site. This could include only showing you a popup once in your visit, or the ability to login to some of our features, such as forums.
You can choose to disable or selectively turn off our cookies or third-party cookies in your browser settings, or by managing preferences in programs such as Norton Internet Security. However, this can affect how you are able to interact with our site as well as other websites. This could include the inability to login to services or programs, such as logging into forums or accounts.
● Automatically-Collected Information
We automatically collect certain information about you and the device with which you access AnnsEntitledLife.com. For example, when you use Ann's Entitled Life we will log your IP address, operating system type, browser type, referring website, pages you viewed, and the dates/times when you accessed Ann's Entitled Life. We may also collect information about actions you take when using Ann's Entitled Life such as links clicked.
We also use third party advertisements on Ann's Entitled Life to support this website. Some of these advertisers may use technology such as cookies and web beacons when they advertise on our site, which will also send these advertisers (such as Google through the Google AdSense program) information including your IP address, your ISP, the browser you used to visit our site, and in some cases, whether you have Flash installed. This is generally used for geotargeting purposes (showing New York real estate ads to someone in New York, for example) or showing certain ads based on specific sites visited (such as showing cooking ads to someone who frequents cooking sites).
● Information We Collect from Others
We may receive information about you from other sources. You may link your website account in your comments or user profile on Ann's Entitled Life. If you choose to leave a comment or link your website account in your user profile or comments, we will receive your name, email address and profile picture associated with that account.
How Your Information May Be Used
We may use the information collected in the following ways:
● To operate and maintain AnnsEntitledLife.com
● To send you promotional information, such as newsletters. Each email promotion will provide information on how to opt-out of future mailings.
● To send you administrative communications, such as administrative emails, confirmation emails, technical notices, updates on policies, or security alerts.
● To respond to your comments or inquiries.
● To provide you with user support.
● To track and measure advertising on Ann's Entitled Life.
● To protect, investigate, and deter against any unauthorized or illegal activity.
Third-party Use of Personal Data
We may share your information with third parties when you explicitly authorize us to share your information. Additionally, AnnsEntitledLife.com may use third-party service providers to service various aspects of AnnsEntitledLife.com. Each third-party service provider's use of your personal information is dictated by their respective privacy policies.
AnnsEntitledLife.com currently uses the following third-party service providers:
Google Analytics – this service tracks Website usage and provides information such as referring websites and user actions on AnnsEntitledLife.com. Google Analytics may capture your IP address. Read google's privacy policy for more details.
MailChimp – this service is used for delivery of email updates and newsletters. We store your name and email address for purposes of delivering such communications. Please read MailChimp's privacy policy for more information.
Sumome – this service is used to send you push notifications through your web browser, should you choose. Please read Sumome's privacy policy for more information.
Currently, your personal information is not shared with any other third-party applications. This may be amended solely at this website's (AnnsEntitledLife.com) discretion.
Except when required by law, we will not sell, distribute, or reveal your email addresses or other personal information without your consent; however, we may disclose or transfer personal information collected through AnnsEntitledLife.com to third parties who acquire all or a portion of our business, which may be the result of a merger, consolidation, or purchase of all or a portion of our assets, or in connection with any bankruptcy or reorganization proceeding brought by or against us.
● Publicly Visible Information
If you create a user profile on AnnsEntitledLife.com or leave a comment, certain information may be publicly visible. To create a user profile, you must choose a username and password and input your email address for profile confirmation. Your email address will never be available publicly. Users may see your username, profile description, and website information.
Advertising
● Display Ads
We may use third-party advertising companies to serve content and advertisements when you visit AnnsEntitledLife.com which may use cookies, as discussed above.
● Retargeting Ads
Ocassionally AnnsEntitledLife.com may engage in remarketing efforts with third-party companies, such as Google, Facebook, Pinterest, or Instagram, in order to market AnnsEntitledLife.com. These companies use cookies to serve ads based on someone's past visits to AnnsEntitledLife.com.
● Affiliate Program Participation
AnnsEntitledLife.com may engage in affiliate marketing, which is done by embedding tracking links into AnnsEntitledLife.com. If you click on a link from an affiliate partnership, a cookie will be placed on your browser to track any sales for purposes of commissions.
We are a participant in the Amazon Services LLC Associates Program, an affiliate advertising program designed to provide a means for us to earn fees by linking to Amazon.com and affiliated sites.
● Newsletters
On AnnsEntitledLife.com you may subscribe to our newsletter, via MailChimp which may be used for advertising purposes. All newsletters sent may contain tracking pixels. The pixel is embedded in emails and allows an analysis of the success of online marketing campaigns. Because of these tracking pixels, we may see if and when you open an email and which links within the email you click. This also allows AnnsEntitledLife.com to adapt the content of future newsletters to the interests of the user. This behavior will not be passed on to third parties.
Please note that we may need to retain certain information for recordkeeping purposes or to complete transactions, or when required by law.
● Sensitive Information
At no time should you submit sensitive personal information to AnnsEntitledLife.com. This includes your social security number, information regarding race or ethnic origin, political opinions, religious beliefs, health information, criminal background, home address, telephone numbers, or any type of credit card information. If you do submit such information to us, it will be subject to this Privacy Policy.
● Children's Information:
AnnsEntitledLife.com does not knowingly collect any personally identifiable information from children under the age of 16.
Mediavine Programmatic Advertising (Ver 1.0)
The Website works with Mediavine to manage third-party interest-based advertising appearing on the Website. Mediavine serves content and advertisements when you visit the Website, which may use first and third-party cookies. A cookie is a small text file which is sent to your computer or mobile device (referred to in this policy as a "device") by the web server so that a website can remember some information about your browsing activity on the Website.
First party cookies are created by the website that you are visiting. A third-party cookie is frequently used in behavioral advertising and analytics and is created by a domain other than the website you are visiting. Third-party cookies, tags, pixels, beacons and other similar technologies (collectively, "Tags") may be placed on the Website to monitor interaction with advertising content and to target and optimize advertising. Each internet browser has functionality so that you can block both first and third-party cookies and clear your browser's cache. The "help" feature of the menu bar on most browsers will tell you how to stop accepting new cookies, how to receive notification of new cookies, how to disable existing cookies and how to clear your browser's cache. For more information about cookies and how to disable them, you can consult the information at https://www.allaboutcookies.org/manage-cookies/.
Without cookies you may not be able to take full advantage of the Website content and features. Please note that rejecting cookies does not mean that you will no longer see ads when you visit our Site. In the event you opt-out, you will still see non-personalized advertisements on the Website.
The Website collects the following data using a cookie when serving personalized ads:
IP Address
Operating System type
Operating System version
Device Type
Language of the website
Web browser type
Email (in hashed form)
Mediavine Partners (companies listed below with whom Mediavine shares data) may also use this data to link to other end user information the partner has independently collected to deliver targeted advertisements. Mediavine Partners may also separately collect data about end users from other sources, such as advertising IDs or pixels, and link that data to data collected from Mediavine publishers in order to provide interest-based advertising across your online experience, including devices, browsers and apps. This data includes usage data, cookie information, device information, information about interactions between users and advertisements and websites, geolocation data, traffic data, and information about a visitor's referral source to a particular website. Mediavine Partners may also create unique IDs to create audience segments, which are used to provide targeted advertising.
If you would like more information about this practice and to know your choices to opt-in or opt-out of this data collection, please visit Opt Out – NAI: Network Advertising Initiative. You may also visit http://optout.aboutads.info/#/ and http://optout.networkadvertising.org/# to learn more information about interest-based advertising. You may download the AppChoices app at YourAdChoices.com | AppChoices to opt out in connection with mobile apps, or use the platform controls on your mobile device to opt out.
For specific information about Mediavine Partners, the data each collects and their data collection and privacy policies, please click here.
I can always be reached for Privacy Policy questions through my contact me page or by emailing me directly!