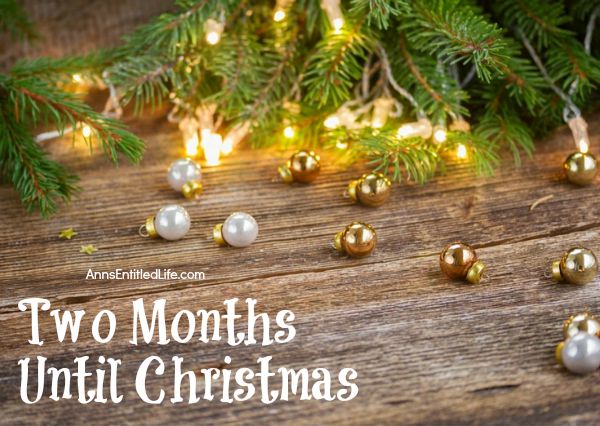 Welp, since I was planning on posting this last week, and it is now only seven weeks until Christmas, I suppose you have some idea how my planning is going.
Where I had last left things at the end of September, I had not yet done squat to prepare for Christmas.
Since then? Still squat.
OK, that isn't exactly true. I have the blog content done and mapped out even if I don't have it scheduled yet. That is a huge accomplishment and a great weight off my shoulders.
Hubby and I have also discussed the menu (he wants to do something different with salmon), we will again have baked haddock, and the pierogi is taken care of.
Every year since… well, forever, we have had Christmas Eve dinner as a family. Afterwards we all go home, wake up Christmas morning morning and exchange gifts with our immediate family, and then hustle off to my parent's house to exchange gives with them, siblings, and nieces. After that, the nieces and Sonny-boy dash off to their other side of the family, exchange gifts and then we all head out to Christmas dinner. Until three years ago, Christmas dinner was at my parent's house too. My mother finally decided it was too much for her, so we started to go out for Christmas dinner which helped tremendously (no clean-up).
For many years now, my brothers and I have been working on my Mom to have the gift exchange at my house on Christmas Eve after dinner. That would eliminate Christmas morning at her house, make life easier on our kids (who are older and have family on the other side as well as SOs). She resisted the change (she has had family over for Christmas morning for 50 years), but this year, my mother finally agreed!
Oh happy day!
This will definitely make Christmas day much more enjoyable and relaxed. Sonny-boy stays over at our house, we will exchange gifts and then he will probably be off to his girlfriend's family's house and/or his father's house. It is just a matter of time before he's married (well I can hope!), several of my nieces have gotten married, so children may not be far off. This are changing in our family, and sometimes change can be good!
Well, I guess a few things have been accomplished after all!
How are your holiday preparations going? What have you accomplished so far? What do you have left to do?
---
● For Recipes on Ann's Entitled Life, click here.
● If you enjoyed this post, be sure to sign up for the Ann's Entitled Life weekly newsletter, and never miss another article!
---