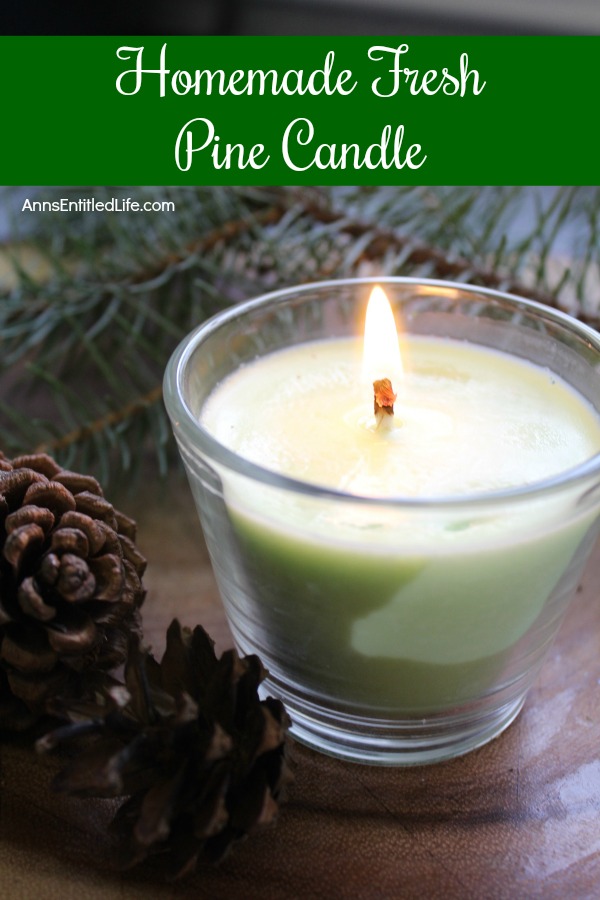 Fresh Pine DIY Candle
Make your own homemade fresh pine scented candles. This candle making craft is easier than you think. You can make these in no time flat using this step by step how to make a fresh pine candle tutorial. Make a few and give them as gifts!
A wonderfully scented holiday candle which is perfect for fall and winter festivities when you want to bring the smell of freshly cut pine trees indoors. Get into candle making! It honestly is not difficult to do!
If you are looking for more candle recipes to try, you have come to the right place!
● Homemade Cinnamon and Spice Candles – so easy to make and smells ooooooh so good!
● Sinus Relief Blend DIY Candle – help open up those passages.
● Homemade Vanilla Sugar Candle– The sugar makes for a beautiful glistening look and smells a lot like home baked cookies.
● Homemade Coffee Bean Soy Candle – The wonderful scent of fresh coffee – in a candle!
● Homemade Mason Jar Soy Candle – any color, any scent! Truly customizable!
● How to Make a Candy Corn Candle – if you like candy corn…
● Homemade Autumn Spice Soy Candles tutorial – my favorite of all the candle "recipes" on this blog!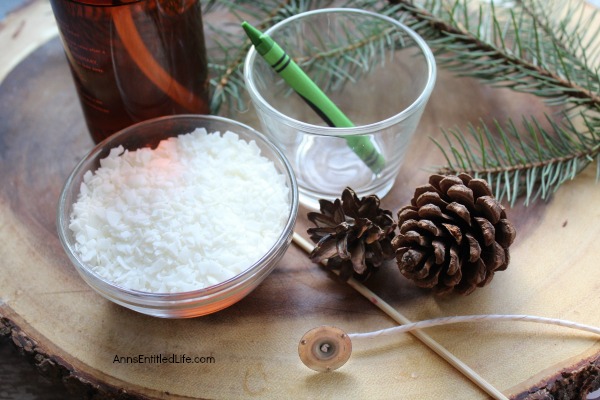 Fresh Pine DIY Candle Materials:
● 2 cups Soy Wax

● 1 Candlewick
(with a weighted bottom)
● Large Nonstick Pot
● Wooden Spoon or Spatula
● Chopstick or Wood Stick or Pencil
● 1 Crayon, any color – It is vital that you DO NOT use food coloring as it will not distribute in the mixture. You could use Candle dye that works with all soy candle wax.
● 10 drops Pine Essential Oil OR Wintergreen Essential Oil
● 1 Mason Jar
or Jelly Jar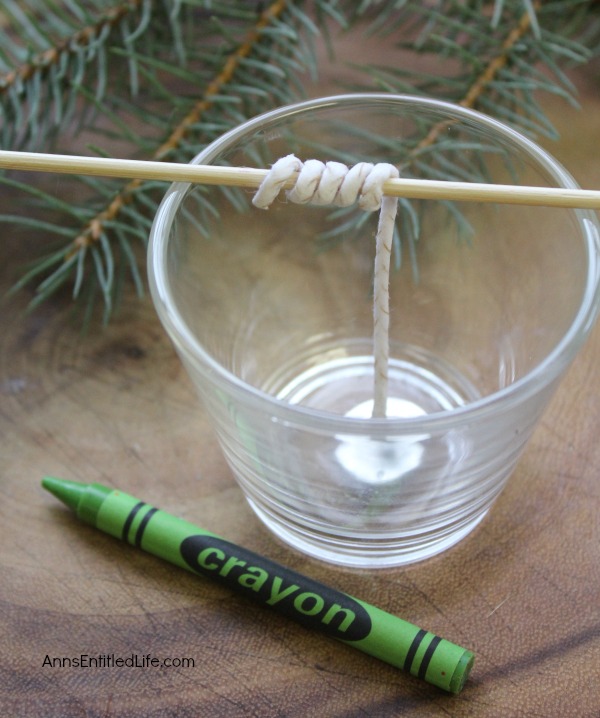 Fresh Pine DIY Candle Directions:
● Place your candlewick
in a jar allowing the wick to drop to the bottom.
● To hold the candlewick
in place, wrap the top around a pencil or chopstick.
● Place the stick over the jar and let the bottom of it drop to the bottom. A weighted candlewick
does this nicely and settles on its own.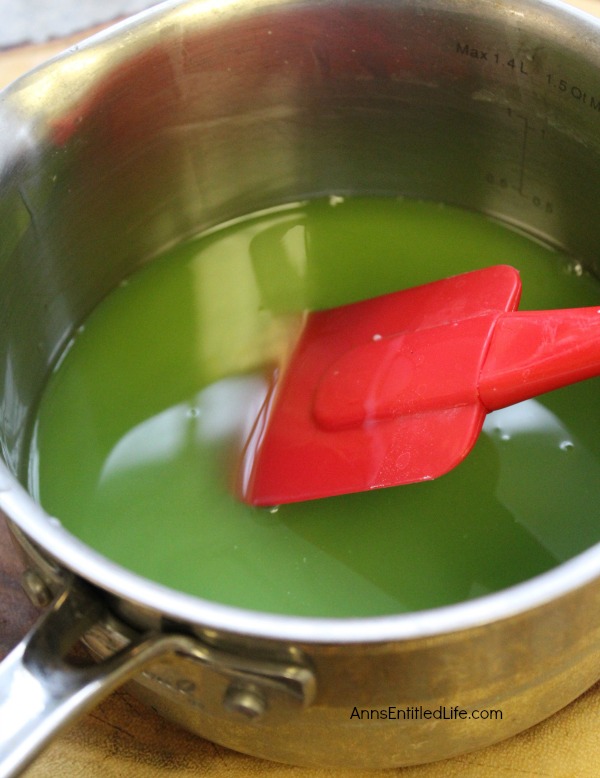 ● Begin by heating the soy wax flakes on low heat right on your stove top. It is best to use a nonstick pot to help avoid burning and sticking.
● Continue to stir the soy candle flakes as they slowly melt. Be sure to keep the liquid moving so it does not stick or clump.
● Add in 10 drops Pine Essential Oil OR Wintergreen Essential Oil. You may use more or less essential oils if you like.
● If you would like to color your candle can now tint the soy flakes with a crayon (any color is fine, green was used in this tutorial) or candle dye. It is vital that you DO NOT use food coloring as it will not distribute in the mixture, it will clump and not mix.
● Remove the mixture from the stove and slowly (and carefully!) pour it into the jar.

● Immediately re-center the candlewick
if needed.
● Store the candle in a cool place until it sets. Do not touch it while it is setting. Let it sit for a full 3-4 hours before moving.
● Once the mixture has hardened, remove the pencil and you can snip the candlewick
to shorten it.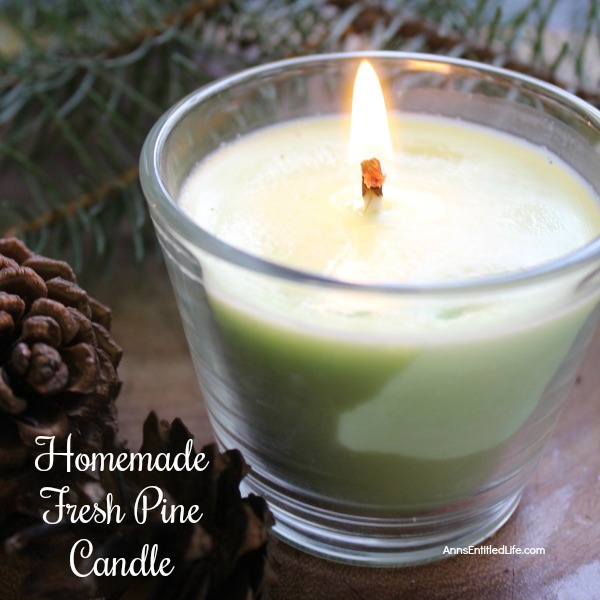 ● Light and enjoy!
Safety tip: never leave a lit candle unattended!
Note: None of this is meant as medical advice. I am not a doctor, and do not play one on the internet. Please consult a physician if you have any questions about using essential oils so your doctor can better explain to you the benefits, possible side effects, and any warnings about essential oils.
---
● Disclosure: the links in this post may be affiliate links.
● For more Craft posts on Ann's Entitled Life, click here.
● If you enjoyed this post, be sure to sign up for the Ann's Entitled Life weekly newsletter, and never miss another article!
---