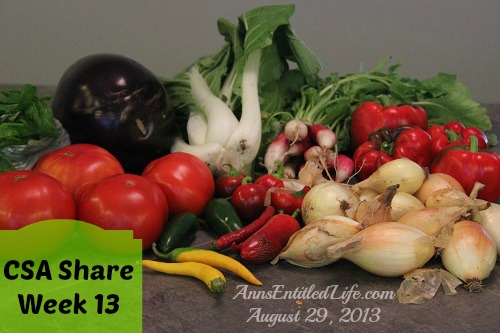 This is the diary of our CSA share this year. The cost of a full share is $545 for 22 weeks (this CSA offers a winter share) which will bring us to the last week in October, and works out to $24.75 per week. Western New York weather is such that June is lightest CSA month. September and October will be more than abundant! Usually I feel I don't get my money's worth the first few weeks (which will be predominantly lettuces), but the fall bags more than make up for that.
We had quite a bit of rain earlier this week. I am not sure if that made for a smaller share this week or what. Hubby came with me, and he chose the bag. We were out of onions, so that was easy, the eggplant was so large as to be useful, and Hubby wanted hot peppers for some dish. We were told that the further from green, the hotter the hot pepper. And, for a sweet pepper the hotter from green, the sweeter the pepper.
This week we took:
● Bok Choy
● Eggplant
● Onions
● Peppers, sweet and hot
● Radishes (French breakfast)
● Salad Greens
● Tomatoes
Also available that we didn't take:
● Beans
● Beets
● Carrots
● Celery
● Fennel
● Kale
● Squash
● Watermelon
Do you belong to a CSA? If so, what type? How much? Do you find it as worthwhile as I do?
● Past CSA Shares
● Find a CSA
● Porter Farms CSA (we belonged for years)
● Rootdown Farm CSA (our 2013 CSA)
● NYS Fruit and Vegetable Harvest Calendar
● US Agricultural Data