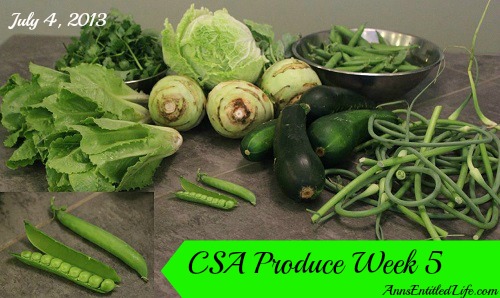 This is the diary of our CSA share this year. The cost of a full share is $545 for 22 weeks (this CSA offers a winter share) which will bring us to the last week in October, and works out to $24.75 per week. Western New York weather is such that June is lightest CSA month. September and October will be more than abundant! Usually I feel I don't get my money's worth the first few weeks (which will be predominantly lettuces), but the fall bags more than make up for that.
I was shocked to get anything from our CSA this week. We had a lot of rain last Thursday, and massive flooding on Friday, so I expected a wash-out. But, our valiant CSA workers took measures to protect the crops before the heavy rains fell, and we did receive produce this week. It has been one wet summer here in New York State.
This week we had a choice of:
● Broccolini
● Cilantro
● Collards
● Garlic Scapes (to be used as garlic, scallions, or onions)
● Kale
● Kohlrabi
● Napa Cabbage
● Romaine Lettuce
● Peas
● Swiss Chard
● Various Salad Greens
● Yellow Summer Squash
● Zucchini
Hubby went with me, and chose what he wanted for cooking. The kohlrabi recipe we plan I will post here – we did it last year and it was great! The inset in this week's picture is a close-up of the shell peas. Hubby chose those instead of the sugar snap peas… wonder who's doing the shelling?
The CSA also had for sale free range brown eggs that came from laying chickens that were fed only organic feed, as well as quarts of cherries for $5 each. I bought one of each.
Do you belong to a CSA? If so, what type? How much? Do you find it as worthwhile as I do?
● Past CSA Shares
● Find a CSA
● NYS Fruit and Vegetable Harvest Calendar
● US Agricultural Data