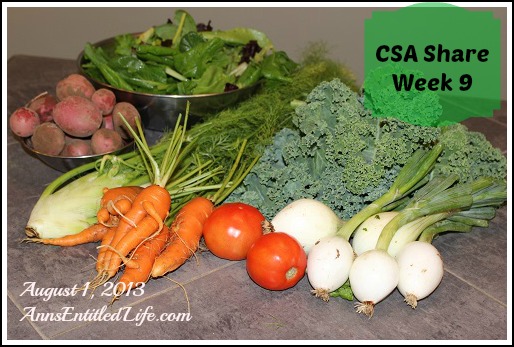 This is the diary of our CSA share this year. The cost of a full share is $545 for 22 weeks (this CSA offers a winter share) which will bring us to the last week in October, and works out to $24.75 per week. Western New York weather is such that June is lightest CSA month. September and October will be more than abundant! Usually I feel I don't get my money's worth the first few weeks (which will be predominantly lettuces), but the fall bags more than make up for that.
The rain came down in buckets Thursday morning, and I decided I had no desire to slop around in the mud and pick green beans and flowers. Maybe next week.
Hubby and I spent time last weekend using up what we had gotten from the CSA, as well as what we bought at the fruit stands. Since we had cleared out the produce, and I know what we now have in the freezer, I didn't mind not picking up a ton this week. I just choose what I knew we would use.
Available This Week:
● Beets
● Cabbage
● Carrots
● Chard
● Fennel
● Kale
● Onions
● Squash
● Zucchini
I want to call and see if I can get pitted cherries this weekend. If not, I am gonna be kicking myself for not saving the cherry-bucket ad Hubby found. Seems like all I buy lately is produce!
Do you belong to a CSA? If so, what type? How much? Do you find it as worthwhile as I do?
● Past CSA Shares
● Find a CSA
● NYS Fruit and Vegetable Harvest Calendar
● US Agricultural Data