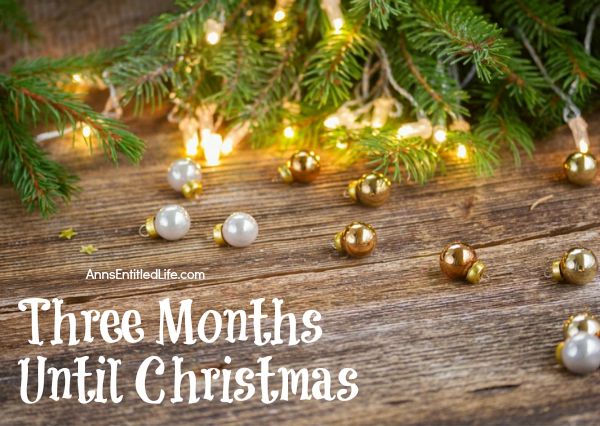 The last few years I have made it my mission to be all set for the holiday weeks in advance. A few years ago we went to Florida for two weeks in December, so my tree was up and the house was decorated in November (we did not have Thanksgiving here that year). Last year, we did have Thanksgiving here, so nothing was decorated until the first of December.
Of course regardless of how early or how late I begin, things all manage to get done, or we do without. No one goes hungry, I shop at the ATM so none of the nieces, nephews-in-law or Sonny-boy go without gifts. It all gets done.
I just feel better when it is all done in advance!
This year, when I mentioned going to Florida for Thanksgiving or the first of December, Hubby told me in no uncertain terms that he was hunting every possible moment his doe tags held out. Oh goodie.
My mother-in-law has been very, very ill for most of this year. Hubby has made a number of last minute trips out to Las Vegas to see her. The first time he went out, I truly thought it would be his last trip to see her. His second trip out there he once again had a meeting of the minds with her doctors (do not get me started on health care in Nevada), and she really bounced back.
Six years ago my MIL became ill and gained 70 pounds of water!! The doctors sent her home and well, let's just say the prognosis was not good. Hubby went out to Las Vegas, had a few "chats" with her doctor about stripping the water off of her, revamped her diet, got her home health care, and basically got that water weight off her in spite of her medical prognosis (congestive hearth failure and drowning in your own fluid is a terrible way to go). She was at that time diagnosed with diabetes, and she could only have 1000 mg of sodium per day. Along with various other health issues, she had to be monitored quite closely. Until everyone was on board with Hubby's medical plan for her (no, he is NOT a doctor), he would go out to Las Vegas to check on things every three weeks. That went on for nearly a year!
Well, the last five years his mother has been more active and had a better social life than we have!! I am not kidding. The water was all gone, her diabetes was food controlled, her sodium was closely monitored, and she would go out several times a month to the Las Vegas shows. Hubby took her to Europe, and she was scheduled to go with us again this past spring. She went to Florida numerous times to see us and visit other friends, visited relatives in Chicago yearly, came to visit us for Thanksgiving every other year – the lady got around!
Unfortunately, on top of the congestive hearth failure making a water-return a few months ago (40 pounds of water this time, and she has gotten rid of 30 pounds of it), the doctors are pretty sure she had a mini-stroke last week. There is a 1-in-6 chance she will have another mini stroke soon, and a 1-in-6 chance she will have a major stroke.
While it wasn't her scheduled year to come for Thanksgiving, she definitely is unable to now. Hopefully she can make it next year!
Circling back to the topic at hand…
I have done poopie to get ready for Christmas this year. I don't even have all the blog Christmas Sweet recipes made or scheduled yet! Believe me when I say I am going to be crying next month!
How are your holiday preparations going? What have you accomplished so far? What do you have left to do?
---
● For Recipes on Ann's Entitled Life, click here.
● If you enjoyed this post, be sure to sign up for the Ann's Entitled Life weekly newsletter, and never miss another article!
---