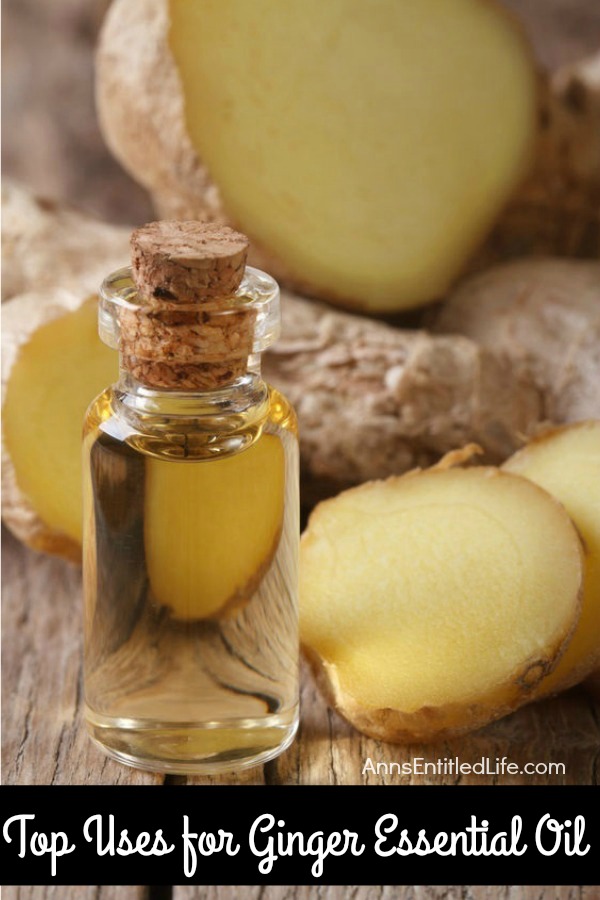 Top Uses for Ginger Essential Oil
Ginger Essential Oil
can be best described as warming and calming. Ginger Essential Oil
has a wonderful, spicy scent. Ginger has been used as a medicinal herb for centuries. The top properties of ginger deal with help for motion sickness, digestive, nausea and indigestion.
Ginger is a wonderful plant used mainly as a spice. The essential oil is created by steam distillation of the plant root. Its main constituents are alpha – zingiberene.
When looking at this list you can see how wide a variety the benefits of ginger are purported to be. Ginger is considered an antispasmodic and that is thought to be why it may help with an upset tummy, as well as helping balance stomache issues out being good for digestion and nausea. The decongestant properties of ginger may also help settle a stomach by helping to clear mucous in the tummy that may be causing upset. You have probably been told before, or know someone who uses it for nausea or indigestion or motion sickness. Many people will use ginger when pregnant for morning sickness.
When making blends with ginger, it blends very well with frankincense, cinnamon or grapefruit essential oils.
Now onto the top uses for ginger essential oil:
● Nausea, Morning Sickness or Loss of Appetite:
● The most common way to use it for these issues is aromatically. Diffuse Ginger Essential Oil
throughout the day if the issue is ongoing, or place two drops in the palm of your hands and rub together, cupping the nose and mouth and inhale deeply.
● Rub a drop of Ginger Essential Oil
with a carrier oil if skin in sensitive, right over belly, around belly button for nausea in addition to inhaling it.
● Take in a glass of water or in capsule form
with a glass of water as well to treat these issues.
● Apply topically to wrists.
● Motion Sickness or Vertigo:
● Rub Ginger Essential Oil
on your palms and inhale deeply.
● Take internally in a glass of water or in a capsule form.

● Place a drop on each wrist.
● Memory and Brain Health:
● Inhale Ginger Essential Oil
aromatically either in diffuser or from palms of the hands or take internally in a capsule form.

● Rub a drop on the back of the neck at the base of the skull or on crown of the head for another use.
● Heartburn or Reflux:
● Take internally in a capsule form
to help calm the issue, and add in lemon essential oil if you have it to help even further.
● Ginger Essential Oil
may also be diluted with a carrier oil and rubbed right over chest for heartburn or tummy if it is upset from reflux.
● Adding in orange essential oil is another way to help boost the effects of the oils for this as well.
● Spasms and Cramps:
● Dilute Ginger Essential Oil
with a carrier oil or an unscented, natural lotion and apply to area of cramp or spasm. Rubbing in well and repeating as needed.
● Constipation:
● Rub Ginger Essential Oil
topically after diluting with carrier oil over intestines and lower tummy area or take internally in a glass of water or a capsule form.
This may help ease constipation by helping to cleanse your digestive tract and help balance the digestive process.
● Colds or Sore Throat:
● Take internally in a capsule form
or in a glass of water.
● Gargle for throat issue.
● Gently rub on chest or area of congestion, diluting with carrier oil.
● Apply to bottoms of feet as well.
● May help strengthen immune system so can be used for that a few times a week if needed.
● Congestion and Sinusitis:
● Dilute Ginger Essential Oil
with carrier oil and apply topically to chest, throat or sinus areas on face to help break down mucous and free up the sinuses.
● Add to diffuser and use aromatically as well to help relieve the congestion symptoms.
● Recipe for diffuser blend for relief of sinus issues, allergies or colds:
Depending on what type of diffuser you have, you may have to add water to the diffuser first before putting the oils in. If you have a diffuser that has you attach the oil bottle itself right on to it, then you will have to make this blend in a bottle first and then attach it, so plan accordingly for dosage on that type.
● 3 drops Ginger Essential Oil

● 2 drops Frankincense Essential Oil

● 2 drops Lime Essential Oil
● Add ginger essential oil, frankincense essential oil and lime essential oils to diffuser.
● This is a wonderful scent that may help relieve your symptoms.
Note: None of this is meant as medical advice. I am not a doctor, and do not play one on the internet. Please consult a physician if you have any questions about using essential oils so your doctor can better explain to you the benefits, possible side effects, and any warnings about essential oils.
What great uses do you have for ginger essential oil!?
---
● Disclosure: the links in this post may be affiliate links.
● For more DIY Beauty on Ann's Entitled Life, click here.
● If you enjoyed this post, be sure to sign up for the Ann's Entitled Life weekly newsletter, and never miss another article!
---