Hubby has gone to auctions in the past, and finally convinced me to tag along. He's gut renovating a few apartments, and needed nearly everything you can imagine – from kitchen cabinets to flooring to tubs – to complete those renovations.
When he saw a local Auction house was back in business, he piled me into the car and we took off with a list.
Now the first thing you need to know about auctions, is you need to provide ID (driver's license or passport) and sign in at the office. You will be required to pay for all your purchases in full before taking anything off the lot, there are no refunds (that is a squishy policy, if it plain doesn't work some auction houses will make good), and there is generally a buyer's premium plus you pay sale tax. In our case that added over 20% to anything we were purchasing. Check if your auction house accepts credit cards (and what type), or if it is cash only.
Still, we got some excellent deals!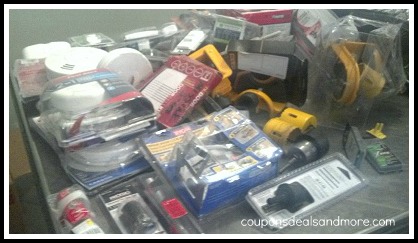 Lots of tools, smoke detectors, flashlights and other miscellaneous items on full shelf purchases.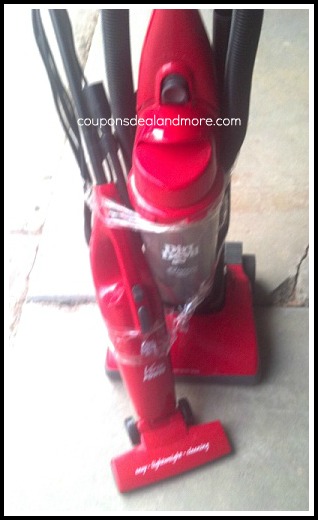 This was $25, which we gave to Sonny-boy. No word yet if it works. (It is almost a year later and I still don't know if it works!!)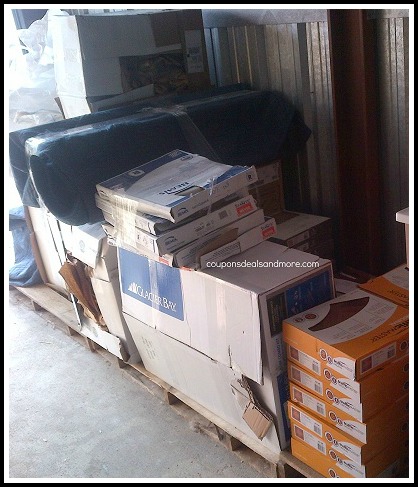 Hubby bought a lot of vinyl flooring. Some of it was stuck together, and when we returned later with it, hubby was given a credit.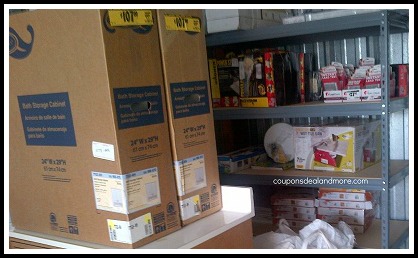 These medicine chests were $25 + premium, the stickers say $107.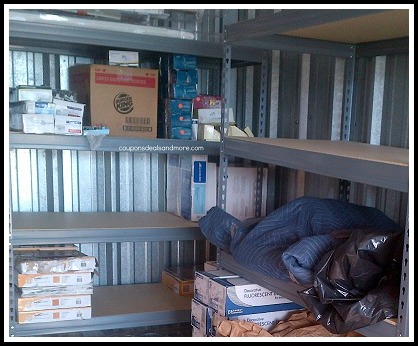 Bathroom fixtures, faucets (OMG! the deals we got on faucets), toilet seats, microwaves, patio furniture, fire pits – you name it, it was there. The volume of product available was astounding.
The auction house owner announced immediately that there were a lot of known ebayers there, and their money was as good as anyone else's. Apparently that was to entice people to pay more? The tools were first up, and I am sure many of those are now up on eBay.
The auction continued in the main room for the first hour or so, and then we broke off into groups to follow one of the other two auctioneers, or stay with the original auctioneer. At this point hubby and I went in separate directions. By sheer luck I ended up on the room with the better deals. I bought a 36″ bathroom vanity, vanity top, mirror and matching toilet for $125 total. The bathroom towel bars and accessories I purchased worked out to under $5 each for name brand. Hubby did well, I did great – and it was all a function of the auctioneer and how high the people following him were willing to go. In my group, the answer was not very high at all.
Hubby checked out this auction the day before at preview. I would urge people to do so to determine if what you want is ding and dent free, and at what point in the auction your interests will come up. For instance, the auction was supposed to begin at 10 am, didn't start until 10:30 am, and then they had tools for the next 90 minutes. We could have shown up at noon and stayed later, getting more goods that we had an interest in buying.
Also realize that even if you are the first person buying and want to leave, you have to wait for the auction sheets to get to the office. Estimate 20-30 minutes after your last win before you can pay. Then you can pick up your stuff (unless other arrangements have been made), load and leave.
A few other notes:
This can last for hours and hours. When you go to the preview, ask the owner how long s/he thinks the sale will go the next day. You can estimate 100 items per hour, but if there are 3-4 auctioneers working at the same time, things will run much faster than just one auctioneer.
Hubby kept track of every lot he won, and how much he paid for it. Me? Not-so-much. I think tracking is a smart idea, so bring pen, paper and clipboard to write on.
We went back for the clearance sale a few weeks later. We envisioned everything tagged (like a yard sale). It didn't quite work that way at this sale. Basically we gathered a pile and the auction house owner gave us a total. He did give us a nebulous credit for the stuck-together-tile, and our total for a pile of good facets and other miscellaneous goods was about the cost of one of the Moen faucets we purchase would have been retail, so we did get a very good deal. I just feel we got some great deals at the auction itself.
Have you ever been to a goods auction? How did that work out for you?
Note: this post originally appeared on my old blog, Coupons, Deals and More.