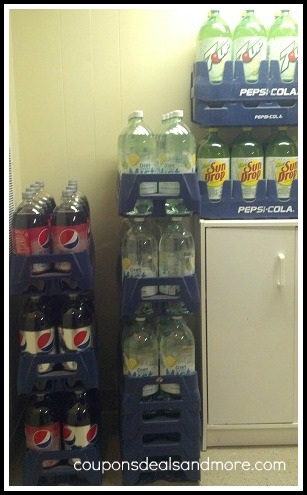 Interested in an easy way to store pop bottles? That picture shows how to store 2 liter pop bottles easily, and concisely. Each pop flat can hold eight two liter bottles of pop, so we have room for quite a few 2 liters of pop before we run out of storage room!
I have no idea where we got these pop flats – I do know we did not pay the $2 deposit on them. In my opinion this is a very easy, space-saving way to store pop, so even if you need to pay the deposit on 3-4 of these pop-flats and then keep the flat, it would be worth paying for if you regularly store a decent quantity of pop. After all, store containers of any sort are not really cheap, and you could store 24 bottles for as little as a $6 deposit cost!
Do you have any space-saving or interesting stockpile storage ideas?