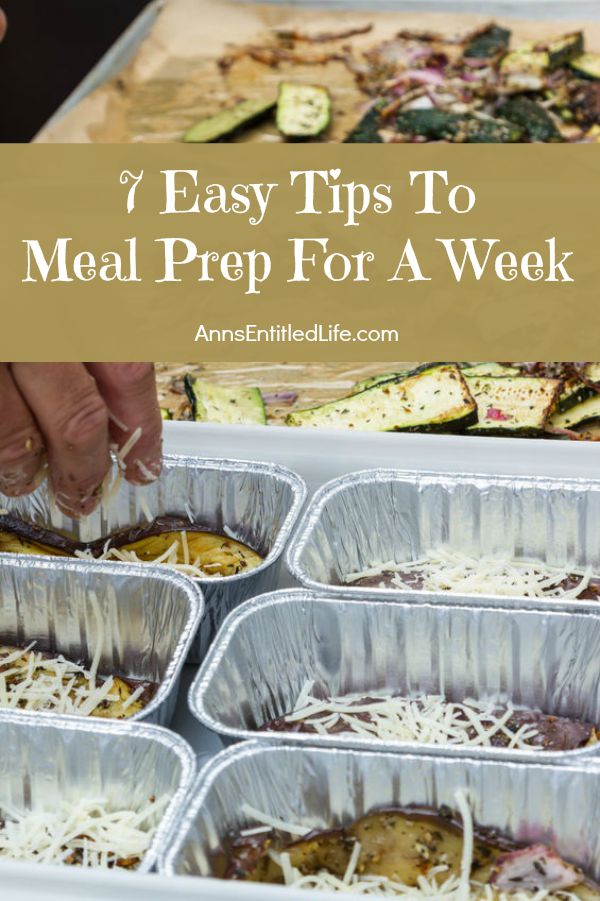 Meal prepping can save you a lot of time, especially if you're super busy during the week. The last thing most people want to do after a busy day is cook. Preparing food in advance helps with time crunches, leads to healthier eating, and allows you to use up the food in your refrigerator and freezer. Prepping food in advance means you'll have breakfasts, lunches and snacks ready to go each day; a real relief when your days are activity-packed.
7 Easy Tips To Meal Prep For A Week
Make eggs in the oven. If you love hard-boiled eggs, then it's time to start making them in batches. Eggs make a great, protein-packed snack. By putting them in muffin tins as opposed to boiling them, you'll be able to make more eggs at one time. Preheat your oven to 350°. Place one egg in each muffin tin. Put in the oven for about 30 minutes. Remove eggs from oven, and place your baked eggs in a large bowl filled with ice water until cooled completely! Now you have a quick and easy snack for the week.
Make salads in jars. By making your salads ahead of time in jars, you can easily grab lunch on the go. The key is to put the dressing at the bottom of the jar (if you use dressing), and the leafy greens at the top. Here's a great image to follow. If you plan on adding ingredients like chicken, tuna, eggs, avocados, etc. make sure not to put that in the jar. Either pack those meat and fat items in your lunch bag the day you plan on eating it, or put it in the jar the night before. These salads can last in the refrigerator for about five days.
Chop everything in advance. Take time on the weekends to chop up all of your vegetables for the week. Even if you don't want to cook them at that moment, having them all chopped will save you a ton of time. While you're at it, you can also cut up any meats you plan on using for meals too.
Multi-task with your oven. If you're using your oven to make those hard-boiled eggs, why not throw in your veggies and meat at the same time? Roasted veggies are super easy to reheat, and there is a myriad of ways you can season them (and your meat) to make it taste delicious (try some old bay seasoning!) Divide up your vegetables and meat into separate pans dependent on the time it needs to be in the oven.
Try freezer cooking. Freezer cooking doesn't have to mean 100 tins stacked in your freezer (although it can). You can pack entire meals in a foodsaver bag or Ziploc container, freeze it, and then defrost and cook as listed on the instructions you posted on the bag prior to freezing. If you're not ready to commit to making entire meals, you can still freeze single ingredients. For example, if you cook a lot of chicken or beef at one time, freeze it in single servings so it's ready for dinner.
Make mini-omelets for breakfast. Love omelets but don't have time to cook each morning? Not a problem. Combine your favorite ingredients and divvy them up in a muffin tin. Bake for 15-20 minutes on 375°, then refrigerate. Now you can grab your mini-omelet on your way out the door in the morning.
Use Storage Containers The easiest thing to do when it comes to meal prepping is to divide each meal into your plastic storage containers. An easy combination to remember is protein + vegetables + carbohydrates. For example, combine meat with your favorite roasted vegetables and carbs such as sweet potatoes, quinoa, brown rice, etc.
A lot of meal prep is trial and error. You may find you love prepping a week's worth of food in advance, or that you only like to prep for 2-3 days in advance. You might realize you love freezer cooking, or that you don't like certain ingredients after they've been frozen or refrigerated. But until you may a few attempts you will not know if weekly meal prepping is for you or not. Give meal prepping a try – you may be very glad you did!
● If you need some free printable meal planners, click here.
---
● For Recipes on Ann's Entitled Life, click here.
● If you enjoyed this post, be sure to sign up for the Ann's Entitled Life weekly newsletter, and never miss another article!
---